​This Woman Makes Vulva Puppets. We Have Lots of Questions.
The vulva, not to be confused with the vagina, is the mammalian equivalent of a flower's stigma. Its tufts and folds are more unique than fingerprints, more complex and wondrous than any other bodily region, and yet... the vulva is also among the most underexplored and undervalued bits of all.
Self-described "vulvalutionary" Dorrie Lane, seeking to undo epochs of misunderstood woman parts, made her first vulva puppet in '93. More than two decades later, that effort has transformed into a labially loving empire called the Wondrous Vulva Puppet, products of which Dorrie sells through her website and Etsy shop to people all over the world.
No two vulvas are alike, and Wondrous Vulva Puppet similarly celebrates the uniqueness of each and every one. There are hand-beaded puppets, puppets sewn from Versace fabrics; satin, velvet, charmeuse, and Japanese silk puppets. And of course there are custom puppets, sized and outfitted to individual specs.
Since she got started, Dorrie has had to deal with many Wondrous Vulva Puppet copycats. But no imitators can do quite what Dorrie does. Her success making these puppets led to recognition by the likes of Eve Ensler (The Vagina Monologues), cameos of Dorrie's puppets at Betty Dodson sexuality workshops and on TV shows like Portlandia, Conan, and The Tyra Banks Show, and their inclusion in countless lecture halls and medical offices. These crazy puppets stand at the center of thousands of conversations about women's sexuality. And yet no matter how mainstream they ever get, the truth is, making puppets in the shape of vulvas is one hell of a day job.
We had a whole bunch of questions -- so we got Dorrie to take us behind the proverbial curtain.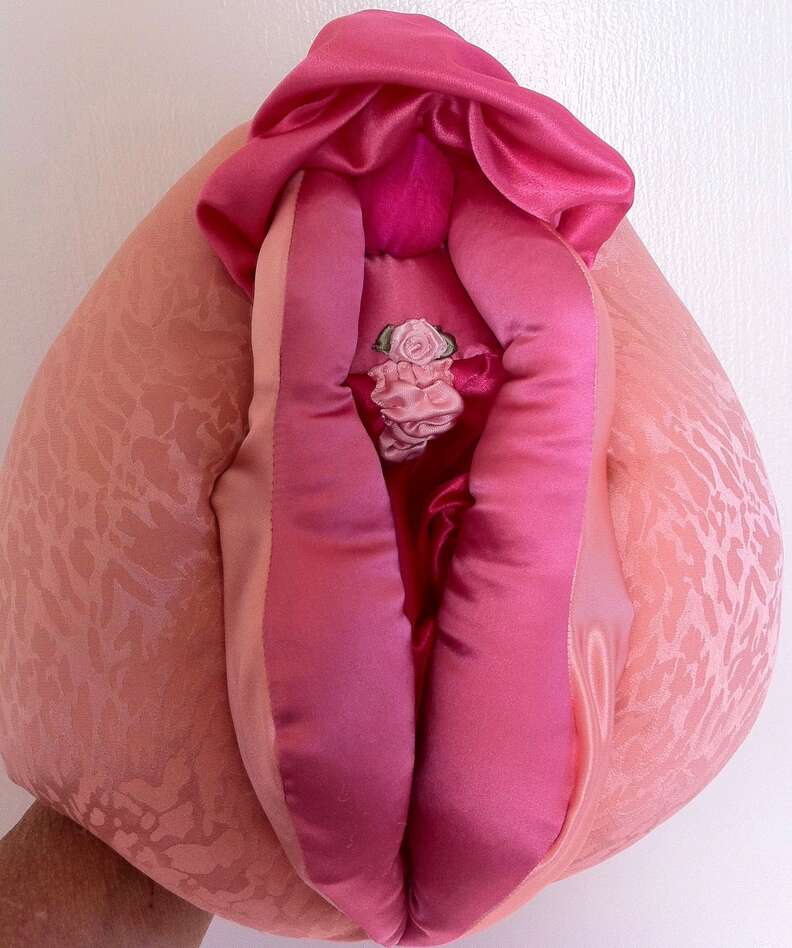 Why a vulva? And why a puppet?
Well, most of us come from a vulva -- and it is the most secretive, shame-ridden, and hardest-to-see part of human anatomy. Have you seen your vulva? Most women haven't. I made her [my daughter] a puppet because it's interactive, playful, and can take the "edge" off the conversation. Oh, and it speaks any language.
What's your sewing background?
I've been sewing most of my life: clothing, costumes, quilts. Needlework is one of the oldest arts and unfortunately is becoming a lost art.
What were you doing before you started making vulva puppets?
I worked as an OB-GYN clinical educator for students at Stanford and UCSF Schools of Medicine for 17 years.
My sex education career started in sixth grade. I was removed from recess for sharing what I read in medical textbooks about menstruation with the girls in my class. In 1986, in the midst of the HIV-AIDS crisis in San Francisco, there was VERY scarce information about transmission between WTW [woman-to-woman]. And while assisting many of my dying friends, I felt compelled to educate myself, lovers, and children in a completely different way: interactive.
Why do you think people are so behind in learning about female anatomy and sexuality?
Religion. Shame. Equality.
What's the most elaborate vulva puppet you've ever made?
I picked up some Versace velvet while I was in Italy and made a few puppets, complete with hand beading in semi-precious stones.
What does your family think of your work?
I have five sisters and one brother, and 19 nieces and nephews. Some are ashamed, a few think I'm a genius, and many think I'm crazy.
When you meet someone new and they ask what you do for a living, what do you tell them?
That depends. Mostly, I tell them I'm involved in women's health.
What is your favorite thing about the vulva?
The clitoris, of course, all of it! It is the only human body part designed for pleasure alone. My puppet has all her parts, including the legs of the clitoris, hymenal tags, and the G-spot. Playing with a puppet, you can explore a vulva, finding and touching, feeling and experimenting with pressure, even finding the G-spot, which has a very different texture than the rest of the vagina.
Best of all, you get immediate feedback.
What's the weirdest request you've ever gotten in an order?
I don't think any request is weird. I'm dealing with human sexuality.
What is one thing you wish more people knew about the vulva?
That it's not dirty, it's WONDROUS! In fact, the [term] "wondrous vulva" was first written 4,000 years ago.
Many years ago, I read a book by Diane Wolkstein and Samuel Noah Kramer, Inanna: Queen of Heaven and Earth. It translates ancient, 4,000-year-old Sumerian texts. And lo and behold, the story of Inanna has a line in it wherein Inanna, preparing for a sacred and holy fuck in the temple with Dumuzi, proclaims, "... my wondrous vulva." If you ever want to completely blow a woman's mind, dedicate and read to her any one of the hymns from 2000 BC. These ancient stories are not only some of the first ever written, they elevate sex as a mind- and body-blowing ritual!
Are you surprised/disappointed by how many people confuse the vulva for the vagina?
Not at all.
Talk about the relationship between The Vagina Monologues and the Wondrous Vulva Puppet.
In 1993... Eve [Ensler] attended many workshops on women's sexuality, including Betty Dodson's. Many of these workshops use a vulva puppet, in their own ways. Eve called me one day to proclaim how brilliant the idea of the Wondrous Vulva Puppet was and to discuss various ways to initiate conversations about sex and sharing stories. I shared with her some of the ways I use it, and she took it from there.
Have people come to you asking you to make other body parts into puppets?
Yes, I have prototypes of an awesome penis puppet, but I'm busy making vulvas. I would love to have a few business partners to expand. Serious inquiries, get in touch.
Sign up here for our daily Thrillist email, and get your fix of the best in food/drink/fun.
Dorrie Lane is the creator of Wondrous Vulva Puppet. Follow her sexy work on Facebook, Instagram, and Twitter: @Vulvalutionary -- but most especially, be sure to get your own vulva puppet over at Dorrie's Etsy shop.
Nicole Caldwell is Thrillist's Sex & Dating editor and is thinking of all the people she can get vulva puppets for as gifts.