This Woman Hilariously Illustrates the Men Who Creep on Her Online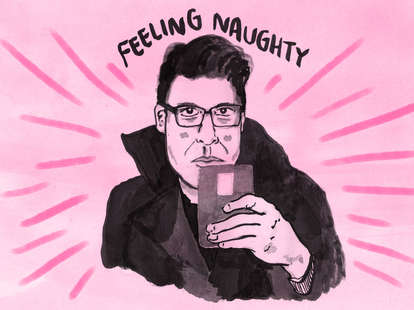 Courtesy Of Emmie Tsumura
What would you do if the person you just matched with on Tinder sent you an opening message of "Konnichiwa you look very young"?
If you're like most, you'd unmatch this person immediately and add him to the heap of failed attempts at online dating.
But Emmie Tsumura, a Toronto-based illustrator, writer, and graphic designer, has come up with a more thoughtful way to process the often-disappointing dating landscape so many of us are steeped in: she takes the men who hit on her in dating apps, draws them, and posts the pictures on her Instagram page @ok_cucumber.
What is it like to spend so much time ruminating on the faces of men you're not interested in?
Emmie Tsumura: Conversely, I'm interested in all of them -- which is why I draw them. I'm fascinated by the blip in time when two lives intersect online, and both of those people have to make a decision based on a few photos, a line or two, and a gut reaction and ask themselves: "Do I actually want to meet this person in real life?"
What do you think about while you're drawing these guys?
Tsumura: I think drawing helps me to process whatever feeling/reaction I have. Part of the excitement or tension in receiving these messages is that we inhabit the same geographic space. We live in the same city and could cross paths at any moment. I feel a lot of compassion for anyone who is sincerely trying to meet people online, but also feel any number of emotions, depending on the message and the sender.
You call illustrating an "intimate act," but say you embarked on this journey to create a sense of distance. Instead of shutting anyone down, you're actually diving in deeper -- did it feel weird to pay such close attention to faces of men who belittled/fetishized/clumsily hit on you?
Tsumura: I like David Hockney's quote: "Drawing takes time. A line has time in it." Whether we think about it or not, we have a visual understanding of time when we see an illustration versus a photograph. I wanted to use our innate understanding of this to draw attention to how fast we are swiping left and right.
When compared to photography, illustrations are much further away from the subject and closer to the hand that drew them. All drawings are self-portraits. I suppose that by following and recreating the lines of their faces, I was trying to understand something about them, or discover something that I couldn't if I were to quickly scroll through.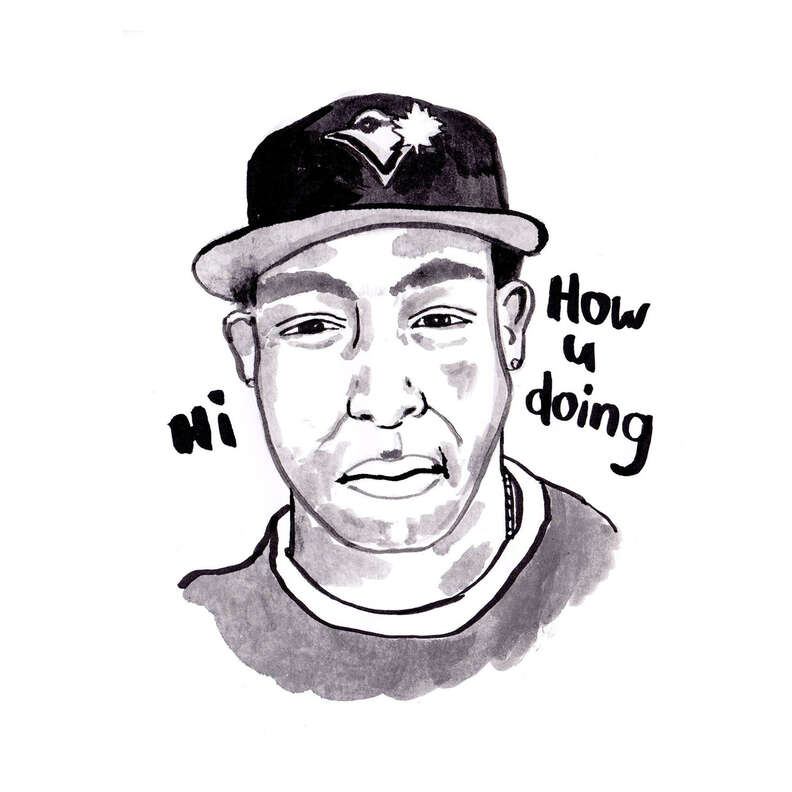 Our ability to sense or judge another person's character in literally seconds is quite remarkable , but what happens if we spend more time? How much more can we see? What changes in our perception over time?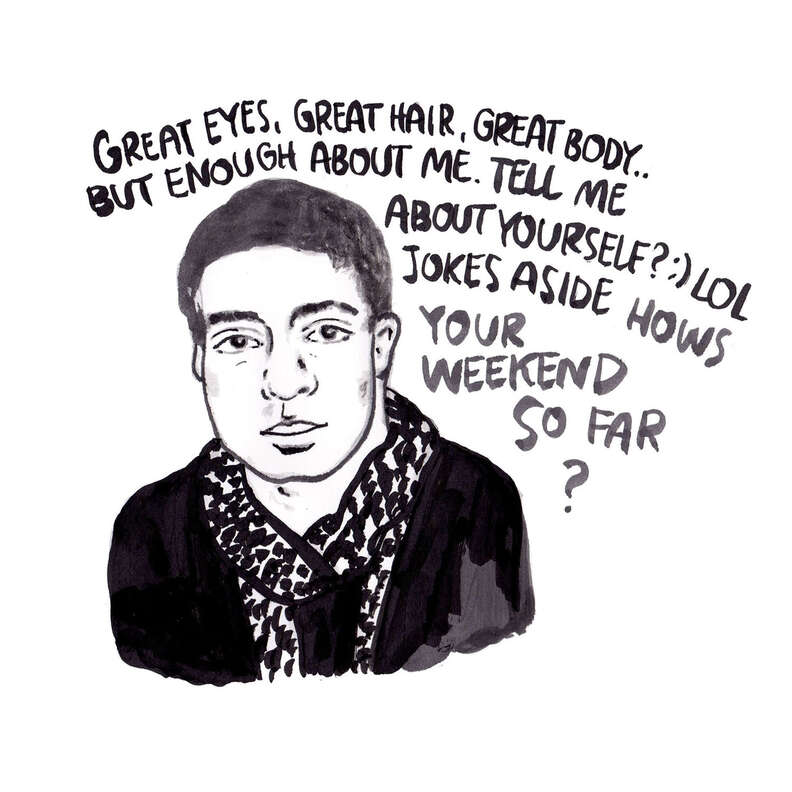 Sitting with the feeling of particular messages felt weird; I started drawing these to stop feeling weird! ... We as women do try and get away from the unpleasantries of certain messages and that feeling can be hard to shake sometimes. So while I was definitely diving in deeper by focusing on them, they were at the same time morphing into an expression of my experience.
And in addition to all of this, as the collection grew, it became like a graphic survey of what kind of messages I received, which was a great motivator to keep going.
How long does it take to complete an illustration of one of these guys, on average?
Tsumura: I would say it takes 15 to 20 minutes. I don't sketch them out in pencil, and there are no do-overs. I guess they are like an uncensored reply.
Have any of the men you've illustrated contacted you?
Tsumura: I did have a few messages... One asked if I was on Instagram, and when I said yes, immediately deleted his account! I've been recognized a few times at work, and that gets a little stressful, but I'm OK with it as long as people are enjoying the illustrations.
Follow Emmie Tsumura's work on Instagram, itsterriblelove, and Twitter: @emmietsumura.
Nicole Caldwell is Thrillist's Sex & Dating Editor, and thinks Tinder would be a kinder, gentler place if everyone was a cartoon. Follow her adventures on Twitter: @nicolemcaldwell.