Paid to Watch Porn: Talking to an AVN Hall of Fame Editor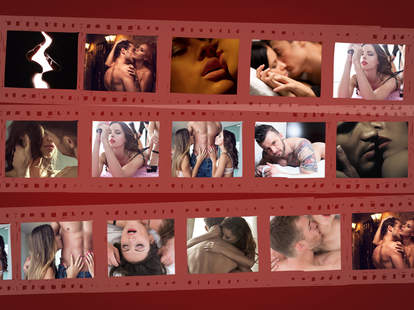 People take porn for granted. These days, you can just pull up a video, skip past the blow-job scene, wait for it to buffer, and call it a day. Few take time to consider the hard-working people behind the scenes. To shed some light on the lives of those actually tasked with putting these productions together, we decided to talk to Sonny Malone, a California-based editor who works hard cutting porn for a living.
She gave us the lowdown on working in pornography and told us about some of the grossest stuff she's had to leave on the editing floor. (Spoiler alert: it involves Germans.)
How did you get into the business?
I went to a place called Columbia College out here... for post-production film work and television work and literally fell into accounting after that. Don't ask. My mother said make sure I have something good to fall back on. Next thing you know I'm an accountant. I'm like, now wait a minute. I was at a big studio first, then I went to a new post-house doing accounting. I was the vice president of finance. They happened to be editing porn at the time. I jumped in to help edit the porn just because it was a small company. I figured, I know how to edit, let me try this. It fell in my lap.
My mom was like, whatever. The company went under and the company we were working for said, "Hey, who's your editor? We like their work." I'm like, "Oh, I'm right here." Next thing you know, I'm at a large company editing porn. I sat there my first year and said, "All right, if I'm going to do this, if I'm going to do the porn"... Well, first I called my mom and said, "Do you mind if I cut some porn?" She's like, "Are you making money?" I'm like, "Yes." She said, "OK, you're great." As long as I'm supporting myself, she's like, "Yeah, do whatever you want to do." My dad, not so happy.
My mom was like, whatever. I grabbed the AVN magazine and looked at it and said, who's the biggest company and who's the biggest director? That's the goal, to work for the biggest and be the best and get awards. I did it. I ended up working at Vivid for eight years, for Paul Thomas. I got two awards. I'm also the only editor in the AVN Hall of Fame.
What separates a good porn editor from a bad porn editor?
It may be porn, but I have a film background... I still try and go for quality over anything else. When I work on a dialogue scene, I actually pay attention to it. What's the scene trying to say? I think that part of my longevity is that I care about the story along with the sex. It isn't like one is more important than the other. I know a lot of people will fast-forward the dialogue to get to the sex, but in my world, I fast-forward the sex to get to the dialogue because I want the story. In the industry you're a little backwards, but I care about what's happening.
I think that part of my longevity is that I care about the story along with the sex.

I've actually fought for certain jobs that I really go for in a film if it's trying to tell a story in a little different way. Most directors are like, yeah, OK, let's leave it. They see what I'm trying to do. It isn't just disposable editing which most people might think because it's "just porn." It's not just porn to me. It's still an art form of some kind, and it's still a film.
Basically, I give a shit. That's not putting down any other editor in porn. If we have any kind of longevity in this industry it's because it's our craft. It isn't just to make the dollar. We want to make something that people are going to remember and enjoy.
What does your average day look like?
I'm up. I'm awake. I work out of my house so I'm completely freelance. I have no actual set schedule. I try to wake up, walk the dog, have breakfast, and go to work... Some days I might get the chance to be home and work all day which is great. I might work late at night. I do all the running around for my clients. If I need to go see somebody,
I'll try and schedule all my clients in one day and run around and hand out hard drives, pick up checks, that kind of stuff rather than going out a lot. I'm in Pasadena. A lot of my clients are in the Valley which is about half an hour, 40 minutes west. I throw something on the iPod, some book I'm listening to, and I run around doing my errands. The one thing about freelance, I work pretty much every day.
How many hours per day are you watching porn?
I actually did a weekly average once because my girlfriend was telling me that I was working too hard. I'm like, I'm not no, I'm not doing enough. Honestly, If I give you an average, I've got to say five to six hours and that's an average. Sometimes more, sometimes less. When I finish here, I'm going to go in this afternoon and do more because I've got stuff to deal with next week. I do a lot of porn. I have a six-terabyte internal hard drive and it's full. I have only a couple hundred gigs left on it because it's all porn.
What's a part of your job no one thinks about?
I think it's honestly the amount of technical work that goes into this. I have to digitize all the footage in and if I wanted to edit it, there's color correction involved, there's audio involved. The audio especially has been my nemesis for years. Once I get it in a computer, there's music to add, there's audio to fix, there's shots to go through... between color correction and audio, you wouldn't think there's that much work that goes into it, but there is. Boring as hell, but I have an expensive set of headphones just for porn. 
Can you still watch porn for pleasure?
No. I never watch porn for pleasure. I never really did, anyway. I don't think being a chick has anything to do with it. I wasn't wired that way. It wasn't my thing. When it fell in my lap, it was like OK, if I'm going to do it, I'm going to be the best at it. That's pretty much where my brain went. Other than that, it's just no. It's footage. It's just footage. Is it lit right? Is it in focus? Can I see what's going on? Is it cut well?
What's your favorite kind of porn to cut?
I have one client that handles all comedies and I love doing her stuff because it's all comedy. I've done a couple of drama stuff that I like too. As far as the actual sexual stuff, girl/girl, boy/girl, that kind of stuff, I guess I could... I guess girl/girl because I'm gay, because I am a female, and I've been with my girlfriend for like 27 years.
We just celebrated our anniversary so obviously I think I'm into something that I would be into which would obviously be girl/girl because you know men are icky. Kidding. I worked for Chi Chi LaRue for a long time. There was a lot of gay porn that came across my desk. As a girl, a lot of women that I know, we dig the gay porn. We dig actually two guys. 
A lot of them are just too many bears, too much butch stuff. I'm like, can we get some younger men in here?
I read that!
The problem is a lot of them are too butch for me. I mean I watch a lot of K-pop. I like the young boys. A lot of them are just too many bears, too much butch stuff. I'm like, can we get some younger men in here?
What's the most disgusting thing you've had to cut?
Oh, god. You don't want to know this.
Now I do definitely.
These people are going to read this over coffee, man. You don't want to know this.
It's such a great set up. Now I'm even more curious than before.
I have to tell. There was one company that I worked for very briefly that said, "You're OK with European footage, aren't you?" I was like, "Yeah, sure." I figured I'm just like a man, I can cut anything. I saw what I was editing. There's this German thing. I'm going to say it wrong, but it's where there's defecation involved.
​Whatever people are into, they're into. God love them.

Yeah. It's burned into my eyes. I haven't seen straight since then. I saw it once and I went, "You know what? I quit. I'm sorry, I can't." The guy was very nice. I had been given another job offer anyway. I'm like, "Yeah, I can't do this. I'm sorry. No, no." Bodily functions that I feel belong in a toilet and not a shower, I'm good to walk away from.
Whatever people are into, they're into. God love them. Whatever turns you on, great. It doesn't do it for me, but it was like oh geez, I can't look at that.
What are some funny moments that people usually never see?
I shoot behind the scenes so sometimes people know what I'm shooting, and some people don't. I think it's when they start cracking up between the sex. If there's something sexy happening, if they're on the couch and someone's leg falls off or something, they just start giggling.
People just start cracking up. When you got to go from cracking up to you're having the best sex ever but you know they're just on the edge of giggling. When they try to find some bizarre position to put their bodies in that are different and they're like, that's not going to work, that doesn't go there. That kind of stuff.
It's trying to make the sex look hot, but you fail miserably. I think that's when the laughing starts. Pretty much. Other than that, it's everyone hanging out, cracking up. Nothing big. If you're in front of the camera, it's trying to find the right position to have sex in.
That's funny.
I've seen it happen a dozen times. There was one scene where they were doing some bizarre position and you hear this cracking sound. The couch broke. I'm like, there you go. You're trying to finish the scene on half the couch or something. It was silly. It was an old place we were shooting in, but it was funny. That's pretty much what people don't see. What I do take out is them cracking up in the middle of sex, which has happened.
Don't try to emulate what we're doing because you're never going to be able to do it. I've met guys that are like, I could so do porn. I'm like, no, you can't.

Believe me, porn is not real life. If you're at home and you try to emulate that, you're doing it wrong. Don't try and follow up porn. We're a professional here. You don't want to go that way. People spend hours to look that good. That 20-minute scene you're watching has taken two hours to do or an hour plus, you know what I mean?
Don't try to emulate what we're doing because you're never going to be able to do it. I've met guys that are like, I could so do porn. I'm like, no, you can't.
Who's your favorite male porn star?
Tommy Pistol. I love Tommy because he's hysterical. We had a scene where we had two people in a kiddie pool... lathering themselves with oil. It was going to be an oil-type scene. Tommy was there for a different scene, but within five minutes he has on a thong and he steps in the pool eating a banana going, hey guys. It's like, what is he even there for? He was so funny.
He does some of the funniest shit you've ever seen. Ninety percent of it thankfully is on camera, but a bunch I've gotten. He's just funny. He's my absolutely favorite. He is someone I would watch in other movies just to watch him act. Seriously, I would. Even during the sex scenes, some of the stuff he says during.
There as an anal scene, it was his first anal with this one girl. He has her on all fours and he's going to town. He starts singing about going to town and doing like a Broadway number in the middle of the sex scene. The girl is just cracking up... I'm like, OK, he's my favorite.
Is this your dream job?
I live for it. Well, no. I don't know. Dream job? The dream job would have been Thelma Schoonmaker working for Scorsese... It is kind of a dream job only because I have time. I can craft my life around me, you know what I mean? I don't get up and go to an office which is great. I work in a creative environment with creative people... I'm not making a ton of cash, but I'm doing OK. Having time to pursue what I want to do as far as kind of crafts, hobbies, hit museums, take a day off if I can, work only in the evenings. I can really craft my own life and the way I live it.
What do you think is most misunderstood about the porn industry in general?
When I'm on the set and I'm shooting behind the scenes, the sex is in front of the camera only. It isn't just happening randomly over here or randomly over here. No, no, no. When the camera is on, there is sex. When the camera is off, there is no sex. I had one little girl I was hugging a lot because she was just the cutest thing. We just got along. She sat in my lap for an hour at one point. This was after the shoot was done. We were just hanging out. It had nothing to do with the set. She's just a sweet girl. I think people think that sex happens all the time on a porn set and it doesn't. It happens only in front of the camera.
How long do you think it took you to be desensitized to nudity?
I hang on Facebook and I look around on Instagram and there's no nudity. When I go to Twitter, I'm like huh. I've got a Twitter and there's some girl with a dick in her mouth. I'm like, stop. What are you doing? No, no, no. I'll unfriend a lot of porn people. They're just promoting their site, but I don't want to see that. I see enough at home. When I'm on the set, there's naked people walking around. It still kind of shocks me a little bit if I see a naked man walk past me and he's on the way to a set I'm like, ugh, put on some clothes.
When I see mainstream nudity, I'm like yuck. Put your clothes on.

I don't know how desensitized I actually am. Even if I'm watching a mainstream movie and a boob pops out I'm like, what are you doing? Put that away. That doesn't go there. I honestly don't know about being desensitized. I think for a while I was. My girlfriend can probably tell you the whole idea of having sex in my personal life was like, oh God no... I got to a point where I was like, ugh please put your clothes on. It's hotter. Put your clothes on. Then it took another couple years after that just to level out and become a human being again.
I got to say a good five years in and I was finally human. This many years in, I'm like, yeah, whatever. When I see mainstream nudity, I'm like yuck. Put your clothes on.
 
Sign up here for our daily Thrillist email, and get your fix of the best in food/drink/fun.
Jeremy Glass is a writer for Thrillist and will hopefully always be pleasantly surprised by nudity.