I Went to Karaoke Night. At a Sex Club.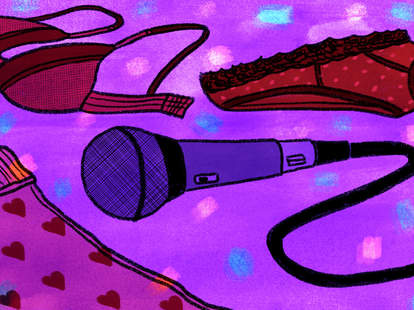 All eyes were on me as I took the stage. My heart pounded in my ears.
It was that beautiful feeling of adrenaline I get every time I perform at a karaoke night; only something was starkly different here. Behind the clapping, cheering crowd, I could see a half-naked couple furiously making out in the corner. To my right and left, I heard throes of passion: screams, yips, and moans emerging from adjoining rooms.
I am a karaoke enthusiast. It's nothing for me to be at a karaoke night at least weekly, and in my hometown of LA there is no shortage of great spots to choose from. I'm equally comfortable belting out a tune in the privacy of the shower, the safety of my car... or in front of a red-curtained backdrop at a sex party Downtown.
Because when your karaoke DJ friend invites you and your boyfriend to check out his set at an adults-only club, you say yes.
Karaoke at a sex club calls for eccentric appearances and diverse crowds
Excited by what was sure to be an unforgettable evening, I traded in my usual T-shirt and jeans for an all-black elegant-goth ensemble. I wore a tiny, frilly skirt with little suspender straps attached to the back; a see-through shirt with a tightly cinched corset over the top; sheer stockings; and (of course) patent-leather heels. My boyfriend chose a dapper outfit of black slacks, white button-down, black vest, loafers, and a newsboy cap.
We arrived to the club which, as many such places do, bore a nondescript facade and offered its only entrance through the back. This particular Friday was billed for couples and those who presented as femme, with a cover charge for single males (pretty standard for events such as this). There was a fairly decent mix of people spilling into the venue who spanned all walks of life, gender identification, and relationship dynamics. It was great to see everyone mingling without judgment or reservations.
Is it more nerve-racking to perform in bed or on stage?
I took a short stroll around the venue to get a feel for the environment. While much of the club was shrouded in darkness, the karaoke room was vibrantly lit and centrally located; creating optimal foot traffic and that extra-special feeling of exposure so many who enjoy public performance crave. Standing in the middle of the crowd afforded premier people-watching as revelers popped in and out of the room to perform, watch, sing along, or take a spin on the stripper pole. The space had tones of red and gold with a sparkly, apropos Studio 54-esque feel.
Which is more anxiety-inducing: getting up in front of a crowd of strangers and singing, or getting it up in front of a crowd of strangers?
As a veteran karaoke-goer, I know my confidence level is fairly strong when I get up to the microphone. I had to wonder, though, about the age-old advice given to those with stage fright: "just picture everyone in their underwear." This adage, it seemed, was rendered somewhat redundant in such a setting. Which is actually more anxiety-inducing: getting up in front of a crowd of strangers and singing, or getting it up in front of a crowd of strangers?
I didn't have to wonder too long, as a beautiful gal climbed onto the small stage to perform Duran Duran's "The Reflex." Her dulcet sounds blended with moans of pleasure from a nearby room. Honestly, it was a downright harmonious mix of song and sex. It seemed everyone was getting off in their own special way, and I couldn't wait to jump in with both feet -- or any other dangly bits -- to join the fun.
There were no distractions or social crutches to be found
The strict no-cellphone policy gave everyone a welcome sense of privacy, furthering the lack of inhibitions. It's way easier to relax at a sex club when there's no threat of your pics showing up on Instagram.
Also, the club's strict rules forbidding the use of drugs or alcohol made for a low-key setting in which people could express themselves musically and sexually without the crutch of liquid courage. And though it might seem like that would dampen the mood, the opposite happened. I loved watching clear-headed people who might ordinarily be shy in any other setting get up and shine in the karaoke spotlight -- or approach someone they might not usually have the nerve to.
Karaoke at a sex club is ridiculously fun, even if you don't get laid
For my first song, I chose Oingo Boingo's "Nasty Habits" -- a cheeky classic that seemed to get the energy of the crowd up and running. As the night went on, layers of clothes disappeared along with inhibitions. The songs got sexier and couples sat closer, wrapped around each other seductively while taking in the sensory carnival around them. Strangers struck up conversations with one another before shuffling off to more intimate spaces to continue the fun.
And although I was there more for the singing than the sex, it was nice to know that I could feel at ease engaging in either or both.
Getting to peek in on sexy scenes throughout the club gave an extra spice to an already-tasty evening. And though it may seem like an odd choice to offer karaoke at a sex club, it actually makes a lot of sense for appealing to exhibitionists of all ilks.
With the night rolling to a close, I signed up for a final song and dropped down to my skivvies. And as the opening sequence of Ludo's "Love Me Dead" came over the sound system, I strutted onto the stage and grabbed the mic. The crowd went wild.
Sign up here for our daily Thrillist email, and get your fix of the best in food/drink/fun.
Deb Kavis is a nerd in love and a karaoke superstar.