Married Couples Share Their First Texts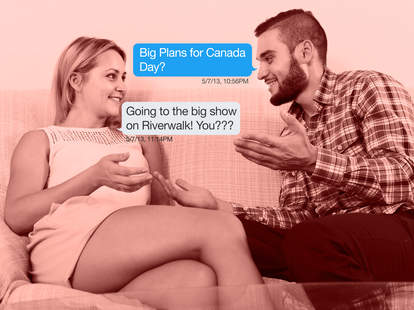 The first text is the hardest.
Meeting "The One" can be one hell of a complicated beast; and no small part of that equation these days is breaking the ice with a brilliant message or text. It's a necessary evil we all have to conquer -- and today's newlyweds are no exception to the rule. Just about every recent marriage started with a courtship initiated by a fairly innocent, slightly bumbling message exchange.
But how was the bar set for couples who decided to stay together forever? To find out, I tracked down some married people willing to share the first flirty messages they exchanged. What I found was hope that awkwardness and shyness will never get in the way of true love.
The "safe travels!" message
Before exchanging cell numbers, Brian (not his real name) made the first "official" move on Stephanie (also not her real name) via Facebook Messenger.
"I was living in China at the time and came back to the US for a wedding," Stephanie says. "We met at the wedding where we were friendly, but nothing happened between us. Then he messaged me on Facebook. He mentioned Beijing being crazy because I was arriving during the Olympic opening ceremonies." The rest of Brian's message was innocent enough: He said it was great meeting her, asked if she'd caught up on sleep, and wished her safe travels back to China.
Goes to show you that sometimes a random, friendly person at a wedding could be the instigator of your future wedding.
The "be a guest on my podcast" message
If the attraction is mutual, just about anything works as an icebreaker… even a clumsy attempt to get someone on your podcast.
Charla was a participant on a reality TV show; a detail David used to get closer to her with this text:
"Charla, we spoke a month or so about my podcast… want to get together for an interview next weekend? You can also plug whatever you are working on."
David feels a little embarrassed about it looking back. "I'm such a loser," he says. "I met Charla asking her to be on a podcast." That interview turned into a date, and now they have two daughters. It's a good reminder that stressing over opening lines is totally unnecessary. If you like each other, it doesn't much matter what you say.
The "how have you been?" message
"Leo and I met in fourth grade, so I don't have our first messages," Simonette says. "But I do have his first Facebook message to me." That showstopper reads: "Simi, I haven't talked to you in years!!!! hows college treating you? u like your classes??"
Simonette and Leo have been married for nearly three years -- but not at all because of that Facebook message.
"I didn't respond," Simonette says. "Leo said he always had a little crush on me. I wasn't really interested in him until later on. He reached out to me a few times and I kind of ignored him or gave him short answers."
So if you reach out and get ghosted, don't give up hope. They may just not be into you yet.
The "do you have plans?" message
Instagram can be a great singles-trolling app, if you use it right. Just ask Susie and D'Arcy, who used the app to connect a year after meeting at a burlesque party.
"My then-boyfriend and I befriended D'Arcy and his friends [at the party], added them to Facebook, and hung out with the group a couple times after that. My boyfriend and I broke up a year later, and a few months after the breakup D'Arcy added me to Instagram and noticed I'd stopped posting pictures of my ex."
D'Arcy knew it was time to pull the trigger, so he fired off this innocuous Instagram message:
"What's up Susie? Big plans for Canada Day?"
"I was totally weirded out by it and it took a while of messaging before I actually let him take me out for drinks," Susie says. "My ex was actually the one who convinced me to go out with D'Arcy because he knew and liked him as an acquaintance already. I love reading those messages because it's so polite compared to how we communicate today, but I'm also proud of how fucking smooth he was to slide in there."
Goes to show you never know when "The One" is the one who hit you up on an app not normally used for dating.
The sports enthusiast tweet
Dani and Mark traded their first words via Twitter. "We met when I was working at a comedy club and he was [a comedian] doing the weekend there," Dani says. "We followed each other on Twitter. When we first met, the Mavs were playing the Spurs and the game was on in the green room. We both thought each other was attractive, but I did not want to date a comic or have a boyfriend, and he didn't want a girlfriend. So we kind of would just message each other."
To get the ball rolling, Mark tweeted at Dani about the Mavs/Spurs game; to which Dani replied with this:
"Haha sorry I'm just now seeing your spurs tweet. Man.. I'm taking thunder for the win. Durant went to my school. I mean ya he was only there a year before he went pro. So really it was my school that got him there if you think about it. We claim him."
"Mark was such a nice and happy guy (still is), that I knew I could sleep with him and he wouldn't say anything to anyone," Dani says. "And I kind of told him that. One day we got an Uber home from the comedy store and he invited me up to his place to see the art his mom sent him and tell him where to hang it. I told him I just wanted someone to hook up with. But then I fell for him bad. Oops."
The "love at first sight" message
Pippa and Candace met at a party, and the attraction was instant. Their first text exchange, instigated by Candace, went like this:
"Call me"
"I will"
"Tonight"
"We were both obsessed immediately," Pippa says. "I had a girlfriend moving from Atlanta to Chicago. I met Candace and within one week, I had to break up and tell her not to move. That's how quick it was."
The feelings haven't faded -- the pair tied the knot a few months ago.
Sign up here for our daily Thrillist email, and get your fix of the best in food/drink/fun.
Eden Dranger is Thrillist contributor who moonlights as a screenwriter, comedian, and avocado connoisseur. Check her out on Twitter @Eden_Eats.