An Amateur's Guide to Asking Your Partner for a Threesome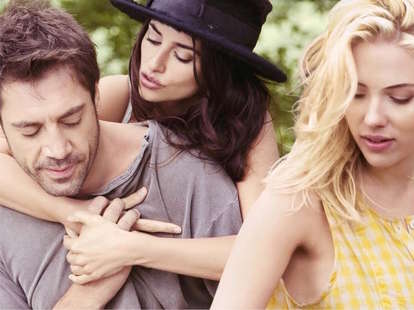 Weinstein Company
Weinstein Company
As far as sexual fantasies go, threesomes are up there along with doin' it on top of Mount Everest and getting head inside an active volcano. However, unlike the other two exciting scenarios, getting a partner to agree to a threesome may be more challenging than one thinks. That's why we enlisted the help of Dr. Chauntelle Tibbals, our go-to sociologist who studies sex and gender, to help couples figure out the best way to get another person in the bedroom.
Threesomes depend on the type of relationship you're in
As you know, not all couples are the same. Some couples fight about every little thing under the sun, while others are more like siblings... who have sex. So regardless of what you've been led to believe, not every couple is capable of having a threesome.
"For some, coming right out and saying, 'Let's do this!' is great," says Dr. Tibbals. "For others, the idea may have to be introduced more delicately, strategically, or not at all. Not everyone is open to the idea -- nor do they have to be."
The keyword here is "strategically;" as in, a well-planned strategy for even bringing the topic up. Is your partner potentially open to sex with other people? Does he or she flirt with polyamory and/or danger? Or is this someone who wouldn't be comfortable with a dog in the bedroom? Think about your audience!
There's not always a way to avoid hurt feelings
"Short of having a working crystal ball, there's no way to predict the future," says Dr. Tibbals -- who clearly has never invested time in the Back to the Future trilogy. "And because we, as a society, have attached so much variable and often arbitrary meaning to sex, you can never tell when someone's feelings may get hurt."
That's the problem with approaching the topic of group sex… you just don't know what you're potentially getting into. Perhaps your partner is in their phase where they'll say anything they think you want to hear. So, while they may say that a threesome is written in the stars, you may not realize that you're setting yourself up for disaster.
"As such," continues Dr. Tibballs, "all you can really do is attempt to find the most respectful and connected way to make your desires and interests known."
Organizing a threesome is easier than you think
Ladies and gentlemen, welcome to the internet: where any app is a dating app if you try hard enough. If you don't want to go for the obvious and try an app like 3nder, that was specifically designed with the goal in mind of staging a ménage à trois, Dr. Tibbals reports that you can step outside the proverbial box by actually talking to someone offline (if you can even remember how to do that).
"The options for finding a third for your threesome are actually pretty varied -- [from] conventional dating sites to communities dedicated specifically to sexual exploration... and professional service providers are all options."
Always talk about limits and boundaries
"Rules and limits should definitely be discussed well at the outset of your threesome foray," Dr. Tibbals says. "Ideally, well before it's actually happening. Only you can determine the tenor of your relationship in this respect. It could be risky, but often times great risk brings great reward."
The overarching theme in having a threesome with your partner and someone new is communication. There's no reason to clam up right before you all jump in the bed together; open up a bottle of wine and talk about what you're into -- and more importantly, not into. You might be disappointed to find out that Susie from Tinder is not into butt stuff, but it's nonetheless much more important to have that info out in the open from the get-go.
"Having some form of real-time contingency plan is a good idea too," Dr. Tibbals says. "Especially for your first time, you actually have no idea how you're going to find the circumstances of the threesome. You may not like it, you may not like a rule you set, you may find yourself overjoyed and totally down to abandon a boundary you set previously. Establishing some form of communication will be beneficial for everyone as the event unfolds and things get heated."
Be prepared for the aftermath
Naturally, one has to wonder what's going to happen to the relationship after the threesome is over.
"Like anything in life, new stimuli introduces new possibility," says Dr. Tibbals. "You may find yourself on an adventurous sexual path you'd never before considered after your first threesome. You may also find yourself in some form of emotional and/or relationship turmoil, wondering about the state of your relationship."
Listen, this is just something you have to accept about rolling the dice by having a threesome with someone you love and a third party you're both (hopefully) attracted to. You and your SO could have a wild time but ultimately feel unaffected. OR it could change everything.
"When you introduce new circumstances, you also introduce new possibilities. This is inevitable. And if the idea of 'what if' troubles you, perhaps consider your approach more thoroughly before diving in. It may be that you need to do a bit more emotional and/or relationship work before you and your partner are ready to go there, and that's totally OK."
This is 2016, though; we're the 'what if' generation. Think about this -- seeking out a partner for a threesome was a lot harder 10 years ago. There was no Tinder; only sketchy back-page ads and weirdos on Craigslist. Still, we're a long way away until people can be completely honest with each other and express the feelings they mean to express. So, until that day comes, talk to your partner about a threesome and then get out there and go find someone. You know, if your partner's cool with it, of course.
Sign up here for our daily Thrillist email, and get your fix of the best in food/drink/fun.
Jeremy Glass is a writer for Thrillist and still needs to muster up the courage to ask his girlfriend for a twosome.