Sex Tips for Boring People: Better BJs, Trouble Finishing, and the Elusive Micropenis
Sex Tips for Boring People will take your sex life from vanilla to passion fruit. Or at least from vanilla to vanilla bean. Find more sexy advice right here.

My girlfriend sucks at oral. Short of bluntly telling her, what kinds of things can I say during the BJ that won't offend her?
First, props on you for not already offending her. This is a situation that truly sucks for everyone, and not in the good way. Yes, this is terrible for you, but also terrible for her because she's probably aware that she's doing it wrong and too afraid to ask how to correct it. Finding out you're bad at anything in bed is potentially (definitely?) scarring, so it's nice that you care enough to protect her feelings while you're also undergoing a displeasurable experience. (#Gentleman)
What you can do is make your suggestions seem like sexy instructions. As she's performing the deed, whisper to her what it is EXACTLY that you would like. But you know, sexily. "Baby I love when you [TELL HER IN GREAT DETAIL HOW YOU LIKE IT]..." You can also incorporate these instructions into your weekly sexting routine, if saying it out loud to her is something you're uncomfortable with. If you and your lady are a porn-watching couple, find a particular segment that is enticing to you and watch it together. Make it clear that this is something that you would enjoy. If she cares about satisfying you sexually (and hopefully she does), she'll take it from there.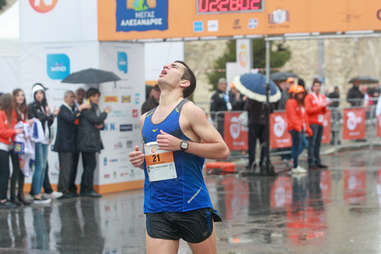 I can't "finish" during sex -- only when I masturbate. Why?
There could be a variety of reasons for this, but first it's important to note that this is not an uncommon problem, so don't feel weird about it. We reached out to Dr. Ian Kerner, PhD, LMFT, who is a licensed psychotherapist and nationally recognized sexuality counselor who specializes in sex therapy, couples therapy, and working with individuals on a range of relational issues.
"Sometimes men, through masturbating regularly, temporarily develop what would be called an idiosyncratic masturbatory style," says Kerner. "They've gotten used to a certain pressure or friction with their hands that isn't easily replicated during intercourse. As good as a vagina feels, it doesn't have the same pressure that a guy can apply with his hands."
Sound familiar? If so, Kerner suggests taking a break from masturbation for a week (YOU CAN DO IT!), or try masturbating with your non-dominant hand to see what happens.
If this does not sound like you, the next guess would be, are you on any particular medications? Kerner says that a lot of men who are on antidepressants or anti-anxiety meds like Prozac, Zoloft, or Paxil, have side effects like delaying orgasm or inhibiting arousal.
And if it's not meds, the last thing Kerner would look at are any psychological issues. "Maybe he has a fear of getting a partner pregnant, or a fear of some kind of intimacy that comes with ejaculating," says Kerner. "I would also question his sexual history -- has this always been an issue? Is it recent? I would wonder if this person is reaching the requisite levels of arousal to really get to the point of ejaculating. Maybe he needs more psychological stimulation in the relationship, like trying new things, sharing fantasies, or watching porn together."

What exactly is a micropenis and how common are they?
Unlike leprechauns and fairies, micropenises are very tiny, but very real things. The medical definition of a micropenis is, "any penis which, when stretched, is 2.5 standard deviations below the mean size for the age of the patient. In adults, the condition refers to any penis smaller than 2.8 inches in length."
Besides being wildly uncomfortable for everyone involved, the side effects of having a micropenis include difficulty urinating and trouble having sex, as well as a low sperm count. The psychological issues, however, are probably far worse.
Sadly, the elusive micropenis is not AS elusive as we might hope. The condition is thought to affect one in 200 males that are born.
So, there you have it. The more you know.
Sign up here for our daily Thrillist email, and get your fix of the best in food/drink/fun.
Meagan Drillinger is a contributing writer for Thrillist. All of her dates are tax deductible. Follow her on Facebook, Instagram, and Twitter: @drillinjourneys.