Inside One Man's Obsessive Quest to Create a Million-Dollar Vibrator
All visionaries have their obsessions. For Thomas Edison, it was electricity. For Elon Musk, space travel. And for Colin Burn, it's a vibrator that costs a million dollars.
Burn, a 53-year-old jeweler in Perth, Australia, who first made a name for himself by devising a process for gilding leaves and flowers in gold and silver, has spent the last dozen years creating wildly extravagant sex toys for the global 1%. These come encrusted with jewels, monogrammed, and custom detailed, made from the world's most precious woods and metals and even human hair. They range from silver nipple clamps for $299, to the "Pearl Mini Vibe" in silver with an actual pearl on top for $3,000, to the Pearl Vibrator in platinum, which includes a necklace made with pearls and diamonds and matching earrings, and costs $36,000. Priciest of all is Burn's Diletto. Made out of 18-karat white gold and festooned with 400 diamonds. Yours for $38,000.
Burn's accomplishments are many, but one thing continues to elude him: the million-dollar vibrator. It's now designed, prototyped, and ready to go, but it took years of hustle, hard work, and enduring the taunts of friends and colleagues to get there.
Here's Burn, in his own words.
***
I first found out about vibrators when I was 16. You would be in relationships and use sex toys and such. No big deal. Back then, though, in the 1970s and early '80s, they were cheap items sold in sleazy shops where guys wore trench coats. In those days, I remember, vibrators were know as "marital aids." They were products you used, not things you coveted.
But, years later, my obsession with them grew out of an artistic perspective -- not a sexual one. No one had made an artful vibrator before. I wanted to be first. I don't want to follow the conventional norms. I don't get inspired by doing conventional things. I don't want to be a lemming. This seemed like one way to keep from doing that.
My quest to make the million-dollar vibrator really began in 2003. I was having a conversation with a group of people at a dinner party, and somebody mentioned a gold vibrator that is supposed to be luxurious. I laughed. It's plastic, coated in gold. I knew all about this item, but hadn't really thought about it until it came up in conversation. There was nothing luxurious about that gold-plated vibrator!
But the conversation made me curious. Is there such a thing as a luxurious vibrator? I knew I had never before seen one. Usually, they're these rubber or plastic things with all kinds of stuff hanging off the sides. So I researched the sex-toy market and discovered something: it's filled with awful product. As a jeweler, I can tell you, the dildos and vibrators out there in 2003 were not classy.
So I laid down a challenge for myself: devise a true luxury product for people to use in the bedroom. It would be high-end, high-value, made from real gold, with real jewels, for people who appreciate fine things.
When I started, the reaction within Australia's mainstream jewelry industry was often negative. It's a very conservative business. Fellow jewelers told me to my face that it is a terrible idea. They'd say, "That is disgusting and offensive." I would tell them that they have the wrong attitude. I'd tell them that I think it's beautiful. I still wonder why sexuality would disgust them.
But I knew that nothing could stop me. I am the kind of person who, if I am told I shouldn't do something, then I really do it. Initially, I did it to show them. Later, it would become my art form.
***
At the beginning, there was a lot of experimentation in terms of the first vibrator's casting. I knew it needed to be made from a precious metal, but there was a weight issue. The big problem with solid silver and gold is that they're both heavy. But I had a solution. Without giving too much away about my proprietary processes, I can tell you that I made a wax casting in the appropriately phallic shape, about 7in long. Then I covered it in pure gold. After melting away the wax, I was left with a hollow, 9oz form that looks beautiful.
Then I started thinking about something that the Japanese do: insert pearls under the penis' skin. It gives women extra pleasure. I wanted that to be part of this product. I added pearls to the shaft. It looked great and I knew it would improve functionality.
Next, I decided that the vibrator needed to look elegant and beautiful, and come off as something that had never been seen before. I got drawn to the Italians and jewelers like Bulgari. I added some of that flare and augmented it with curls of gold that you see on gates to amazing homes in the Mediterranean. I laid in precious and semi-precious gems, and smoothed them down. It looked aggressive, but when you ran your hand along the shaft, it felt amazingly sleek.
Once I had the body -- which was light enough to actually vibrate -- the motor became a challenge. It needed to be engineered as much as designed. Then I got into a dilemma about the switch. On/off switches are ugly -- and I didn't want to risk battery acid leaking out and ruining a beautiful piece of jewelry. So I made an important decision: the vibrator turns on and off by a person taking the battery in and out. Put the battery in, screw the top down, and the vibrator switches on.
By 2004, I had my first product in hand. The Casanova. Its current cost in gold is $29,000. In silver, they go for around $3,500 each.
Both my wife, Clare, and my business partner, Nicole, were more than happy to test it out. I was really pleased to see it in action. Like most married men, I had used vibrators with my wife. But this is not an ordinary vibrator. It elicits an extraordinary reaction. My wife absolutely loved it. She held it in her hand and said, "Wow. This is so beautiful." She had a giant smile on her face. That is what excites me: what happens when a woman first sees it, rather than when she first uses it. That is what I was aiming for. I wanted to create a little shock and awe.

Over the course of 2005, I came up with a complete line of vibrators, including a solid-gold, egg-shaped vibrator, which retails for $25,000 (we have sold more than a dozen -- it's not what I am proudest of, but eggs are signs of prosperity in the Asian culture), and the Pearl Vibe, which runs $16,000 in white gold.
But how do you sell something like that? You don't sell it in a sex shop. It doesn't fit in a jewelry store either. Nobody is going to place it alongside tennis bracelets and engagement rings. I'm enough of a realist to recognize that. So I decided to go the art-gallery route.
I worked with the publisher of a very upscale lifestyle magazine in Tokyo. They like what we are doing and see value in it. Word got out and we put on an exhibition in a district called Omotesando. It's where all of Tokyo's high-end retailers have their shops. We invited an upscale group of people, but we did not want to do a hard sell. Nobody knew exactly what they would be seeing. The idea was that they would be coming to view jewelry. There were small bites of food and glasses of Champagne. In the corner of the room, a lady played an antique harp.
Then came the shock and awe. By that point, I had around 15 items completed -- including a whip made from blonde human hair in 18-karat solid gold that sells for $19,000. The reaction was fantastic. The Japanese were thrilled. A few of them even blushed. No designer had done sex toys at that level before. People wanted to try them out -- but nobody did at the exhibition. It generated more than a million hits on the internet.
I sold some of the pieces, but I needed to do more. I needed to do the next thing.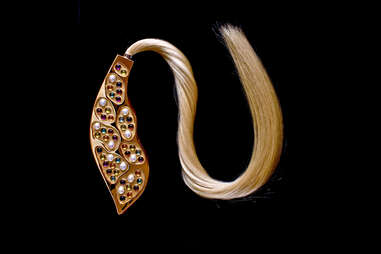 Despite what I have accomplished, some friends see my work and make smutty jokes. I think they feel more comfortable when sex is dirty and sleazy. They joked about it being a waste of money to stick diamonds in a lady's fanny. They talked about the diamonds being abrasive and rough -- when obviously they are not. I told them that they don't need to do that. But they did it anyway. Plus, on top of the ribbing, other companies had started making high-end sex toys. All of it was irritating me. I felt that I needed to go one better. I wanted to blow everybody out of the water. I wondered how far I could go with all of this.
At one point, I considered actually replicating a human penis, custom-making a vibrator that would be based on an actual customer's penis. I have not done it yet, but that offer remains on the table. Send us your John Thomas and we will cast it in silver or gold. Then, when you are away, your wife can still have a piece of you there to play with. We can even expand the size if you want to feel better about yourself.
Still, I knew there was a bigger idea and I started to wonder: would somebody actually buy a vibrator that cost $1 million? A rumor circulated that David Beckham spent $1 million on a vibrator for his wife. But that wasn't true. It was a vibrator that came with a million-dollar ring. Completely different. As that story went around, my attitude became, I will do this.
Then the real questions arrived: if I make a million-dollar vibrator, who will want it? What will the appeal be? What will it look like? I decided that it needed to be regal. If a queen of a country had a vibrator, this would have to be the one she would buy.
I spent a month just working on the design. The piece warranted a crown of its very own. I knew I wanted to litter it with diamonds and blue sapphires. Everything about it had to scream royalty. It needed to be regal, yet still function like a vibrator. I designed it to resemble a scepter.
Below the crown, the vibrator itself had to be made out of platinum -- the most expensive metal on the planet that you can still cast. The diamonds would be deeply set and polished down. They wouldn't protrude. I designed the body to be textured and smooth, aesthetically pleasing, and extremely functional. Then I came up with a special feature: you unscrew the crown and there is a pearl inside it. At the bottom of the pearl is a key that can be worn as a necklace. When the vibrator is in use, the key controls the speed.
The reaction to this piece was fantastic. After six months of work, I showed a prototype in Macau and people went crazy for it. We exhibited it inside the Venetian and the most common reaction from a number of women was very simple: "I want one!" There is a revolution in China. Luxury is the hot thing there, and sexuality is booming. It's the kind of place where the million-dollar vibrator can be sold. And once I have a customer for it, I will take it out of the concept stage, custom-make the real thing, and it will be spectacular.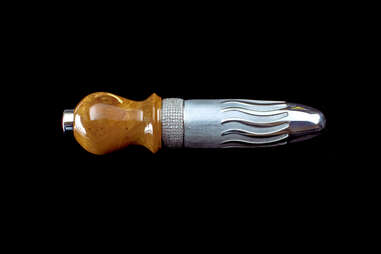 At one point, I was almost full-time on this, traveling and exhibiting and showing the products. After the financial crisis in 2008, I moved away from this project. Now I'm back into top gear. I'm up all night thinking about that stuff. I have new ideas, and I'm looking for investors and customers because I know that a market exists for luxurious sex toys, especially when the economy is riding high.
So far the most expensive product we sold went for $38,000. It is the Diletto. A Japanese businessman made the purchase and he loves the product. It was inspired by a jellyfish, the Irukandji, from my hometown in Australia. It is the smallest and deadliest jellyfish in the world. You get stung and you have 15 minutes left to live. This is a nasty business we are talking about.
The piece is 7in long, about the size of the actual jellyfish. The body is made from 18-karat white gold. At the tip is a raised impression of the Irukandji. Getting toward the handle, you have a collar of 400 white diamonds. And the handle itself -- here's the kind of crazy thinking that goes into something like this -- is made from conkerberry wood, which the ancient Aboriginal people believed had healing powers. So at one end is this very poisonous creature, in the middle are diamonds, and at the bottom you have the cure. A gentleman saw the Diletto and said that he had to have it. Now he does.
Getting back to my whip made from human hair -- you can readily buy human hair, by the way; we did not need to cut it off of somebody's head -- I'd like to tell you that it came from an elite Italian model, but that is not the case. The thinking behind this derived from the fact that there are world-class whip-makers in Japan. They make some of the finest whips in the world. In order to compete with them, I had to expand the thinking. I considered the fact that there is a fascination with blonde women in Asian culture and this idea came to me.
It looks great -- with a beautiful wooden handle, our whip pairs quite nicely with the Casanova -- and is very functional. My whip creates a nasty sting, especially when you wet the hair a little bit. I know. I experienced it myself. An occupational hazard in my line of work is that you may not be able to sit down the next day. But that's a good day, then, isn't it?
Michael Kaplan is a senior features writer at the
New York Post.
He has also written for
Details
,
Wired
,
Playboy
, and
The New York Times Magazine,
covers gambling for
Cigar Aficionado
, and is the author of four books.