Your Memorial Day after hours rooftop playlist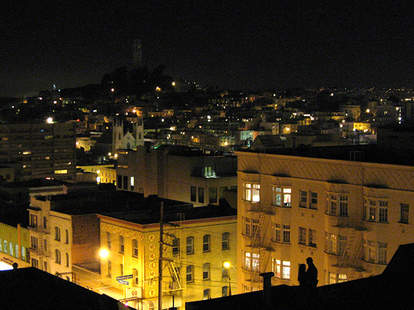 Photo Courtesy of Project365
The set up: you went to a Memorial Day rooftop barbecue and met a girl. Now you're taking her to your rooftop, because she's clearly comfortable being on top of dangerously tall structures with relative strangers. In keeping with the season, your soundtrack should have a light, laid-back vibe
"Between The Bars," Elliott Smith: The first line accomplishes pretty much everything for you. "Drink up baby, stay here all night. The things you could do, you won't but you might..." Then again, just think of what conspiracy theorists say some girl "did" to Elliot Smith.
"Just Like The Moon," Brett Dennen: He's the sonic equivalent of that sun-drenched, toes in the water feeling -- the only thing more delicate than his lyrics is his guitar plucking. And his laundry cycle. Brett Dennen wears a ton of silk.
"Longing To Belong," Eddie Vedder: One word: Ukulele. Two more words: Eddie Vedder. The man is sex. No, seriously, he is, even though women acknowledge that if he wasn't holding a guitar he'd look like the guy at the Safeway down the street bagging our groceries -- who we'd still sleep with if he looked or sounded like Eddie Vedder.
"The Trapeze Swinger," Iron & Wine: They somehow make the "F" word sound as sweet as the "L" word.
"The Guy That Says Goodbye To You Is Out Of His Mind," Griffin House: Um, you read the title, right? Also, it's badass that it's sung by a fraternity full of griffins.
"Sight Of The Sun," Fun.: Forgive yourself for jumping on the bandwagon long enough to listen to the lyrics, "I used to run at the sight of the sun, now I lay here waiting for you to wake up." It's girl kryptonite.
"Tamacun," Rodrigo y Gabriela: This latin guitar instrumental's horchata-sipping vibe is perfect for hot summer nights. Also, it's from a pair of Mexican musicians who got discovered panhandling the streets of Dublin, so it has that whole "spare an Irish pound, mucker?" thing going for it.
"Don't Let Me Down," Stereophonics version: The Stereophics cover reminds us of sticky nights on the porch getting tipsy and, eventually, more. Also, the Beatles version has Paul McCartney in it, which is decidedly not sexy.
"Comin Back," Citizen Cope: A track that has the whole vocal yearning thing down pat. Also, Cope reminds us of guys we'd make bad decisions with, worse than the worst decision -- hooking up with a dude with a ponytail.
"Stubborn Love," The Lumineers: What girl hasn't dreamt of a guy who can stand on her porch screaming that he won't leave until she comes downstairs -- without sounding like he deserves a restraining order?