15 Burning Questions We Have About Mötley Crüe's New Line of Sex Toys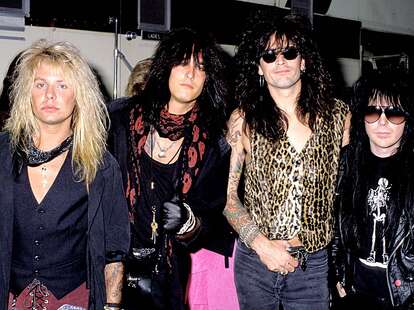 eff Kravitz/FilmMagic/Getty Images
When I heard Mötley Crüe was debuting a collection of sex toys, I'll admit I was pretty psyched. How can you not be? I mean, it's not every day I get news that one of my favorite long-haired '80s glam-metal bands is collaborating with a sex-toy retailer. Come on. It's hot.
I couldn't wait to get my hands on the small-but-mighty Mötley Crüe Shout at the Devil 10-Function Bullet Vibrator... powered by AAA batteries, which I instantly read as "Access All Areas" backstage pass. But I also had a lot of burning questions. Are you there, Tommy Lee? It's me, Charyn. There are so many things I want to know about your vibes.
1. Did the marketing people nix "Kickstart My Clit"?
2. Do I have to fantasize about Mick Mars?
3. But what if I want to take a ride on the wild side?
4. Why doesn't this look more like Tommy Lee's penis?
5. What's special about how this makes yöü cöme?
6. Can I use this in 1987?
7. Where's my Jon Bon Jovi vibe?
8. Is it true I must "Use It or Lose It"?
9. If I get off with a Mötley Crüe toy, am I a bad feminist?
10. What if I'd rather shout at my husband?
11. So… which is the one they call Dr. Feelgood?
12. Why didn't they sing about this in "Girls, Girls, Girls"?
13. How likely am I to belt out, "I'm on my way, I'm on my way, home sweet home"?
14. Does using this vibrator enter you as a contestant on Rock of Love?
15. If I masturbate with this every day, will the band get back together?
Pre-order the Mötley Crüe collection here. The series will ship in September.
Sign up here for our daily Thrillist email, and get your fix of the best in food/drink/fun.
Charyn Pfeuffer never fantasizes about Vince Neil when she masturbates. Ever. Follow her on Twitter @charynpfeuffer.