What It's Like Loving Someone With a Porn Addiction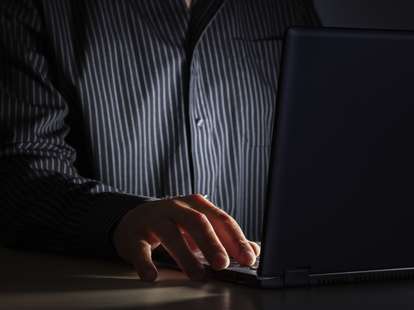 Brian A Jackson/Shutterstock
Brian A Jackson/Shutterstock
Porn is everywhere. Today it's more or less taken for granted as something everyone just kind of looks at at one point or another. In sex therapy, porn is even frequently "prescribed" to help clients loosen up. Porn's prevalence has helped it become normalized.
Except for when it goes too far.
Tom is an attractive 31-year-old digital designer who shops at Whole Foods and goes home to a spacious one-bedroom apartment in Brooklyn he shares with his blonde girlfriend named Lindsey. But what people strolling by at the organic market or passing the handsome millennial on the street don't realize is this: Tom hasn't been able to focus on anything around him for years. Instead, he's totally preoccupied with pornography.

"I would watch porn six times a day"
"I started watching porn when I was about 14," said Tom. "At my most extreme, I would watch porn six times a day and would finish every time. The more free time I had, the more I became attached to it. I would watch it whenever I was bored or not doing something else. It gave me something to do and made me feel good, obviously. So it was a win-win."
Tom spent most of his down time jerking off in front of his computer screen, a practice which kept him from meeting women except through Kik, an app he frequented to request nude photos from ladies of cyberspace. Tom worked, came home, watched porn, and went to bed. The daily cycle repeated until he met Lindsey, with whom he would have his first serious relationship. He was late to the table: despite what he had to offer -- good looks, a successful career, intellect -- he had, until that point, chosen to stay cooped up with porn stars instead of date around and bar hop.
And neither Lindsey, who didn't know about Tom's extracurricular activities at all, nor Tom -- who had no idea how serious his addiction was -- was prepared for how tumultuous things were about to get.
Overuse of porn can stem from easy access
Of the 21.2 billion visits to Pornhub in 2015, the US was responsible for 41% of the traffic. And 60% of Pornhub's US user base was made up of millennials between 18 and 34; roughly 76% of whom were men on their phones.
"In the last number of years, porn has moved away from just the computer to all sorts of technologies used for sexual turn-ons," explained Dr. Dorothy Hayden, a Manhattan-based psychotherapist who has been treating sexual compulsives and their partners for the last 20 years. "Interactive chat rooms, live streaming, smartphones, sexting, paid interactions with live models: the reality is that sexual content and contact are readily available to anyone at the touch of a digital button."
For Tom, this kind of access was a godsend... at first.
"I've always been pretty shy and I never liked going out of my way to meet people," he said. "When it came to sex, I was nervous around girls and had no idea what I was doing. Watching porn made me feel satisfied without having to do much, which helped me later in life when I started working. I would come home stressed and really wound up, and porn helped me relax with little effort."
Porn addicts are hypersensitive to stimuli. They typically become hypersensitive to what's going on around them; what most would consider nonsexual, a porn addict can turn around and craft into something erotic.
"There was a time when everything in my daily life could be manipulated into a scene I've watched," Tom said. His triggers varied from boredom and anxiety to crowded subways and department stores. "I have to avoid lingerie stores -- they are still too overpowering for me. Seeing all of the women go through the racks and imagining them putting it on... I can't. I can't."
Once, Tom was riding to work on the A train when a woman pressed up against him in the overcrowded car. Tom had a clear view of her cleavage. He remembers being able to see the upper lace of her bra, the way it looked against her skin, and the way her breasts perfectly filled out the cups. At this point he was staring -- and the woman began to notice.
"I was getting turned on and I had to get out of there," he said. Tom got off the train five stops before his office and walked the rest of the way in order to cool down. It didn't help. He thought about the woman for the rest of the day.
This is how so many adult videos start -- a seemingly normal situation escalates into a sexual fantasy. Tom's perception of the congested car was nearly expected; if this was a video he had been watching, it wouldn't have ended with the man getting off the train alone.
... and numb to real intimacy
But in addition to having hyper-sexualized responses to otherwise unerotic moments, there's also a desensitization for porn addicts that happens in actually sexy moments. "The viewer wants more and more," said Dr. Robert Axel, a New York psychologist who specializes in the treatment of sex addiction and other sexual compulsions. "And then different. Things can get over-saturated. The more porn consumed, the less activity in the reward center, and the less sensitivity to pleasure. So they may have a numbed pleasure response to their partner."
Supporting this is a 2012 study at the Max Planck Institute for Human Development in Berlin, which found the amount of time spent watching porn directly correlated with decreased grey matter in regions of the brain associated with the reward system. Less grey matter = less activity in another part of the brain called the left putamen, which typically lights up in response to sexual images. The less it lights up, the less "regular sex" is going to cut it.
So Tom was wrong when he thought having a girlfriend would fix his... preoccupation. His cravings failed to subside. Tom was still watching porn at least twice a day, in the early mornings and late at night, often when Lindsey wasn't around or was asleep in another room. When his obsession caused impotency with his girlfriend -- think whiskey dick without the whiskey -- Lindsey tried desperately to figure out what was going on.
"I was sure it was me," she said. "Things would start out great, and then all of the sudden he wouldn't be able to keep it up. The only thing I could think was, I am the problem. And I tried literally everything to change it. I was open to anything -- he just had to ask."
"Sometimes when it gets extreme, they'd rather be alone and masturbating rather than interact with their partners," said Dr. Axel. "Ultimately, what happens with a lot of younger people is they may have problems ejaculating or holding an erection or a lack of desire in their partners. And it can have an impact on the them."
According to Lindsey, it had such an impact that it almost ended their relationship. Her self-esteem plummeted and she spent months trying to figure out solutions to an enigmatic question. She lost herself, and by then, she had had enough.
"I had no idea what was going on," Lindsey said, "but I figured he wasn't attracted to me. I even questioned his sexuality and talked with my friends about the possibility of past abuse or even if he was cheating. When I would ask him about it, he would get upset. No guy wants to talk about his sex issues, especially with someone he's dating. There was little for me to work with and it was becoming a huge problem. I was doubting myself. So I tried to break up with him."
The night Lindsey ended their relationship, Tom came clean. He said he wasn't fully aware if what he was doing was the cause of his sexual dysfunctions, but figured it might be. And when he started researching, he realized that it played a major role in ruining his sex life. The couple recognized it for what it was: Tom had a porn addiction.
So he decided to quit cold turkey.
Finding treatment for porn addiction
Ironically, though technology in some ways has helped turn porn into a crutch, tech can also act as an addict's biggest supporter for recovery. Internet forums like NoFap and Feed the Right Wolf are ways for porn and masturbation addicts to put an end to their ways and come back down to the real world of sex... where everything doesn't end with a money shot and all women aren't squirters.
Tom joined NoFap for help and consistently posted on his progress, reveling in the support and eventual jealousies from other members. Unfortunately, it wasn't as easy as it sounds.
"If you can get through 90 days, it gives you a chance to realign the brain chemistry," Dr. Axel said. "You have a good chance of resetting those neuro-pathways." But for Tom, seeking out those 90 clean days were nearly impossible.
"I was going out of my mind the first week," he said. "I was really on edge and very, very angry. Partially because I was going through a type of withdrawal, and partially because I automatically assumed that I was going to fail. I was pissed off at the world. I was giving up something that relaxed me -- and trying to replace it was difficult, to say the least."
It wasn't a smooth transition. Tom relapsed 10 times before finally going to see a therapist. These days he utilizes therapy and online resources. Still, denying his cravings remains a challenge. As in any addiction experience, there is no "cure" -- only ongoing treatment, and a commitment to take it one day at a time.
Lindsey has stayed with Tom. The couple has now been together for more than a year.
Sign up here for our daily Thrillist email, and get your fix of the best in food/drink/fun.
Alexa Lyons is a writer who favors porn in small doses. Follow her on Twitter and Instagram: @alyons104.