Inside the Weird, Wonderful World of Naked Skydiving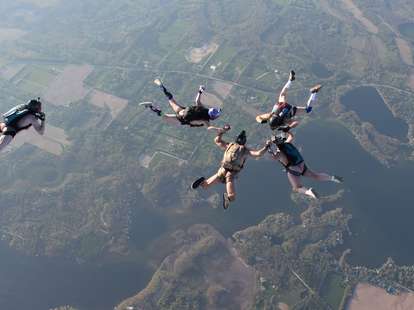 Courtesy of Skydive Milwaukee
"It's funny," one of the jumpers at Skydive Milwaukee told me. "None of these people are exhibitionists."
I looked at him, skin bare but for a pair of socks, a parachute strapped to his back, and a helmet. He was right, of course, but you wouldn't know that from his current appearance -- or that of the 10 other skydivers practicing their formations in the nude a few feet from us. You'd only realize it if you noticed how everyone carefully (and almost imperceptibly) covered up their bare bits before hopping into the plane.
Well, all except Bob. The older jumper was the first to strip and the most carefree about the nudity, countering calls of "You didn't have to get naked yet, Bob!" with "I got nothing anybody hasn't seen before."
This wasn't the typical jump at Skydive Milwaukee -- I was there for an observation ride on a SANS jump, the Society for the Advancement of Naked Skydiving. Anyone who's made a nude jump can join -- $5 will get you a membership number, certificate, three stickers, a magnet, and an eccentric group of like-minded people. Jeff Dawson, the 61-year-old man who's made the most naked skydives on record (639 and rising), started the group in 2011. He makes at least one naked skydive every month, and has been doing so for 14 years.
Jumping in the nude is a rite of passage
"To make a naked skydive is a huge accomplishment," he said. "By nature, I'm not the type of person to show a lot of skin. But I enjoy being up there free. You get a lot of, 'Why would you do that, things are going to fall off,' a lot of good-natured fun. But nobody objects to it, at least where I jump."
Traditionally, a naked jump is a rite of passage in the skydiving world. Once you hit 100 jumps, you celebrate by baring it all and letting the wind caress your skin on the way from airplane to ground; though Dawson says many people don't do it anymore because of the proliferation of GoPros and social media. What once was mostly private and impulsive now has an unregulated platform for broadcast.
There are rules to naked skydiving
Shortly before the jump that day, Dawson laid out the ground rules:
First, "if we touch each other, we'll be fine."
Second, be prepared to start slowing down about twice as far away as normal. Without the skydive suits, you fall a lot faster and it's harder to fly precisely.
Third, don't forget that nude skydiving is just as deadly as any other jump, and the same precautions need to be in place. Dawson shared the story of a woman who tried to do her first SANS jump, but forgot to unbuckle her seatbelt tether. She dangled outside the plane instead of free-falling and had to be pulled back in.
Fourth, Dawson gave perhaps the most important piece of advice: be aware of your body. "You can't cut away with a nut under," he said, tugging at the parachute pack straps around his thighs.
Naked skydiving gives new meaning to "free-balling"
One of the other skydivers, a teacher who asked to remain anonymous, also prepared himself for the after-effects. "My bits are going to flap around a little bit," he said. "It may be a little sore afterwards. Worse things have happened, I guess." This was his first SANS jump.
The plane pulled up and I climbed into the co-pilot's seat, followed by 11 naked bodies cramming into the small aircraft. It would have been 12, but as Dawson told everyone, the 12th guy cancelled -- he forgot he was having a vasectomy that day.
Excitement was high on the 15-minute flight to the jump zone. Everyone cheered as the plane took off and passed a fist bump throughout the group as the door opened at altitude. Unloading was quick and deliberate. As the plane broke away from the divers and careened toward the ground, the pilot -- Raven, who has also skydived nude -- looked at me, laughing. "That's disgusting," he said. We shared a grin and I thought back to what Dawson told me earlier.
"Just the physical feeling of being out there and being totally free, it's amazing," he said. "You feel the wind on your entire body. To be up there without any clothes with no one there to see it, there's a sense of freedom."
Sign up here for our daily Thrillist email, and get your fix of the best in food/drink/fun.
Jennifer Billock is a freelance writer and author, usually focusing on some combination of culinary travel, culture, sex, and history. Check her out at JenniferBillock.com and follow her on Twitter: @jenniferbillock.