I Test-Drove 4 New Blow-Job Improvement Products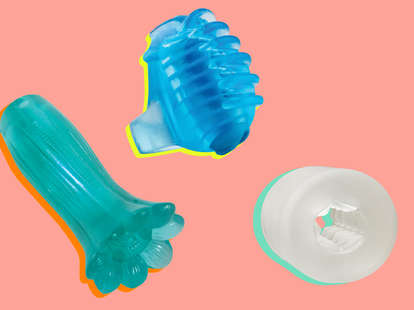 Oren Aks/Thrillist
Oren Aks/Thrillist
In the name of research (wink, wink), my friend "Scott" (name changed to protect the innocent!) and I recently holed up in a hotel room for a weekend to try out four of the strangest, newest BJ products on the market. Women generally have strong feelings about blow jobs: we either love them or hate them... or we tolerate them inasmuch as we can avoid gagging on a mouthful of another person's genitals.
As a woman who falls into the "genuinely enjoys giving head" camp, this was not a tough sell -- even though I generally like to keep my blow jobs simple and prop-free. The opportunity to try out a bunch of products on a man I genuinely enjoy hooking up with was a no-brainer. Our quest? To see if these toys could make blow jobs easier, more enjoyable, and better overall.
Let the fun begin.
Deep Throat Desensitizing Spray
Adam & Eve, $7.95
Scott and I were in our hotel-room bed watching a sporting event when I suggested the first blow job. You know, to distract from a tied-score game and all.
After three sprays to the back of my throat, my mouth felt sufficiently tingly. The taste of the desensitizing spray was medicinal in flavor, but not unpleasantly so. I gagged once when I started to give Scott slow oral. But he's well endowed, so the reaction wasn't all that surprising. After the initial reaction, all was well. I gently worked his uncircumcised tip, then the shaft, taking it deep and coming up sporadically to talk dirty. It felt great to wrap my mouth around so much manhood with less gag reflex than usual.
My effort was rewarded when he asked to come on my tits. Yes, please.
Blossom Sleeve
Babeland, $24
I squirted the inside of the sleeve with my favorite lube du jour, Uberlube, then slid the masturbation sleeve down Scott's erection. Initially, he said the TPR plastic felt strange and clammy. But once the lube warmed up, it was more comfortable and he was less aware of its presence.
The Blossom Sleeve's main advantage? It's contoured to feel like a vagina. "It's not too tight," Scott said, "nor does it cause too much friction when your partner is jacking and sucking you off. It feels good, but is it an absolute game-changer for oral sex? Not for me personally, but it's a welcome injection of variety."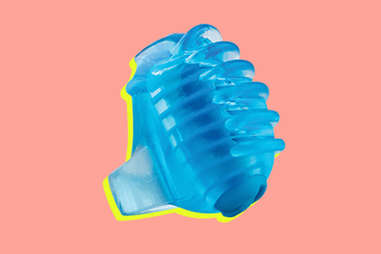 FingO Tips Micro Fingertip Vibrator
Good Vibrations, $8.95
As a woman who doesn't share sex toys in the name of safety, I dig the concept of disposable bedroom fun. This cutie offers 30-plus minutes of battery life -- plenty of time to get him (and her!) off. In this instance, I slid the vibe on my pointer finger and worked my partner's member as my tongue teased the tip and my other hand stroked his length.
There was a lot going on in the moment, but his moans validated my multitasking. "When you find that spot right under the tip of the cock, it definitely perks things up," he said. "Also, it's compact, which makes it pretty efficient." If you want to stick strictly to oral play, Adam & Eve makes a mighty fun vibrating tongue ring.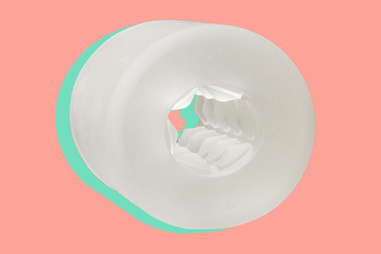 Good Head Sleeve Mini Stroker
Good Vibrations, $10
Again, I lubed up the sleeve and slid it onto Scott. The toy was perfectly sized for me to simultaneously give him a hand job while sucking him off.
"It was less weird than expected," Scott said. "It had less friction than using a hand." The internal ribbing made for a smooth ride. "It's a good combination with oral sex and manual stimulation," Scott reported. "A definite enhancement."
Easy ways to up your game
Whether you're trying to overcome your gag reflex or find some enjoyment in giving a blow job, these toys definitely offer something for everyone. Beyond finding it super hot to proposition a hot man for the experiment, having a toy at your helm adds a level of confidence to the overall act -- and an element of fun. I'd definitely suggest trying one (or four) out the next time you go down on your guy.
Sign up here for our daily LA email and be the first to get all the food/drink/fun Los Angeles has to offer.
Charyn Pfeuffer is a Seattle-based freelance writer who will never divulge any of the dirty fantasies that run through her head when giving head. Follow her on Twitter: @charynpfeuffer.