7 Variations on the Missionary Position That Are Anything but Boring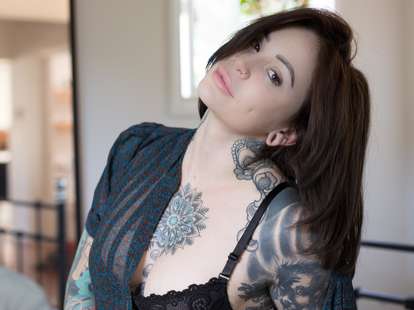 Steven Clouse/Thrillist
Steven Clouse/Thrillist
It's totally unfair that the missionary position gets such a bad rap.
In spite of it being one of the most common, intimate sexual positions, missionary still gets pushed aside as being too basic. Why is that, when it lets you kiss, embrace, and allows at least one of you to indulge in a bit of on-the-back laziness?
There's a reason this is the go-to sex move for most people -- and to prove it, here are simple-yet-rewarding variations on missionary -- or, as Shakespeare once called it, "the beast with two backs."
The off-the-bed backbend
In this position the receiver is on bottom, leaning back off the bed or couch. This points the penis on top toward her, which almost always equals greater G-spot sensation. The downside is that most of us, even the most physically fit, can't maintain this position for very long. So you may want to try a variation...
Sex furniture pelvis lift
You can also raise pelvises with some well-placed sex pillows. Liberator has a whole line, or you can just utilize some extra-firm pillows or a thickly rolled-up blanket. Place it under her waist, which will allow for more direct G-spot stimulation from the penis.
One leg up, one leg down
I've noticed that lying with one leg up during sex offers significantly increased sensations along my inner and outer labia on the same side as the leg that's down. Skin-to-skin contact in this position feels fantastic -- and with one leg down, it's easier to reach your clit to self-stimulate, especially if your legs are a bit thicker.
Because it's not uncommon for one side of your genitals to be more sensitive than the other, try switching legs to see which side is more stimulating.
The starfish
Don't laugh: Some of us are lazy fuckers. The person being penetrated spreads like a five-pointed star. The person on top avoids contact with the rest of their body, except for the connection between their genitals. For some, the sensory deprivation can be intensely exciting, as it intensifies the feelings of penetration.
Standing missionary
This works best for male partners who are very short, with longer penises. He bends his knees to squat slightly while thrusting into her. Her back should be against a wall, so that it's not a standing balancing act. During this, touch her face and hair so that she feels enveloped by warmth and caresses.
Ankles together
Your grandma was lying: Keeping your legs closed does not prevent a good time. This is for longer-than-average partners, and you should move slowly until penetration is complete in order to avoid broken penises and vaginal bruises.
This is one of the few sex positions where clitoral stimulation is almost guaranteed. However, if either one of you has shave stubble or cactus hairs, friction is something to be wary of.
Slow. It. Down.
Feel yourself pulsing inside of your partner. If you have a vagina, clench and release yourself. Kegels feel amazing on a penis. Breathe together. Kiss their forehead. Touch noses.
Add stimulation to the fun by using your hands. Ladies, reach a hand down there and rub, stroke, and tickle his testicles and inner thighs. Feel the small of his back, and crawl your fingertips up his spine to the nape of his neck. I once had a huge beast of a man who loved to lightly cup my ears and stroke my hair. I've never forgotten that, and have since learned to pass on that tender move.
Count to six S-L-O-W-L-Y while moving carefully into your partner. Not only is this strikingly intimate, you'll be able to feel more -- and if you sync your breathing, you're more likely to simultaneously orgasm.
Do you have a missionary-style tip? Please leave it in the comments, or write me at EStanger@thrillist.com.
Sign up here for our daily Thrillist email, and get your fix of the best in food/drink/fun.
Elle Stanger is a sex and dating columnist and writes all of her best material while on her back. Follow her on Twitter @ellestanger.