I Spent All Day Strapped Into Remote Control Panties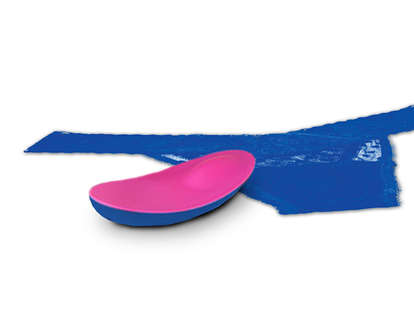 OhMyBod
OhMyBod
"I want in!" wrote my friend, Beth*.
"Bingo, you're it!" I typed back in Facebook Messenger.
I'd put a call out on Facebook petitioning for a volunteer to spend one day at the controls of my blueMotion vibe by OhMiBod, a wearable toy that tucks into a pair of panties and can be operated from anywhere in the world via app or Wi-Fi. From pretty much every person I've ever slept with to a few new-to-me interests, there was no shortage of people wanting to play with my privates from afar. Decisions, decisions!
Beth and I lined up a day to play. We both downloaded the app, got familiarized with its settings, and went over our plan: I'd go through my day like I normally would, and Beth would have her way with me whenever she felt like it. I'll admit it: this felt exciting.
Nothing is normal when you've got a vibe shoved down your pants
Tuesday arrived, and I tucked the toy into the lacy blue panties it came with. And then, I waited. I work from home, so there wouldn't be any awkward IRL moments with colleagues -- but I had an action-packed day of meetings and deadlines, and I was very distracted. I managed to walk my dog without any incidence of spontaneous stimulation. Whew.
It's a strange feeling to be going about your daily routine, all the while wondering when you'll feel a buzz below your belt. It's distracting, for sure, but also creates a backdrop of horny anticipation to everything going on -- like waiting for a dirty text or pic, but way hotter.
The first wave of pleasure came early that afternoon. I glanced down at the app. Beth was hitting my girly bits with a crashing wave rhythm (which from the user's perspective, operates like a gas pedal). I shifted my weight in my chair, so the contour of the toy fit my folds just right. Yep, she was revving my kitty all right.
"Oh, I like that!" I tapped into the OhMiBod chat feature. Beth kept at it, moving between vibrational patterns; "Intense & Fast," then "Deep & Steady." It didn't take long for me click the "Oh-Dometer" to log my first orgasm. Success!
I took my vibrating panties out in public
Feeling emboldened, I decided to brave wearing my OhMiBod in public, namely to go grocery shopping. I made it one whole city block before I felt a sweet tapping pattern in my panties. My smile widened, and I pushed on; confident I could multitask my to-do list and possibly come. The vibrations stopped and started in bursts throughout my excursion. Milk? Yes. Bread? Yes. Crushed tomatoes. OH MY GAWD, YES. The anticipation was delicious and only turned me on more.
Beth's timing was impeccable, as she stepped up the pace the minute I crossed paths with my cute neighbor while leaving the grocery store. Never at a loss for words, I mumbled a quick "hello" and kept moving in fear of having an impromptu Meg Ryan moment.
This is a game-changing gadget
My day continued with more flirty banter and feedback with Beth. The element of surprise and fantasy of being virtual screwed by someone with whom I have no sexual history was hot. Next time, I look forward to putting the OhMiBod power in the hands of someone who knows their way around my parts and seeing what they can do to push my buttons. For long-distance relationships or for some good orgasmic fun, it's a game-changer.
*Name and identifying details have been changed to protect the privacy of individuals.
Sign up here for our daily Thrillist email, and get your fix of the best in food/drink/fun.
Charyn Pfeuffer is a Seattle-based writer who never misses an opportunity to have an orgasm -- in person, remote, or otherwise. Follow her on Twitter: @charynpfeuffer.