Linda and Mark* would not have met at any other day, at any other time, or through any of their mutual friends. She liked jam bands and peasant skirts. He was a political science grad from a small, well-respected college. Linda was at the bar because the beer was cheap. Mark was drowning his sorrows after being laid off that morning. Their love story began with sarcasm and matching wits, dressing each other down... and then undressing each other. Thirteen years later, they're still going strong.
"I call him my longest one-night stand," said Linda.
You've probably heard nothing good comes from one-night stands, that they're little more than awkward, elbowy rituals offering momentary pleasure and permanent panty loss. Luda says, "You can't turn a hoe into a housewife." But what if, to become a housewife, one must first become a hoe? What if casual sex is actually the key to great relationships and marriages? Emerging research suggests our attitudes about casual sex are changing -- and that casual sex might be helping a new generation of singles find better, more compatible partners.
Walk of shame? Try walk of namaste.
Twenty-seven percent of respondents to Match.com's 2014 Singles in America survey said they had at least one relationship bloom from a one-night stand. Previous evidence of sex's negative consequences were based on a very one-dimensional rubric of sexual morality that has come under scrutiny as sexual attitudes have progressed. As the younger dating pool grows, rules about conventional dating are falling away and we're shedding old notions of casual sex and one-night stands damaging our relationships.
"Typically, sociosexually unrestricted individuals reported lower distress and higher thriving following casual sex," researcher Zhana Vrangalova wrote in a study recently published in Social Psychological and Personality Science. Vrangalova also discovered that "sociosexually unrestricted" people were just as capable of forming stable relationships as those who don't like casual sex.
A word of warning: the booze factor
Even some "sexually unrestricted" people in Vrangalova's study experienced guilt about two things: being hammered and not using condoms. We don't need to go into obvious issues around alcohol's effect on sexual performance or consent, suffice to say that generally a couple of drinks but no more is the right idea. Research says all outcomes are better if you keep it fairly sober, and think of how much more charming and attractive you are when you're not hungover.
Sex functions as part of the bonding process, not in spite of it
Dr. Helen Fisher, a biological anthropologist known to most as a sex and love expert, is fond of saying "There is no such thing as casual sex among humans." Sex releases a storm of hormones and brain chemicals proven to cause bonding and a desire for strong, long-term pairing. From your partner's saliva to sexual prowess, sex is incredibly revealing about your potential mate. Are they selfish? Are they healthy? Are they creative? Are they genetically compatible?
If you want to go home with your date and they want to go home with you, you've already figured out something big about each other: matching sex drives.
And from an evolutionary standpoint, we're hardwired to feel something following the release of all that brain chemistry and exertion. The massive release of oxytocin during orgasm and cuddling is the same hormone that bonds mother to child -- except much, much stronger. Psychology professor Ruth Feldman at Bar-Ilan University in Israel studied new lovers' oxytocin levels and found they were on average double that of new mothers nursing babies. And scans of new lovers' brains look almost identical to those of people experiencing heroin highs.
It also explains why, after one night together, Mark and Linda ended up hanging out for four straight days.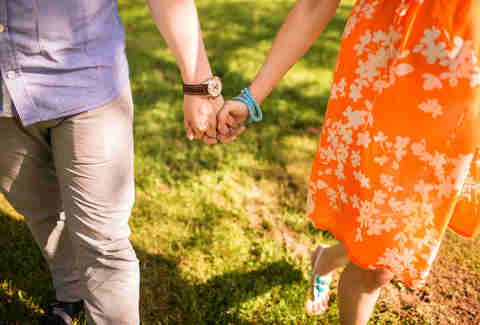 Chemistry (and conflict style) works... or it doesn't
Malcolm Gladwell devoted an entire chapter of his book Blink to John Gottman's love lab. Gottman, having spent his career studying dynamics of marriage and relationships, could watch a couple interact for 15 minutes (without listening to the contents of the conversation) and determine whether they'd be together for the long haul. Gottman cited conflict resolution as the biggest predictor of success -- mainly because how we handle stress is almost impossible to change. It follows logic that a peace-loving hemp wearer might solve problems effectively and positively with a cerebral but expressive poli-sci guy.
Just like sexual chemistry, you either have conflict chemistry or you don't. The faster you deal with a problem at hand, the faster you can make a call on the overall quality of relationship.  For a great example of this, watch Aziz Ansari turn a slightly tipsy Plan B run into an opportunity to buy someone a Martinelli's, the greatest apple juice ever, on Master of None. That's how you get that 5:1 ratio started.
Our love centers are separate, but connected
One of the most interesting things to come out of Dr. Fisher's research is a better understanding of how love takes up residence in the brain. Before scanning the brains of old and new couples in love, it was assumed that love lived in just one part of the brain. Fisher discovered that different sections of our brain control different relationship feelings, desires, and behaviors. "The sex drive predisposes you to seek a range of mating partners," Fisher writes. "Romantic love enables you to focus your mating energy on a single individual at a time; and feelings of attachment incline you to form a pair-bond at least through the infancy of a single child." Everything after that is a matter of attachments born of real life, challenges, conflict, and how the couple handles adversity together.
Fisher recently argued that casual sex actually improves the quality of some marriages by way of what she has named "slow love," or the way couples form deep attachments after experiencing life's emotional ups and downs. The thing that keeps them together while they form it? Great sex, of course.
Take-away advice: sex won't ruin anything
Unless your date has some guilt issues around sex in general, chances are good going home with him or her won't harm your sense of self or chance at true love. The release of feel-good endorphins and oxytocin might wake both of your love centers into sudden romantic awareness of each other, assuming you share a positive perception of casual sex and follow what your hearts (and hormones) are telling you to do. Fisher says we're programed to have sex before falling in love slowly; and emerging research tells us Millenials are more willing to take their sexual chemistry for a test drive, like, yesterday. What matters in the end is the same thing that has always mattered: meeting the right person.
Just ask Mark and Linda, or maybe their healthy, happy 10-year-old son.
*Names have been changed.
Sign up here for our daily Thrillist email, and get your fix of the best in food/drink/fun.
Sarah Murrell is a food and sex writer living in Indianapolis. She also edits The Sensualist. Channel her sarcastic sensuality on Twitter: @likesquirrel317