It's not a huge leap to picture video game fanatics as people who spend a large chunk of their days watching porn, too. Apparently the same thought process goes for the people behind YouPorn (you've heard of YouPorn, right?) who've gone ahead and crunched numbers and found the shockingly specific porn habits of gamers on Wii, Xbox and Playstation.
The charts give valuable insight into the lives of gamers, like how long they spend on the site, their favorite porn stars and -- everyone's favorite -- top search terms. Strap in, people, things are about to get real. 
A couple questions crop up immediately. Why is it that XBox users prefer lesbian porn, while Playstation people are all about moms? And then there's Wii... what's going on with all that Hentai porn?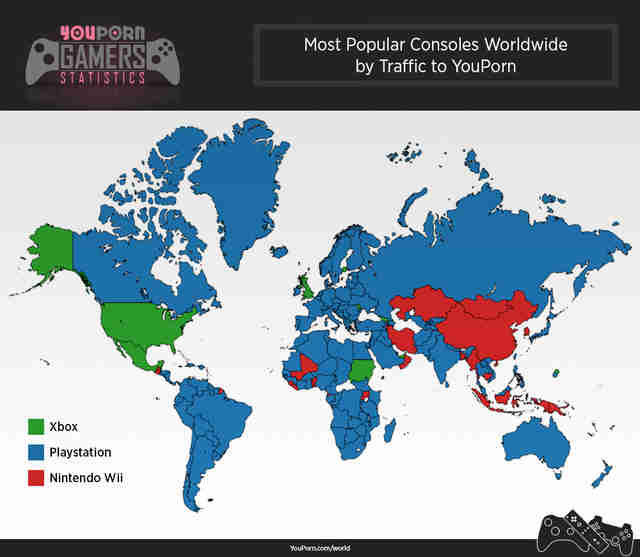 Aha! Most Wii users are in Asia. Not trying to stereotype people or anything, but... Hentai. Australia is absolutely packed to the brim with Playstation users, meaning one can surmise that all Australians are into MILF porn. CRIKEY! 
This is where things get super saucy--apparently women spend a staggering(-ish) 52 seconds longer per visit than their male counterparts: men. Typically, gamer women are also way more into double penetration, "lesbian ass," orgies, and everyone's favorite, "Romantic." 
Porn star preference is pretty similar all across the board, placing Kim Kardashian at the top of the "Top 10" category for XBox and no. 2 on Wii. Playstation users, however, enjoy Alexis Texas, which leads us to ask the question: why? 
Playstation users spend the most time per YouPorn visit, while Wii people view the most pages. Hear that, XBox? You guys aren't even nearly masturbating enough. 
Without a doubt, the biggest bit of info to take away from this chart is how Wii users view "Kissing" porn 243% more than those on other consoles. 
Alright, that's enough Internet for today.

Sign up here for our daily NYC email and be the first to get all the food/drink/fun New York has to offer.

Jeremy Glass is a writer for Thrillist and now feels out of touch for choosing to watch his porn the old-fashioned way: on a goliath projector.