What We Learned About the World's Porn Habits in 2015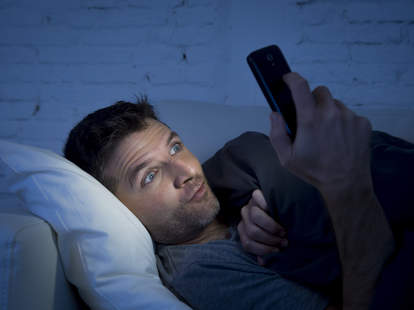 2015 was a big year for pornography. A big, thick, pulsating year. With every New Year's celebration comes a new series of stats from the porno-giants at Pornhub to shed some light on the habits of porn users. The statistics are nothing short of astonishing as the sheer volume of porn consumed -- as well as the type of porn consumed -- country by country (and state by state!) is logged and analyzed. 
The takeaways are most enlightening. Not to spoil anything, but Asia is super into butt stuff.
So much porn!
75 gigabytes of porn was streamed per second in 2015. That's like filling the equivalent of 175 million 16GB iPhones. You know, with porn.
They go to report that 4,392,486,580 hours of porn were watched on Pornhub. Four billion three hundred ninety-two million four hundred eighty-six thousand five hundred eighty. Good lord, people.
The rise of the step mom
Of all the search terms to be hastily typed into Pornhub, it seems the U.S. was most into "step mom" porn this year, which took the lead over "cartoon" and "lesbian." 
Pornhub points out that "searches for 'step mom' and 'step sister' are proportionally higher in English speaking countries," leading us to believe that English speakers are that much more into the prospect of incest.
Everyone's getting real pervy on their phones
Luddites take note: there's no stopping the smartphone. Mobile traffic dominated 2015 by being host to 52.9% of the world's porn, as compared to only 36.3% on the desktop computers and 10.8% on tablets. 
Kind of strange to think about that, when given the choice, people would rather watch porn on a tiny phone as compared to a tablet that's double the size. Then again, it's pretty hard to sneak into the work bathroom with an iPad under your arms.
Filipinos like to take their time
Here's where things get interesting: The Philippines spends -- by far -- the most time on Pornhub per session. 12 minutes and 45 seconds as opposed to the nine minutes and 51 seconds it takes America to properly finish. 
In dead last? Cuba, with five minutes and 11 seconds... but they literally don't have the Internet.
So do Hawaiians
It gets even more fun diving into U.S. states. "Over in Hawaii, Mississippi and South Carolina, visits last well over 10 and a half minutes, whereas in Rhode Island and Utah, sessions last just over 9 minutes on average."
If you're wondering why Rhode Islanders spend so little time watching porn, it's because they're too busy drinking Autocrat Coffee Milk to care about anything else in this world.
German nationalism also extends to porn
Germany's patriotism shines through as we find out that German searches are peppered with terms like: "german," "german milf," "deutsch," "german amateur," "german teen," and so on. 
Japan shocks no one
The Japanese follow suit with the Germans with their odd sense of pornographic nationalism as the vast majority of top, gaining, and relative searches contain "japanese." Hentai is on the too, because, well... obviously. 
Australia: also super into step moms
Of Australia's stats, the most interesting chunk of information is how "step mom shower" is a top gaining search by 310% leading us to believe that Australians are really on the same page on this whole stepmom shower fantasy. 
Russia: all about... ponies?
Russia, what the fuck?
"My Little Pony" searches are up 438% since 2014, leading us to restate the prior question: what the FUCK, Russia?!
Kim K: still killin' it
It's actually not a huge surprise that Kim Kardashian is still on the top of the list of most searched porn stars even though she's not, in fact, a porn star. Pornhub's most viewed video of all time is the "Kim Kardashian Sex Tape With Ray J." 
Bringing it up the rear (hehe) in second place in porn newcomer, Mia Khalifa, followed by porn old-comer: Lisa Ann
 
Lesbians = super American
This map presents a shockingly clear look at the world's collective porn habits. Two clear takeaway points:
1. North America loves lesbians.
2. Asia's way into anal. 
3. Italy loves big dicks, but we already knew that. 
The porn world also had Star Wars mania
And the unsurprising kicker: searches for everything Star Wars went up 1854% around the December 18 release date of The Force Awakens, even though Carrie Fisher appeared in her gold bikini approximately 0 times. 
Old habits die hard, right guys?
Sign up here for our daily Thrillist email, and get your fix of the best in food/drink/fun.
Jeremy Glass is a writer for Thrillist and had a pretty good year.