Sex Tips for Boring People: The New G-Spot, Expired Sex Toys, and Oral Orgasms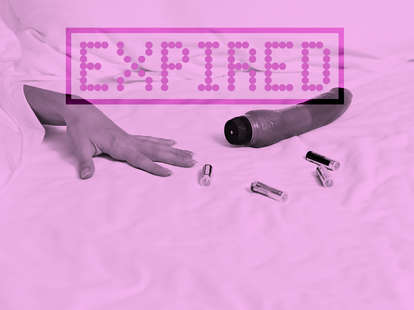 bikeriderlondon/shutterstock (edited)
What is the cul-de-sac, and why do people say it's better than the G-spot?
First it was the mysterious clitoris you had to conquer. Then you learned about the elusive G-spot, a spot you're perhaps still mastering. And now you've just learned about the mythical cul-de-sac?? Women are SO complicated!
No, but seriously, we are. Our bodies are like fine musical instruments. Play us the right way and we'll make beautiful music. But one wrong note and the whole song is ruined. Fortunately, there are plenty of people out there willing to learn.
"There is a seemingly endless supply of new erogenous zones in and on the female body," says Claire Cavanah, co-founder of Babeland, "I think stemming from the lack of popular understanding of how female sexuality and sexual pleasure works. The cul-de-sac is the latest entry to a crowded field of places to stimulate. What's being named the cul-de-sac is the area at the back of the vagina, behind the cervix."
The science: this is less sexy, but bear with me. The vagina balloons out when a woman is sexually aroused, and space opens up away from the cervix, leaving room for penetration and friction. If you haven't opened up yet and you hit the cervix (bottoming out), it's less than fun. But if you can wind your way down this new Lover's Lane, you can happily park it at the cul-de-sac for some excellent sexing.
"Easing the penis or fingers way back can feel like a new experience, and lead to a new sexual response. Better than the G-spot? Why rank your pleasures? Let's just appreciate how many ways there are to enjoy sex," says Cavanah. We say, AMEN.
How long is it OK to keep a sex toy? Do the materials ever go bad?
We all have our favorite things: T-shirts, coffee mugs, and yes, even sex toys. Sometimes nothing understands your body better than a vibrating piece of plastic. And giving that up can be hard, especially when you two have grown so close. But how gross is it to hold on to your favorite sex toy? As gross as that Barbie you once clung to with the dog-chewed foot and missing eye? It all depends on the material.
"It's OK to keep a sex toy made of high-quality materials like silicone or elastomer for years and years," says Cavanah. "Silicone is non-porous, making it the easiest to clean and store. Toys made of lesser-quality, porous materials may lose their shape and leach their color easily. Yuck."
Cavanah says Babeland does not recommend mystery rubber toys at all. Silicone might be more expensive, but hopefully you care about the quality of all things that enter your body and won't mind shelling out a little extra for your sex toy.
I'm a woman who's never orgasmed from oral. What am I missing?
First of all, don't feel badly. Women are built very, very differently. Many women can't orgasm from penetration, some can't get off from oral, and others (a whopping 10 to 15%) have never had an orgasm. At. All. If your sexual encounters are not filled with bodies pinned against walls in passionate lovemaking, while cries of pleasure ring out at every turn... you're not abnormal.
"We can be too quick to judge ourselves as inadequate sexually, only because we haven't embraced our unique sexual response," says Cavanah. "Oral may not be your thing. Maybe your partners haven't shown enough authentic desire to go down on you. That said, it can help to look at what could be getting in the way of your enjoyment of oral sex. Our culture is not kind to female genitals -- let's face it. They smell bad, they look weird, they're mysterious and unpredictable… or so we're told. We all live with that. Get comfortable with and coming to like your body, including your awesome, fantastic, one-of-a-kind pleasure source: your vulva. Look at it, befriend it, get to know it. You won't know until you try."
Sign up here for our daily Thrillist email, and get your fix of the best in food/drink/fun.