Sex Tips for Boring People: P-Spots, Recovery Time, and Vasectomy Pregnancies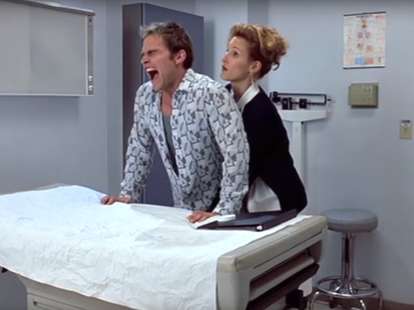 Sex Tips for Boring People will take your sex life from vanilla to passion fruit. Or at least from vanilla to vanilla bean. Find more sexy advice right here.
How can I stimulate my boyfriend's P-spot without terrifying him?
If your boyfriend is terrified by anything going in his ass, then the answer is, "You can't." For prostate stimulation, affectionately (disturbingly?) known as 'milking the prostate,' you have to actually... go up the butt.
"The only way to stimulate a prostate is to do a prosthetic massage," says Dr. Darius Paduch, Associate Professor of Urology and Reproductive Medicine at Weill Cornell Medical College. "During sex, some couples do this for the guys who don't have as much sensitivity in their penis. They might have more in the anal region, especially when you press the prostate. There are two big nerves there that go to the penis. It has to be internal stimulation. There's nothing you can do from the outside."
So if you were looking for that magic external button to whisk you off to prostate Narnia... sorry, it doesn't exist. But you should invest in any of the Rocks Off products, which Dr. Paduch says are quite "flexible."
How can a man improve his recovery time between orgasms?
It's really quite simple. If you enjoyed the first one, you're going to want to do it again, and the body will allow for it. Science. "Make sure that you're getting a really good orgasm and that you are really aroused," says Dr. Paduch. "Guys who have quick sex, which isn't satisfactory to them or their partners, will have their bodies respond by not wanting to do it again. For example, if you have a regular Hershey chocolate you might like it fine, but if you have some Swedish chocolate that is the best you've ever had, you're going to want to eat it over and over. We've done studies on the body rewarding itself. You want to do what rewards you. Sex is the same." (SEE? ACTUAL SCIENCE.)
"I tell guys that if you want to ejaculate the same day, you have to be sure you're really excited and that your partner is into it and that you don't do it mechanically because your friend Frank told you he can come three times in a night and you want to do it, too."
The other, less fun, answer might have to depend on your age. If you're young you can probably go as many times as you like, but the older you get your testosterone levels decrease. If you ejaculate and then don't have a desire to for days or weeks, check your testosterone levels. But we prefer the first answer.

Can a man still impregnate a woman after a vasectomy?
Yes, and no. Like… RIGHT after? Then yeah, could happen. "If the vasectomy is done right, you can't really get your partner pregnant, but you have to make sure you don't have any sperm left over. Sperm is stored in the seminal vesicles, which is above where we cut." You need to drain it by masturbation or sex a minimum of 16-20 times before shooting blanks. There's also the RARE chance that the vasectomy will try to correct itself. This happens in less than .5% of vasectomy cases, but technically it CAN happen months or years after the vasectomy. But for the most part it's 99.9% effective and is way safer than having the lady get her tubes tied. So really, fellas, take one for the team, if you're at that point.
Sign up here for our daily Thrillist email, and get your fix of the best in food/drink/fun.
Meagan Drillinger is a contributing writer for Thrillist and would really like Frank's phone number. Follow her on Instagram, Facebook, and Twitter: @drillinjourneys.