Inside the Massive Kink & Fetish Community Still Thriving on 'Second Life'
Still from Second Life
Still from Second Life
"Hey, nice legs. Want a massage?" Joey asked from behind me. I stood back for a better view of my calves and thighs. He was right, they were pretty nice. I'd been standing on this beach, nude with the exception of some boat shoes, for only about five minutes before Joey arrived. I figured -- rightfully so -- that this was the easiest way to get people to talk to me.
Just before Joey and I teleported to his massage studio, I saw a humanoid cat walk across the beach in front of me with a woman in full bondage gear. And so started my initiation into the fetish scene in Second Life.
For those who don't know it, Second Life is a computer game (although without winning or losing) in which players create avatars inside of a 3D, virtual world. Started in 2003, it's among the oldest alt-reality simulators where players can "live out" just about any scenario and interact with fellow avatars from all over the world. Users have conversations, form relationships, even get married in-world, all while exploring a gigantic database of locations. And some of those places can get pretty racy -- there's an entire section of adult-themed spots, like the beach I was visiting.
Former Second Lifers argue that the game is now in its twilight years; since it began, monthly users have decreased to about 900,000 from a peak of 1.1 million, and the market's been flooded with alt-reality worlds boasting much larger fanbases. And yet, Second Life has maintained a few strongholds... particularly over the BDSM and fetish communities, who enjoy 118 different adult-only areas within.
Fetishes, BDSM activity, and avatars are all about alternate realities
See, the world of Second Life can function as an outlet for people who feel like they can't be themselves in the real world. Either they're too shy, or as one player told me, they suffer from a disability that leaves them wheelchair-bound or otherwise unable to interact with people outside the game. And that makes the game extremely popular in the BDSM and fetish world.
Avatars in the game are highly animated, detailed even down to the perk of a cold nipple or a regal pubic bush (some players actually make their real-world living selling nothing but pubic hair for Second Life characters), and are able to realistically accomplish kinky tasks that are impossible outside the game.
In one dungeon-themed room, my avatar climbed atop a man covered in gold leaf who was bent backwards and bound wrist to ankle, and rode his obscenely large and perky manhood to virtual ecstasy. He stayed in that position for more than an hour while I explored the rest of the dungeon. The scene is so popular in-world that some locations even offer workshops and seminars on how to be more open with dirty talk, or classes on how to use the robust amount of BDSM gear made specifically for the game. There are full virtual libraries with BDSM books players can read.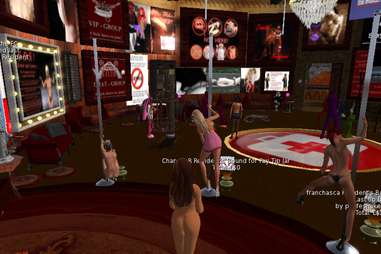 VR lets you explore your strangest fantasies, safely
"One of my biggest fantasies has always been to be left bound, gagged, and helpless in a public place and used sexually by strangers," Libertine, a player and former Second Life shop owner, said. "Obviously this isn't something it's safe for anyone to do in real life, but in Second Life it's perfectly fine and not at all uncommon. You can indulge virtually any fetish in Second Life except pedophilia and hebephilia. Age-play [sexual activities involving an avatar who is portrayed as or even just looks like a minor] is against the Second Life terms of service and is not allowed."
Each location for BDSM and fetish play in-world has its own set of rules players need to follow, or else they'll be kicked out. They range from the restrictions Libertine mentioned to no typing in all caps, no trolling, no being rude, and more. It helps to keep the game a safe spot for everyone interested in the lifestyle.
But as in real life, you're subject to ridicule and abuse
First-time players in the Second Life BDSM scene should be careful, though -- it's a good idea to ask in-world where the best places are for your particular interest. One player, Beth, mentioned that a lot of seedy places exist in the game, where people go to be ridiculed or abused.
People can feel threatened in those areas, but she says the number of positive, safe spaces vastly outnumber the negative. I found that to be true as well; I happened into one location where I was degraded for having an ugly avatar, and then abandoned because I didn't know the game quite as well as someone thought I should.
Ultimately, it's all about fun, communication... and surrender
I ended my sojourn into Second Life in a three-story mansion, silently bent over a leather spanking horse while an avatar named Iron smacked me repeatedly, complimenting me on my reddening skin. Two women watched from the sidelines, coaching me through the experience.
"You would respond with your reactions," one tells me.
"Simply surrender, and when you feel something strongly, let the other know. Feedback is important," another says.
And more advice from the team: "A key thing here, if you are not feeling it, then don't prolong it. We all need to feel good things. We always say 'have fun.' That's the primary thing. If it doesn't pass that test, don't do whatever it is."
But I was far too shy to interact, and so I bailed. Maybe next time.
Sign up here for our daily Thrillist email, and get your fix of the best in food/drink/fun.
Jennifer Billock is a freelance writer and author, usually focusing on some combination of culinary travel, culture, sex, and history. Check her out at JenniferBillock.com and follow her on Twitter: @jenniferbillock.