The World's Schools Aren't Teaching Students Nearly Enough About Sex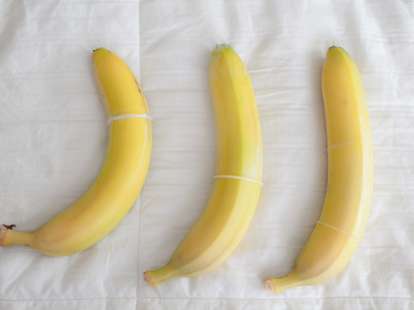 I remember my sex-ed class like it was yesterday. It was taught by a classmate's mother, who had wild, curly gray hair and wore mumus. We all giggled relentlessly as she demonstrated how to put a condom on a banana, our symbolic penis.
While my sexual education was pretty subpar, the teachings in my class were vastly superior to the majority of other classrooms, as evidenced in a new global analysis showing sex ed is basically terrible all around the world -- and actually, even worse than we thought.
The extensive study asked students and former students to share their experiences and perspectives on the sexual education they received in school. The responses reflect 55 schools in 10 different countries over the course of 25 years. Several common trends were found, including an overwhelming lack of sex-positivity, lessons steeped in technicalities and rife heterosexism, disruptive behavior among students, and a curriculum that is wholly out of touch.
Unlike my whacky, well-meaning sex-ed teacher, the study found that many students believed their teachers to lack any real experience and were "often visibly embarrassed to be presenting the material." This is super-problematic because it doesn't send the right message to students. If teachers can't talk about sex in a clear-headed, articulate manner, how are kids supposed to understand that sex is a natural part of the human experience?
In fact, many students don't receive any sexual education at all -- leaving young adults to figure it all out on their own, from friends, or porn and WebMD. Unless, of course, they're in France -- where sex-ed classes this month are being equipped with a full-size, 3-D model of the clitoris. It's a small win, but it's a start. Teaching students about pleasure -- in scientific and emotional terms -- is deeply important when it comes to equipping people to make the best decisions for their bodies.
Hopefully with more advances like this, we can take sex ed out of the darkness and into the future.
In case you wanted to brush up on your sex-ed skills, we've got some seriously good stuff for you here, here, and here. Everyone can use a little extra education, especially when the best we got in school was condom bananas. Oy vey.
Sign up here for our daily Thrillist email, and get your fix of the best in food/drink/fun.
Gigi Engle is Thrillist's Sex and Dating Staff Writer. Sex Ed will be her next career if the whole writing thing doesn't work out. Follow her lovable crazy on Twitter, Facebook and Instagram: @GigiEngle.