Sex Tips for Boring People: BJ Frequency, Shedding Inhibitions, and Spotting STDs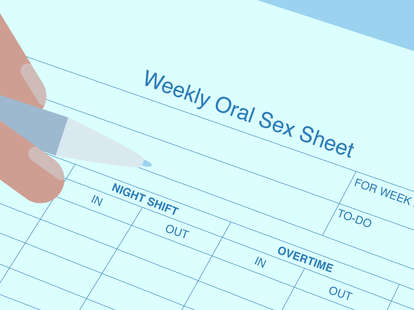 How often should I be giving my boyfriend blow jobs?
Depends who you ask. If you ask your boyfriend, the recommended frequency would probably be daily. That said, I like to shy away from nailing down any type of "normal" behavior when it comes to sex. The truth is that it's different for every person and for every couple. What does your boyfriend like? What do YOU like? If your boyfriend wants a blow job every day and you love giving them, then why not do it every day? It's not unusual to love oral sex, for both parties. It's a wonderful way to show intimacy.
"Giving someone a blow job is as much about you and your desires as it is about what he wants," says Jacq Jones, owner of sex store Sugar. "That's true for two very good reasons. First of all, good sex is about pleasure and you should be receiving pleasure when you go down on someone. For some folks that pleasure comes from knowing that you're responsible for his eyes rolling into the back of his head, his breath catching in his throat, feeling his hand gripping your shoulders. The second reason is that, in addition to using lube and a little technique, the most important part of a good blow job is enthusiasm. If you're not excited to be there, it's not going to be good."
There are also women, however, who hate to give blow jobs. And that's totally fine, too. Nothing about sex is ever mandatory. Your boyfriend should respect that. If he doesn't, perhaps neither of you is in the right relationship.
"If you hate giving blow jobs, don't do it," Jones says. "Use your hands, buy a toy like the Pulse by Hot Octopuss. Get creative. But don't go down. Not everyone loves everything and that's totally fine."
How do I get my girlfriend to be less self-conscious in the bedroom?
Being self-conscious in the bedroom is incredibly common. In the beginning, we're all uncomfortable with our bodies and are anxious about whether we're going to be "good" at using them. Some of us grow out of this quickly -- others take a little while longer. If your girlfriend is on the shy side, but you're ready to take things to another level, there are definitely things you can do to make her more comfortable.
"First of all, you sound like a pretty great partner," says Jones. "You're noticing that your girlfriend is self-conscious, which means that you're paying attention. People who pay attention are usually pretty fabulous in bed. Next, being a woman and being self-conscious often go hand-in-hand. We live in a world where women are constantly told that our bodies are wrong. If we're curvy, we're too fat. If we're thin, we're not curvy enough, and on and on. That often carries over into how we feel when we're having sex. Because, you know, we're naked.
"Let her know how much her body turns you on," Jones says. "Tell her about it when she's wearing clothes and when she's naked. Let her know which body parts really do it for you. If she's self conscious about receiving pleasure in the bedroom, let her know how hot it makes you to see her having fun. When she's giving you pleasure, give her good feedback. And then give her good feedback again hours later. Lastly, sometimes you'll need to ask her to do something different in the bedroom. Try using the communication sandwich. Give her praise, ask for change, say thank you. People, especially when we're vulnerable, respond really well to positive feedback."
I saw bumps on my boyfriend's penis. How likely is it that he's got an STD?
Seeing a bump anywhere in the genital region is, on a scale of 1 to complete meltdown, somewhere around apocalyptic mind-fuck. You see something new down yonder and all of a sudden you're up until 3am Googling the shit out of it until you've convinced yourself that you've got herpes, chlamydia, AND syphilis. We've all been there.
While being cautious and vigilant when it comes to your sexual health is always a good thing, it's best to not go from 0 to hysterics in less than a minute. That said, it is probably a good idea to have anything new looked at.
"The bumps could be pimples, ingrown hairs, or pearly penile papules," says Dr. Laura Berman, assistant clinical professor at the Feinberg School of Medicine. "These white bumps occur along the glands of the penis in many men. They are nothing to worry about. Still, I would recommend you both get tested for STDs, just to be safe."
Also, there's a caveat! "There is a good chance that it could be an STD," Dr. Berman says. "Genital warts are not painful, and they could be present as irregular bumps along the penis, which sometimes are difficult to see. Painful, blister-like bumps could be genital herpes. In either case you should get tested, as you both might have an STD. However, rest assured that there are treatments for herpes and genital warts. Medication for herpes will help decrease the occurrence and the severity of the outbreaks, though there is no cure. The same is true for genital warts -- you can have the warts removed, but they still might return as the virus that causes the warts is not curable."
The best and most reassuring thing you can do is get yourselves tested. Facts don't lie. "The best sex is sex that comes with peace of mind," adds Berman. PREACH!
Sign up here for our daily Thrillist email, and get your fix of the best in food/drink/fun.