Sex Tips for Boring People will take your sex life from vanilla to passion fruit. Or at least from vanilla to vanilla bean. Find more sexy advice right here.
 
How do I tell him his dirty talk is terrible?
If you're into it, dirty talk can be one of the hottest parts of sex. Hearing him say what he wants to do to you, you saying what you want to do to him, encouragement and validation, it's all healthy and super hot. That said, nothing kills a lady boner faster than a guy that is bad at dirty talk. What constitutes "bad" is entirely a matter of opinion, so make sure you know what you like. Personally, I find baby talk to be an instant vagina sealer. If you want to keep getting regularly naked with this person, that behavior is going to have to be nipped in the bud. But to make sure they want to still get naked with you, it's best to not be a complete dick about it. Try taking the lead. Tell him what to say. He'll love the direction and will hopefully take it from there. If Romeo still isn't getting the hint, let him down gently. Compliment something he's doing right first. "Oh baby I love when you XYZ... but to be honest the way you say you love my 'bweasts' isn't quite doing it for me." Sometimes you just have to bite the bullet.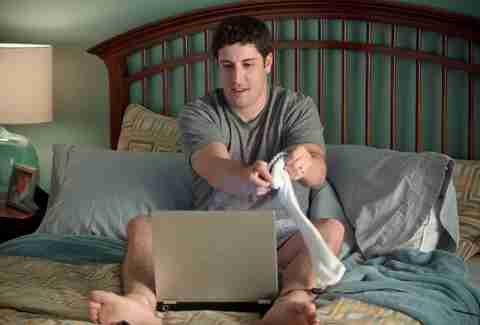 Will masturbating before a date make me last longer?
Short answer? Yes. Especially if that's an issue for you. But it's not exactly that simple. To get the real scientific low-down we reached out to Dr. Laura Berman, PhD, who is a sex and relationship educator and therapist, as well as a New York Times best-selling author and an assistant clinical professor of ob-gyn and psychiatry at the Feinberg School of Medicine at Northwestern University. "If you struggle with early ejaculation, there are a couple things you can do to last longer in bed," she says. "One is 'personal training.' Outside the pressure of a sexual encounter you can train yourself to last longer through self-stimulation. If level eight for a guy is the point of no return, with 10 being all the way there, he can do something called the start/stop technique on his own. He self-stimulates until he gets to a five, six, seven and before he gets to an eight he stops, takes a deep breath and gets himself back down to a four or a five and then starts stimulating again. Over time he'll train his body to last longer so that when he's with an actual partner he can use the same skill set." 
Other tips she recommends? FOREPLAY. And no, this isn't women propaganda, fellas. Honestly the secret to great sex is great foreplay. Dr. Berman confirms that only 30% of women orgasm through intercourse, so if she's already satisfied by the time you get to intercourse then there isn't that added pressure on homeboy to last an eternity. "It takes the average man 7.5 minutes to orgasm. It takes the average woman 20 minutes, so there's already an arousal gap. A lot of foreplay will help to close it."
Why do some people smell different post-sex?
"It smells like sex in here," is a real thing. Why? Again, Dr. Berman lends her expertise. "First of all, you're sweating, but it's a different kind of sweat. Semen also has a scent, as does vaginal fluid. A lot of that has to do with diet and your body's makeup, so once those fluids have been out in the open and exchanged, then typically that smell is different than if you just went to the gym."
An article in Women's Health also points to pH levels. The article says that semen is alkaline, with a high pH, and anything from the vagina is acidic, low pH. When a base and an acid commingle, the reaction is something completely different with new chemical properties… and smells.
Sign up here for our daily Thrillist email, and get your fix of the best in food/drink/fun.
  
Meagan Drillinger is a contributing writer for Thrillist. All of her dates are tax deductible. Follow her on Facebook, Twitter and Instagram at @drillinjourneys.