Women Give Advice for Executing Proper Period Sex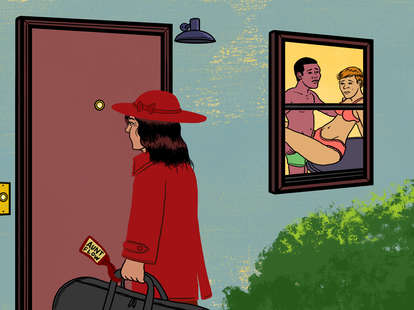 So the mood is set, you're both horny, and all you want to do is hook up. But, there's one liiiittle problem: she's got her period.
Do you wait until it's over? Or suck it up and get a little messy?
For those going with plan B, y'all just got lucky. Twelve sexually active ladies agreed to share their No. 1 tip on how to have sex when it's that time of the month.
Always use a towel
"Having sex on your period can get a bit messy, depending on your flow. My advice is to lay down on a towel (preferably not white) and have sex the good ole fashion way: missionary style! When the guy is on top it eliminates a mess as the girl can be closer to the towel she is laying on. But hey -- if you don't mind a bloody-looking crime scene, have sex in any position you choose." -- Michelle, 28, event planner
"Focus on lots of nipple foreplay for her, skip foreplay elsewhere. When both sides are ready to make it happen, have towels nearby and don't look down!" -- Isabella, 26, second-grade teacher
Shower, shower, shower
"I have a hormonal thing that for no reason at all I will get my period for six months straight every couple years. Hence shitty quality of life when it comes to sex. Bahaha. So if it's someone I'm either very comfortable with or if I plan to never see them again, shower, shower, shower to contain the potential mess. Any body of water [will do] -- you don't bleed then, obviously. Also, throw down some towels... Also, although I have never tried it, I know strippers and porn stars insert a sponge!" -- Amanda, 28, registered nurse
"Plop a towel down and proceed onward! [Alternatively,] the shower is always a safe bet." -- Jessica, 25, sales associate
Surrender to the flow
"Best thing to do on your period is drink lots of wine and if you want to have sex, just accept that it might look like a murder scene in your bed." -- Monica, 29, personal trainer
Put his penis in other places
"I don't let my period stop me, but, if I'm feeling sexual and not wanting the mess that it brings, anal is my go-to. It's amazing for him, avoids towels, and he can still get me off by rubbing my clit. But be gentle! Use lube! And, depending on your level of sexual adventure, try a butt plug. Ladies should also watch what they eat at least two days prior, shower right before, and clean, clean, clean! Otherwise, the two of you might be dealing with some crazy shit. Pun intended." -- Bridget, 26, management consultant
"I always tell my boyfriends that period week is actually butt-sex and blow-job week. No complaints yet." -- Lindsay, 33, blogger
"If your man is not so into having sex on your period and you're not so into giving BJs all week, try titty-f**king. Although it may not be as pleasurable for you, it's a way to keep your guy happy. Hopefully he'll return the favor next week if ya know what I mean." -- Rachel, 29, accountant
Take advantage of the free lube
"I always proceed as I normally would because my sheets are black and machine washable. It's like free lube plus your odds of getting knocked up are really slim... I think." -- Mary, 32, occupation revenue analyst
Make sure she took out her tampon
"You'd be surprised with things people forget in the heat of the moment. I have major anxiety about it getting stuck. Especially when you had too many, want to have sex, and forgot that it's in there. One of my friends made that mistake and had to go to the hospital. It was really up there." -- Stefanie, 26, project manager
... or that she left in her DivaCup
"I use the DivaCup so it's annoying to have to take out... Usually though, we just use that time of month to focus on oral and mutual masturbation. The cup is great! It never leaks when you wear it right." -- Gloria, 26, business analyst
Talk it through
"Communication is always key... For guys, if you're a bit hesitant, then ask questions like, 'What day did it start?' Depending on the girl, if she says yesterday or today, then you can count on things getting messy. If you were already a little iffy before, then wait a couple more days when she's further along in her cycle. If her answer is day three or four, then the blood should be much less. Maybe a little spotting. Last but not least, anything after four days, and you might just be in the clear." -- Ariana, 26, account coordinator
Sign up here for our daily Thrillist email, and get your fix of the best in food/drink/fun.
Amanda is a Thrillist contributor who doesn't get squeamish from a little blood. She was born and raised in St. Louis, attended Indiana University, and gets her zen on through meditation and mindfulness.