Sizzl Is The Dating App For Bacon Lovers
Assuring the public that their newest creation is "real and incredible," Oscar Mayer has released Sizzl, an actual dating app for bacon lovers. Delicious pun aside, this is a fully functioning app created by the people who brought you bologna and the Weinermobile...damn, it feels good to be an American.
How does a bacon-centric dating app work, you ask? Well, it's actually quite simple; Sizzl takes cues from the hugely popular Tinder (you've heard of Tinder, right?) by allowing users to search through nearby matches who like the kind of bacon you like.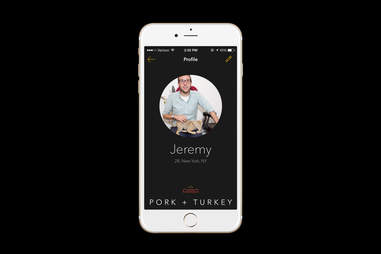 Jeremy Glass

The first few questions you're asked are the standard "I am a ___ interested in ___" and then they head straight to the good stuff by inquiring about the type of bacon you're into (pork, turkey, or both) and how you take your meat: "Hardwood smoked for a really long time," "Thick Cut, because more is more," "Maple and sweet like me," and "Lower Sodium!"
After a few more bacon-focused inquiries, you're shown matches with whom you can chat about bacon, puppies, casual sex, or whatever.
At the moment, the app is a little buggy and crashed a few times when tested, but beggars can't be choosers in the world of meat-based dating apps.
Do they want us to find love or is it all just a ploy to get people into Oscar Mayer's delicious bacon that's "passionately cured for 12 hours, and lovingly smoke-housed for another 12"?Hard to say. But if it's the latter, and the former is a consequence, well, we'll take it.
Sign up here for our daily Thrillist email, and get your fix of the best in food/drink/fun.

Jeremy Glass is a writer for Thrillist and will never not eat bacon.