I Fell in Love With a Total Sociopath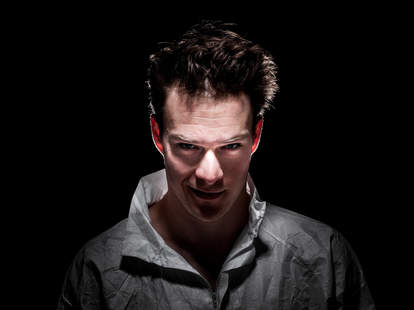 Benoit Daoust/Shutterstock
It started as a one-night stand in a five-star luxury suite somewhere outside Puerto Vallarta. It ended with a little less glamour, in a seedy hotel room in Germany, and me curled into a ball on the bathroom floor.
After a year of being stupid in love, on the verge of a life-changing move to Mexico, I discovered my long-distance boyfriend had another girlfriend. I don't want to say it was the worst moment imaginable... I'm sure contracting smallpox, getting braided on the wheel, or being a casualty of a number of natural disasters or wars would be far worse. But still.
Lust at first swipe felt like a whole lotta love
I met David the old-fashioned way -- with a swipe. Twice a year I visit Puerto Vallarta for a much-needed disconnect from New York… which is probably how I've managed to continue loving the city life. Blissfully drenched in sun oil, sipping on a Modelo, I was lazily cruising Tinder to see who was around. David and I matched.
And off I went into the most bizarre mindfuck of a year.
Instead of immediately meeting up, David and I spent a couple of months developing a flirty friendship on WhatsApp, complete with coy innuendos and sexy selfies. When I returned to cover a hotel opening for a travel magazine, I invited my digital paramour for a drink so we could finally "meet." Ordinary first dates seldom happen in the luxury suite at a five-star hotel, on the balcony with its own private plunge pool overlooking the jungle. And if a date DOES start that way, it's probably because it's with a hooker.
Regardless, there we were.
We cracked open a few Coronas and sat on the balcony's lounge beds swatting at mosquitoes and listening to chirping geckos. We talked. A lot. From 11pm to 4am we sat up talking. He was… different. At 32 he was a decorated veteran of the Canadian Army (yes, that is a thing). He enlisted at 16, was part of the relief effort in the Balkans, lost his mother to alcohol at 25 years old, toured Afghanistan three times, and retired from Western Canada to Puerto Vallarta to escape all of that brutally real reality. He showed me some of his poetry about war, which was heartbreakingly hypnotic. His sense of humor was dark and razor sharp.
We were frighteningly compatible in mind and body
And his body… good Lord, his body. He was a Canadian Ken doll with glacially blue eyes, tattoos roped around his high-gloss, magazine-style biceps, and kiss-me lips permanently pursed together hanging on to a dangling Marlboro Red. He was the ultimate badass; any hot-blooded lady's wet dream.
It was Tinder sex fueled by a backdrop of Mexican plunge pools and 800-thread-count sheets.
And then we had sex. But not just any sex. Like, black-out-and-see-God sex. Sex that made all other sex before that irrelevant. Sex that made me say out loud, "So this is what everyone is talking about." It's like someone gave him a map to my body and he orienteered the fuck out of it. Quite literally.
I'm not naive enough to think that this was love at first fuck. It was Tinder sex fueled by a backdrop of Mexican plunge pools and 800-thread-count sheets. But it was certainly the beginning of something.
Our relationship went from zero to 100, from a distance
From that moment on, David and I were in constant communication. Every day, for hours. Talking about nothing and everything. Three weeks later I was back on a plane to Puerto Vallarta, much to my mother's hysteric paranoia that I was headed to Mexico to meet a serial killer who would chop me up into pieces and leave me scattered somewhere in the Sierra Madres. But when you're omnipotently in your 20s, these pesky perils of online dating are of little concern. We talked every day. He wrote poetry. He was hot. HOW BAD COULD HE BE?
David said he wanted me. Only me.
So off I went. David picked me up at the airport on his motorcycle (can't make this shit up) and whisked me north to the bohemian town of Sayulita, where we camped out in a bungalow on the beach for four days. Tacos, beer, sex, nap, talk, beach, tacos, sex, talk, sex, sex, talk. Not even a tiny bit of murder. It was the best four days I can remember in a long time. My last night there I bawled big, gloppy tears onto his perfectly puffed chest at the thought of having to leave him. To which he replied that he would come to New York. He didn't say when, though.
It was the first indication something was off about this man. But I was gone, girl, gone. Warning signs be damned.
Soon after that we decided to make it "official." Despite me saying that long distance could be difficult, and that if he wanted we could keep it casual, David said he wanted me. Only me.
I ignored every red flag
When you're in your 20s and falling in love with what seems to be a man designed precisely for you, it's easy to ignore that tablecloth-sized red flag violently flapping right in front of your face while simultaneously bursting into flames.
I believed his "I can't get on a plane because I have PTSD" line for never coming to New York. I trusted him when he said the abundance of dick-pic selfies on his phone were all taken for me; and, "Stop being crazy, of COURSE I'm not sending them to other women."
Every flaw of his, I chalked up to PTSD and abandonment issues.
When I asked him to take me to his apartment, David had another excuse. "I'm not ready to show you my apartment yet," he said, "in case I get too attached and then you disappear like my mother and all my fallen Canadian brothers."
Anyone buying that? No? Just me? Great.
Every flaw of his, I chalked up to PTSD and abandonment issues. The last thing you want to do is abandon him, too. Especially when he finally tells you he loves you, in a fucking poem written about you, no less. What's a young writer to do!? I loved him. Our only issue was the distance, right? I booked another ticket to see him so we could start planning the next step: me leaving New York.
Which is when the biggest red flag of all popped right into my Gmail inbox. This one was a little harder to ignore.
... and apparently, so did his girlfriend
I was in Germany covering a conference, a week out from my reunion with David. He texted me that morning to tell me how excited he was to see me, to finally show me his apartment because I was "worth it." To tell me how much he missed me. He conveniently did not tell me he also had a second girlfriend.
Her communique to me appeared as I was checking my email.
"My name is Jessica and I'm David's girlfriend. The reason I'm contacting you is because I wanted to ask you, girl-to-girl, if you continue to talk with him. I know you did it in the past. In fact, I know you came here in September. I caught him, but I decided to give him a second chance because we all deserve it, I guess. We have been dating for a year, but at this time we are going through something and you came into my mind again. So I want you to be 100% honest and let me know. I think you would like to know if you were in my shoes. Thank you."
I spent the next 15 hours huddled in a corner of the hotel bathroom -- the only place where the Wi-Fi reached -- talking to Jessica on WhatsApp. Uncovering the depth and scope of all the perfectly planned-out lies. Telling her how sorry I was. Not only was Jessica his girlfriend -- she was his LIVE-IN girlfriend, at that apartment I'd been so excited to see. They'd been cohabiting since before I ever even swiped right.
The person I loved didn't really exist
Back when I was talking to David about seeing his home, he'd said he had a roommate named Miguel; whom David described in a way that never made me think Miguel might actually be named Jessica -- and that this "roommate" might be having lots of regular sex with my long-distance boyfriend in their shared bed.
I messaged him. "A woman named Jessica is telling me she is your girlfriend. Could you please tell me what is going on?"
Jessica told me that not only did she catch David talking to me (twice!), but that she found photos of six or seven other women in his phone, as well. The pit of lies we unearthed was bottomless. The betrayal and violation we felt went even deeper than that. And most piercing: the steel-cold reality that the person I was in love with for an entire year didn't even exist.
After stewing a potent loss, I steamed out airy relief to the point of weightlessness. Suspicions don't concoct themselves. I knew that other shoe was bound to turn up. Vindication goes down bittersweet. Yes, I fell in love with a sociopath. But hey -- at least he wasn't a serial killer, mom!
I messaged him. "A woman named Jessica is telling me she is your girlfriend. Could you please tell me what is going on?"
I'm sure he's still mulling over his response.
What happened to me (and David's other girlfriend(s)) is hardly a commercial for Tinder. But without boring you with too much earnest heartache, I have to say I regret nothing. Shit hitting the fan in monumental ways is no reason to tap out of the game. Nothing is wasted when you're feeling something and getting through (and over) a relationship.
Ultimately, what you deal with and survive is supremely real -- even if your partner's pack of lies isn't.
Sign up here for our daily Thrillist email, and get your fix of the best in food/drink/fun.