10 Songs to Get It On to This Weekend
Sex is like a movie. There's a definite beginning, middle, and end (well, hopefully). And much like the best films, great sex has a fantastic soundtrack. What would Star Wars be without the the opening track? Just a bunch of nerds playing with lightsabers, that's what. Or better yet, think of Fifty Shades of Grey without The Weeknd and Beyoncé? That would be some corny Skinemax flick, not the movie that grossed nearly half a billion dollars worldwide.
So whether you're an indie aficionado or a box office bombshell, these are the songs that will transform your straight-to-DVD sex into an Oscar-worthy performance. And no, Ginuwine's "Pony" is not on the list. You're better than that.
"Retrograde" by James Blake
No candles, no problem. Who needs satin sheets and rose petals, when you've got James Blake? Not recommended for those with fears of commitment -- you're sexing for keeps with this one.
Listen!

"Ooh La La" by Goldfrapp
You should be feeling a little woozy given how much tequila you've consumed. But instead, you're feeling spectacular. This one's for athletic, sweaty sex with that cute stranger you met hours (maybe minutes) ago. No judgements, though, because things are about to get weird in the best way. Too bad you probably won't remember most of it.
Listen!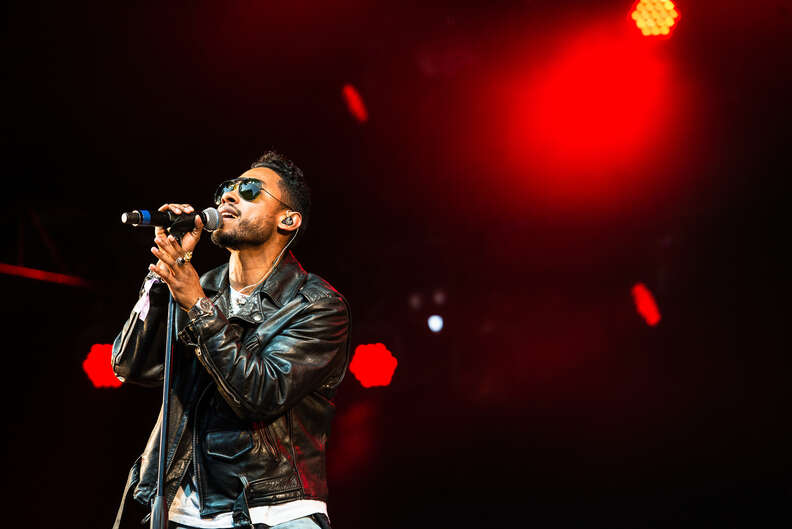 "Simple Things" by Miguel
It might be a one-night stand, or the start of something a little more serious. Either way, this song is perfect for getting-to-know-you sex. It's hot, but not in a handcuffs-and-blindfolds kind of way. And it's romantic enough that even if you never text each other again, you'll look back on the experience fondly.
Listen!

"Purple Haze" by Jimi Hendrix
Sex with your ex.
Listen!

"Searching (So Much Bubble)" by Damian Marley
There's something about reggae that brings out the freak in all of us. Maybe it's that island vibe that makes your brain feel like it's on vacation, along with your inhibitions. Make like you're going to the beach and bring a towel, because shit's about to get dirty.
Listen!
"Trick Pony" by Charlotte Gainsbourg
You don't know each other's last names. Maybe one of you doesn't speak English. It's all for the best, since you're about to do things to each other that are illegal in certain states.
Listen!

"Wicked Games" by The Weeknd
I hope your neighbors have earplugs.
Listen!

"Electric Relaxation" by A Tribe Called Quest
Both of you have had a long day. Neither of you are really in the mood until this starts streaming from one of your Spotify playlists. Those late-night emails can wait.
Listen!

"What's in Your Head" by Disclosure
You couldn't make it home, so you're banging in the one stall of the men's bathroom at a nightclub you swore you'd never step foot in.
Listen!
"Drunk in Love" by Beyoncé
You told her you were 32 (you're 37), and she told you she was 26 (she's 23). You brought her home and asked her what kind of music she liked, and she put this on. Not that you're complaining.
Listen!
Sign up here for our daily Thrillist email, and get your fix of the best in food/drink/fun.
Julia Reiss is a writer and stand-up comedian who now has a new favorite playlist. Follow her on Twitter: @thereisspiece.