Kickstarting Hearts at Speed-Metal Speed Dating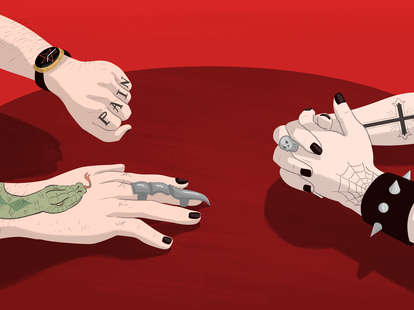 Speed dating and heavy metal seem wholly antithetical to one another. This may be why the juxtaposition was so beguiling to the whopping 74 people who recently flocked to Brooklyn's heavy-metal mecca Saint Vitus for a speed-metal speed-dating event. On a Sunday.
So what happens when dozens of people hungry for love spend an evening immersed in a world of casual Satanism and blistering bass lines? Two intrepid Thrillist writers, unbeknownst to one another, attended to find out.

"My dating life of late has been an overly courteous train wreck," Brett, the male writer for the event, said. "So the chance to freely mingle with a crowd outside of my typical haunts was immediately appealing. That said, I always thought speed dating was just some ridiculous trope invented purely for romantic comedies when the characters need an outlandish situation to crash. But it was my lack of metal expertise that was more intimidating."
"Never have I ever done speed dating," Kari, our female writer, said. "Sure, I Tinder, I happn, and occasionally 3nder, but speed dating hadn't occurred to me... until this."
Let the games begin.
Not everyone there was a metal head -- or a speed dater
"I'm no metal head. It's not that I don't like the genre -- I've been known to throw on the aggressive jam or two to pump me up and for a time in the mid-aughts thought System of a Down was the best band in the world -- but the heaviest music I play on the regular is the more hardcore leanings of Brand New's later discography. My record collection skews heavily toward lyrically focused, melodic alt-rock, not Slayer." -- Brett

There are two ways to prep for speed-metal speed dating
"Prep was easy. When the day finally came, I shoved six friends into an Uber XL on the quest for love." -- Kari
"I tried to brush up on Spotify, rocking the "Best of Today" metal playlist as much as possible. I quickly realized this was a terrible strategy, and true metal heads would probably NOT be big fans of any type of top-40 list. Instead, as I dressed for the evening (black pants, black boots, black shirt, leather jacket -- you get the picture), I went back to what I knew and jammed to Toxicity for the first time in far too long. I kept it going on the train there, feeling as ready as I'd ever be." -- Brett

The venue was... fitting
"I walked in and was actually quite surprised. The setup was a lot more organized than I expected, the registration only took about a minute. After we filled out our name tags, we headed to the bar for some pre-date drinks and anxiously awaited the start. The turnout was massive, but it came down to numbered spots for 37 men and 37 women. I found my allotted wall space, lucky #2, hoping for magic to happen." -- Kari
"The darkened bar at Saint Vitus was filled with metal paraphernalia and blasting metal at high volume. I noticed a shrine of sorts, complete with a Christlike rendering of a canonized Lemmy, the recently deceased frontman of Motörhead. In an odd bit of juxtaposition, the live-action Flinstones movie from the '90s was being projected on the far wall. I found the event registration, signed up, and slapped on a name tag with even more inverted crosses. And, in a rookie mistake, signed my first and last name." -- Brett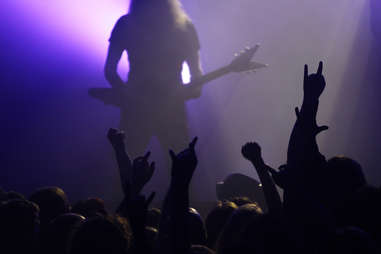 The heavy metal only served as background music
"The stage housed a big screen that projected the same oversaturated loop of long-haired men posturing with guitars intercut with Viking battle action for the entirety of the evening. Not that anyone was paying attention to what was up on stage. There was business to be taken care of on the darkened floor, after all. All of us in the crowded room were there looking for love -- but not within the typical go out, get numbers, and get laid social construct. This was a special event to bring all the metal chicks and head-banging guys of New York (and the surrounding area) together for a truer connection." -- Brett

Round 1
"My first date approached me, clad in a uniform of black, patches, spikes... and incredible sketches he had drawn. He was quirky and nice, and an amazing artist. The bachelor proceeded to show me his artwork and informed me that his favorite thing to draw was women morphing into werewolves. Oh -- and anything to do with sex. Fair play to him, he could draw a great rack." -- Kari
"Women were called forward to take their seats in chairs along the walls. Then the men were herded in, unwitting livestock on our way to slaughter. My first pairing was with a pretty girl covered in tattoos -- but I was soon told that I had taken the wrong seat. I took my place across from a nice girl in a beanie. Comedian Dave Hill, the emcee for the night, said something unintelligible and started up a song. We were off. Beanie Girl offered up some great advice: 'You'll get called out right away if you try to fake it like that with bitch music [name-dropping],' she told me. 'Just say you're into Motörhead, and that'll be enough for most people.'" -- Brett

Round 2
"As the dates went on I met an ad guy, a "professional" weed dealer, a comedian, a lovely writer, and a musician who lived with his parents. The bachelors were quite varied. Some of the guys were actually looking for 'a cool chick to go to shows with' whilst others were just there as some kind of curious social experiment. One man informed me that he was in an open marriage. Both him and his wife date women, but have never dated the same woman. 'That would be incredible if we did,' he said." -- Kari
"After the beanie chick, I shifted to the left to a girl named Anna with a septum piercing, metal-head vest, and unruly auburn hair. She reminded me exactly of my very first NYC flame. We hit it off, and she also advocated for me to stick to Motörhead with everyone who asked. 'Keep a tally of how many agree and let me know how many you get at the end of the night!' she said as the song changed and our time ended." -- Brett
Round 3... to 31
At one point I was nursing half a warm sip of Tecate and I desperately looked at my date. 'Should we just go get some whiskey?' I asked my suitor. He agreed that that was a good use of our dating time and headed to the bar, where seemingly half of the other daters had had the same idea. Some were already coupling off including one of the friends I had brought along, heavily petting a mustachioed hipster in a dark corner." -- Kari
"After the first two dates, the rest blurred together. Every lady I talked to was engaging, excited to be there, and just plain nice. Everyone was also in agreement that the event itself was totally ridiculous. But at a certain point, I had to drop the analysis -- I was having too much fun." -- Brett

Thirty-one dates, but no diamonds
"Because of the large turnout, the dating was going on for ages. When it finally ended, everyone hit the bar to mingle and exchange numbers and stories. One guy got a drink thrown in his face and subsequently got booted out. Apparently, the friends I brought also made quite the impression as well. My friend from Scotland, for example, asked to impregnate the majority of the women he spoke to so he could get a green card, and even told one woman that he wanted to fuck her pit bull. Sorry about that, ladies. At least my other friend, 'Jimbo Slice,' was polite to the girls and made out pretty well numbers-wise." -- Kari
"After about 31 dates, Hill finally called it a night. I made my way back to where I left my jacket earlier and migrated to the bar. Granted, there may have been more bloggers around than metal heads -- but that's Brooklyn for you." -- Brett

The fun outweighed the romance
"As for me, I got some numbers, some compliments, a couple dates, and a slew of new friends to go to shows with. All in all it was a successful evening and I can't wait for the next one. Until then, good luck in love, metal heads!" -- Kari
"Anna, the auburn-haired beauty from date number two, came up to me at the end of the evening and asked me out. More than anything else that happened over the span of the night -- being forced into conversations with 31 people, getting outside of my typical crowd, the overwhelming darkness and noise of the bar -- having a girl step up to the plate and actually have the bravery to ask me out was my most shocking takeaway. I turned her down, but it was a great cap to a surprisingly fun night. I admittedly spent most of the night ragging on the untraditional setup of the event. But, in the end, I had too much of a good time to deny it." --Brett

Sign up here for our daily Thrillist email, and get your fix of the best in food/drink/fun.
Kari Langslet graduated from UC Davis in the completely unrelated field of archaeology. Travel nerd, dog obsessed, and avid dater, you've probably seen her running around Brooklyn headbanging at a show with a slice of pizza in one hand and her phone open to the happn app in the other. If you think you can handle all that, follow her on Twitter: @karilangslet.
Brett Williams is a writer in New York. He now knows that he should never speak Lemmy's name in vain. Follow him on Twitter: @bdwilliams910.