Spotify's Best Playlists for Doin' It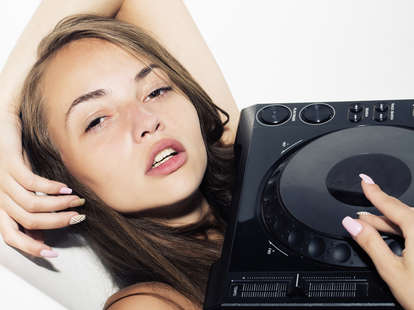 Listening to music during the act of coitus is a modern pleasure that kills two proverbial birds with one stone by putting you and your loved one in the mood for romance while simultaneously satisfying your love for jazz and smooth R&B.
However, knowing how to navigate Spotify in order to actually find the perfect love-makin' music takes some skill and talent that not everyone possesses. Spotify's "Browse" feature gives you dozens of playlists to subscribe to, but not knowing which direction you should head in can end the night with blue balls and Buzz Ballads.
Allow this list to be your guiding light into the world of boning music with the following playlists.
Bump n' Grind
Perfect for the couple who still believe in passion, want to keep it old school, and can only climax to the angelic voices of D'Angelo, R. Kelly, Usher, and Beyonce. This mixture of classic and nouveau R&B is what you need to get the engine running. OK, no more idioms, you're gonna bone real good to this playlist -- especially when "Pony" by Ginuwine comes on.
Listen!

Island Reggae
For those out there who always wanted to take a trip to Jamaica, have a week-long fling with a local girl, and make sweet love by the surf to the sounds of the ocean. So, you never saved enough money to book a flight to the island, big deal: try this playlist instead. It's relaxing, it's exotic... it's the aural equivalent to eating a fish taco while wading in the ocean. Let "King of Kings" by Elijah Prophet guide your body. Just make sure you don't get any sand in the bed.
Listen!
90's Baby Makers
I mean, it's all in the name. Baby makers. With just a tad less grinding and more cuddling than the first playlist, these soul-driven songs are for the couples who are less into smashing guts and more interested in smashing souls. Or something like that? Plus, "Please Don't Go" by Boyz II Men has never ended in anything but coitus. That's a fact.
Listen!

Love Songs for Robots
Simply put, this is a weird playlist for weird sex. It's about as far away from the "classic" love-makin' music as you can get... which gives it its charm. It's all electronic, which is easy to tune out and use as background sounds so you can really concentrate on what's important: making your partner get all squiggly.
Listen!
Sexual Healing
With newer songs like Justin Bieber's "What Do You Mean?" mixed with Fiona Apple's "Criminal," Sexual Healing is a perfect catchall playlist for those who aren't really sure what they want to listen to, but know they need some kind of music to mask the sounds of smacking flesh.
Listen!

Dance Workout
A sex playlist doesn't have to be labeled as so, but rather just needs to provide the right tempo and beat to get two people in the mood for fun. This playlist, filled to the gills with dance remixes of songs like "Single Ladies" and "Toxic," is perfect for those high-energy love sessions that come about on post-club Fridays, pre-brunch Sundays, or nooner Wednesdays.
Listen!
An Indie Love Affair
God, remember when Garden State came out? Remember all the passion and feelings you had while watching Natalie Portman and Zach Braff make weird sounds in front of a fireplace? It didn't make sense and it didn't have to make sense -- all you had was your amateur romance and The Shins... the band that would change your life. Natalie's words, not ours. You've got the Yeah Yeah Yeahs, Father John Misty, and Passion Pit to guide your millennial love to pleasure town.
Listen!

Scary Stories
You've never had sex to an audio recording of Edgar Allan Poe's "The Raven," so there's really no way to disprove that it doesn't totally enhance the experience. I don't know, make it weird.
Listen!
Sign up here for our daily Thrillist email, and get your fix of the best in food/drink/fun.
Jeremy Glass is a writer for Thrillist and only has sex to the sounds of him having sex.