Why Every Man Needs Platonic Female Friends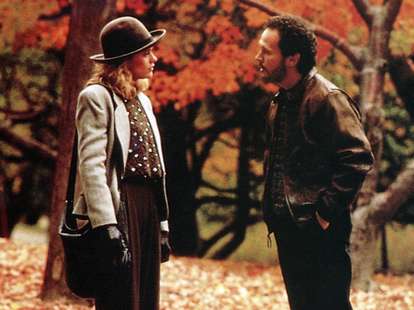 Production company Castle Rock Entertainment
Production company Castle Rock Entertainment
Billy Crystal made the argument long ago that women and men could never successfully become friends. His case in When Harry Met Sally was built on what he argued was a person's inability to trust his or her latent lust, which ultimately sabotages any relationship. As he so eloquently put it: "The sex part always gets in the way."
In the almost-30 years since the film's release, a lot has happened in relationships and how we understand them. This tired notion that men and women can't be friends is not only wrong -- it's unhealthy. Having platonic friends who identify as the same gender as your love interests is vital to maintaining a healthy relationship with your partner -- you know, the person you should be having regular sex with.
To help understand and unravel this issue, we spoke with psychologist Dr. Wendy Walsh. She had some keen insights into the value of having these kinds of fruitful, platonic relationships.
It teaches you healthy communication skills
"Can men and women be friends?" asks Dr. Walsh. "Of course they can, if they keep their boundaries intact." The key, she says, is setting boundaries early on and keeping the details of your romantic relationship private to avoid emotional intimacy. So, if you're running to your female friend to hand out juicy details of the hot sex you just had with your girlfriend… stop.
That sort of talk can lead to the type of emotional connection that flips to a romantic relationship out of nowhere.
Of course, in diagnosing a healthy friendship with a female friend, I turned to my own experiences to compare and contrast the wise words of Dr. Walsh to see what went right and what went wrong.
"There are lots of different friendships," Dr. Walsh says. "We have historical friends who we knew in childhood, we have common-interest friends -- the buddies we follow sports with or go to yoga with -- and then we have stage-of-life friends, college friends, just-moved-to-New York friends, friends you meet when you're a parent.
"Figuring out the type of friend you have is the first piece in finding out how men and women can be friends."
Why invest all your time hanging out with another person if all you're going to do is worry about what you are?
One of my personal friendships blew up into a non-platonic mess after the failure to "check in" on the relationship midway through my new journey into a romance with someone else. Not enough words were exchanged by either party and the platonic friendship devolved into a mess of jealousy and anger after it was eventually revealed (through some pretty harsh texts) that the friend thought I had blown her off for the new girlfriend.
This could have been avoided, I found out, through a simple conversation. It can be as easy as going "Hey, what are we?" to your friend. This simple act allows men and women to focus on the important things in a friendship… which is the friendship itself. Why invest all your time hanging out with another person if all you're going to do is worry about what you are?
Failing to properly communicate with one another isn't a problem that affects just one sex -- as is demonstrated by the eternal debate of what to have for dinner tonight. Let's hit up the elephant in the room right now: it's hard to maintain the friendship with a platonic friend when you're in a serious relationship with someone else. It takes a lot of finessing and that act of finessing can destroy one or both relationships if done incorrectly.
It's like having a double agent
One of the coolest parts of guys having female friends is the wisdom they glean from having what Dr. Walsh calls "an insider view of the other gender."
OK, not every male friend is going to be able to tell you why so many dudes love Buffalo chicken and the movie Gladiator, and not every female friend is going to take the time to explain what bobby pins are and how exactly they work.
When you're dating someone, you get an abbreviated view of how his or her mind works. My female friends always help me figure out how I've accidentally offended my girlfriend when I'm feeling particularly clueless. Did you know that women don't like it when you fall asleep in front of the TV during date night?
All the real dude and girl stuff happens in private -- like when you're in the shower or they're out with their friends. Realistically, there's a ton of stuff guys and girls do that makes no sense to the opposite sex. Why do guys think that making fun of other guys will impress girls? Why do women always steal our sweatshirts and then pretend like we never bought the sweatshirt in the first place? Having a platonic friend of the opposite sex gives you an abridged view of the mysteries and idiosyncrasies of that gender and might even let you know if you're doing something that's potentially annoying the hell out of your partner.
Guys, did you know that she does not like it when you collect all the hair she left in the drain and put it on her side of the bed?
Integrating friends into your relationship is good for the couple
A frustrating part of getting into a new relationship is finding out how to balance your significant other and your squad of friends.
"How… do you keep everyone's self-esteem intact?" Dr. Walsh asks. "You don't want to raise feelings of jealousy in your partner or make the other person feel like they're poaching you. How can you be open and include your friends in your couple life? You don't want to stick anyone into a little pocket of your life."
Hint: communication, communication, communication.
It may sound crass, but it certainly helps being friends with someone you don't want to sleep with.
Strong friendships can persevere through everything -- including the type of romantic relationship that keeps you from your best bud for weeks at a time. So, when you have a friend who's been with you through thick and thin, that style of friendship becomes a how-to guide on ways to make sure the rest of your friends don't feel like they're being pushed aside.
Healthy platonic friendships do away with sketchy relationship stuff
If you truly want to have healthy platonic friendships, you have to get away from using friends as reserve lovers.
It may sound crass, but it certainly helps being friends with someone of the opposite sex whom you're not at all attracted to. That very well could be why some of my best relationships with women worked so well. And it's a two-way street, too; you want to find a nice person who would literally vomit if he or she ever saw you naked.
"Many heterosexual men who are friends with women are waiting in the wings," Dr. Walsh says, "because that is one of the oldest mating strategies of all time. You act like the nice guy who's there to help pick up the pieces when things go badly in her love life. It's a great mating strategy, so that's why you have to keep revisiting those boundaries and keep defining the relationship."
By looking into those boundaries and defining what is going on, you're benefitting your partner, your friend, and yourself. And shouldn't all relationships be kept fresh by way of a check-in? Why let someone you're seeing turn into the type of friend who won't stay in your life long?
Alternatively, why let someone you're seeing turn into a friend with benefits? Maintaining a friendship with someone of the opposite sex will open your world up and ultimately benefit all aspects of your love life.
Sign up here for our daily Thrillist email, and get your fix of the best in food/drink/fun.
Jeremy Glass is a writer for Thrillist and most of his friends are volleyballs with bloody handprints for faces.