Take sexiness lessons from the Pakistani Hurley from Lost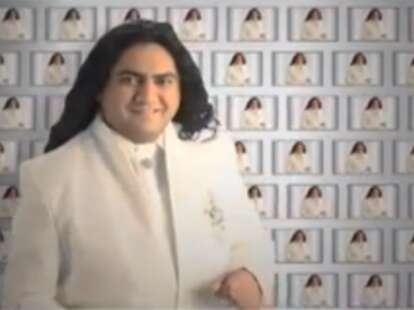 Sorry, ancient Hindu dude who wrote the Kama Sutra, there's a new exotic seduction sheriff in town and "his blue eyes and luscious curls will leave you transfixed." At least, according to India Today, which described Taher Shah's single "Eye to Eye" as "taking the Internet by sensation!" Here, the Pakistani Hurley from Lost's ballad would make Attack of the Show -- there, it's headline news. Potato, bizarre cultural po-tah-to, whatever. Here's what it is about the sexiness of this "viral" video that allowed it to get a face-melting 19,000 hits (and counting).
The importance of duality. Any asshat can rock a white suit a la BSB Millenium Tour '99, but it takes a deeper man to replicate himself in a contrasting suit color and hairstyle to show he can be a wild child, but also be serious.
Keep it simple. Shah doesn't distract women with flashy Bollywood choreography and expensive production value. He just rocks back and forth slowly, staring directly in to our "stylish, excellent human's eyes."
Work with what you've got. Hypersexualizing the female body -- if only the portion visible from underneath a burqa -- is still flattering, even when you say that body part a total of 80 times in three and a half minutes (yes, we counted.) Also, it's better than complaining about what you can't hypersexualize because you can't see it and lack imagination.
Twice the sexy. Because nothing says "that's so meta" like singing to your superimposed self.