In Bed With Gigi Engle: Can You Take Breaks in Relationships?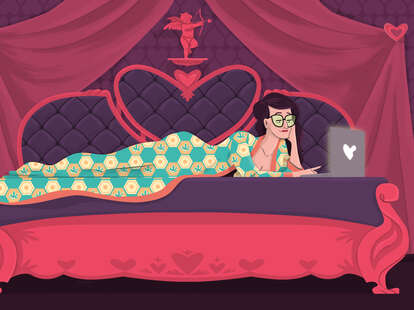 Welcome to In Bed with Gigi Engle, a weekly column in which sex and relationships writer Gigi Engle answers your most intimate questions. Nothing is off-limits! From threesomes to anal, unrequited love to cheating: we want to hear it all.
Gigi--
My boyfriend and I have been together for a year now. Everything was perfect in the beginning -- he got along with my family well, his friends liked me, no pressure about sex.
For the past few months, we've been fighting more than usual and have been talking about "taking a break." Mostly the fights occur because I get annoyed by childish things he does.
We've started being more open about our feelings; and have determined that we both feel 1) like we're walking on eggshells so we don't end up in an argument; 2) like we don't feel "good enough" for each other; and 3) like we're blaming each other.
Right now, he wants to take a break to work on himself because he "isn't the guy for me right now." He says we can still talk as friends and he has every intention of being with me in the end.
We've known each other for six years and have been so serious about spending our lives together. I just can't imagine this ending. What do you think about taking a break? Is there any benefit to it? Or is it just bogus?
-- Hopeless Romantic
Dear Hopeless Romantic,
This is a tough situation for anyone in a serious relationship. Sometimes, even when you really do love someone and want to be with them forever, it just isn't right and isn't working. Sometimes no matter how hard you try, you just can't force things to click.
This could be for a variety of reasons, but the most common one I've found is timing and one's place in life. It does sound like you really do love your boyfriend, and I'm sure he loves you. Still, clearly the timing is off. Neither of you is in a place, maturity-wise, to be settling down and figuring out the future just yet. It sounds like you DO want to be together, but are in different places in your lives.
I assure you: if you're talking about taking a break, you need to take one.
I think that's where a lot of this tension is coming from. Don't get me wrong here, I think it's totally possible that this guy could be your soulmate, as you believe. I'm not trying to discourage you. Still, taking a break can go one of two ways. You can take the break and realize that you belong together... or take the break and realize this isn't what you want. Both options are scary and make people want to skip the break altogether.
But I assure you: if you're talking about taking a break, you need to take one.
He says he wants to "work on himself" and I think you absolutely have to let him. You're fighting and are at each other's throats because you likely know you want to be together in the end, but aren't ready to make a commitment like that right now. It's an internal struggle that demands validation.
Let me tell you a little story about your Auntie G. I met my boyfriend five years ago. Neither one of us was in a place to seriously date. We really liked each other and stayed in contact for a few years, sporadically going out for drinks and making out. Two years ago, we decided we were ready to commit.
If we hadn't waited and just went for it, we might not be together right now. We were young and impulsive when we met; we needed to figure some shit out before we were ready to be the partners the other deserved.
And that's what's happening for you right now.
You need to go out and experience more of life, make some mistakes, date some other guys, and figure out if this is the man you actually want. While that's happening, I would caution against doing the friends thing right now. Trying to be friends with a man you're in love with while you see other people would be insane -- and would make it too easy to fall into old patterns, ending up right back where you started: unhappy.
It sucks when you love someone, but you have got to take a serious break. If your bond is as strong as you think, you'll wind up back together again. I promise you this. It's better to take the steps necessary in order to get things squared away in your head and heart than to grapple with a relationship that just isn't working and is making you both miserable.
Life is too short to fight every single day and walk on eggshells with the person you're supposed to feel the most comfortable with. Love should lift you up, not fill you with this self-blame and anxiety. I know it hurts and it's so much easier to beat yourself up and fight for this thing you desperately want, but without two people being 100% sure this is RIGHT and COMFORTABLE and STEADY, it simply cannot flourish. Relationships take serious work and commitment.
It's an internal struggle that demands validation.
So go ahead and take that break. Do some serious self-reflection. Keep a journal. Let yourself cry and FEEL everything. This is all a part of growing up. I swear to you, everything will be OK and you'll be stronger for it in the end.
Love your favorite internet auntie,
Gigi xoxo
Sign up here for our daily Thrillist email, and get your fix of the best in food/drink/fun.