The Best New Dating Apps of 2015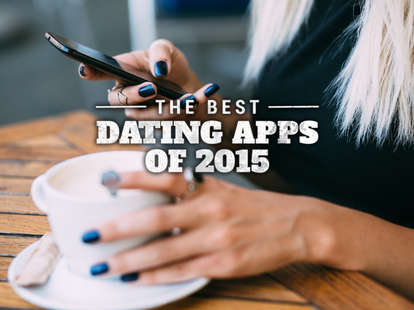 Jennifer Bui/Thrillist
Jennifer Bui/Thrillist
Another year, another 365 days lost to the eternal struggle that is Internet dating. While you spent all of 2015 tirelessly dragging your fingers across Tinder, almost a dozen new dating apps debuted for people just like you. From apps that connect stoners, to a way for Disney fans to meet up and... uh... do whatever Disney fans do, these apps are a welcome alternative to the hell that is talking to strangers at a bar.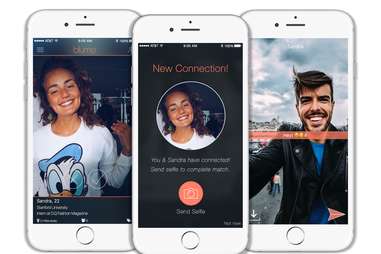 The best (and worst) part of the Internet is the level of anonymity associated with basically anything you do... assuming you know how to successfully get off the grid. Blume is not about that life, instead deciding that the world needed a dating app targeted specifically at preventing catfishing. You can only engage in conversation with matches by snapping a selfie, providing "a safe environment where people can just relax and be themselves, according to CEO and co-founder Daniel Delouya.

Tinder for dogs? Tinder for dogs. With Tindog, it's actually socially acceptable to post a crap-ton of pictures of your dog in the hopes of meeting other like-minded dogs (and hopefully their owners). Seriously, though, it's for dogs. On the plus side, it's really easy to find like-minded dogs, because all dogs do is run and lick their balls.
Dating someone as excited about fitness as you makes sense. Providing everything works out in your favor, you'll end up in the same state in the bedroom as you do on the treadmill: covered in sweat. RIGHT? Anyone? Anyway, Sweatt's an app for "anyone with a real commitment to the fitness lifestyle, from bootcampers and cyclists to yogis and CrossFit junkies." Sweat uses a unique algorithm that factors in your workout frequency and the time of day you go to the gym to find a match.

If you think that some relationships are "written in the stars," then you're going to want to jump on Align. It's the dating app for those who base a fair amount of their dating criteria on astrological signs. After you select the trait and emoji for your profile, you can search for other people with sign-specific traits. Just make sure to steer clear of those big-headed Leo jerks. Ugh, Leos.
It's fair to say that most Tinder users are under the influence of some kind of intoxicant as they swipe into the night, but it's still nice to know that there's a special app out for those who make it their business to get high all the time. Started by a Denver company -- because where else -- High There! is a location-based app that connects cannabis enthusiasts with other like-minded individuals to chat, flirt, and then have super-high sexytimes.

Remember those quizzes you used to find in old magazines like Maxim or Cosmopolitan that would inevitably end up advising you to stick a finger up your partner's butt? Good ol' 1997. Score pays homage to those old quizzes by matching you with people based on the way you answer philosophical questions like "Sexy is..." You can find matches locally or globally, just in case your soulmate lives in Mumbai.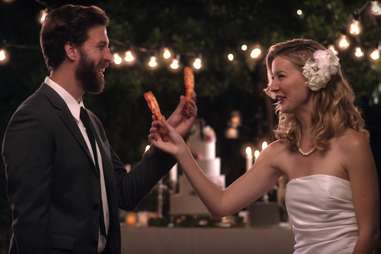 Assuring the public that its newest creation is "real and incredible," Oscar Mayer has released Sizzl, an actual dating app for bacon-lovers. Delicious pun aside, this is a fully functioning app created by the people who brought you bologna and the Weinermobile. The first few questions you're asked are the standard "I am a ___ interested in ___" and then they head straight to the good stuff by inquiring about the type of bacon you're into (pork, turkey, or both) and how you take your meat: "Hardwood smoked for a really long time," "Thick cut, because more is more," "Maple and sweet like me," or "Lower sodium!" After a few more bacon-focused inquiries, you're shown matches with whom you can chat about bacon, puppies, casual sex, or whatever.

Try this on for size: a dating app designed by an actual matchmaker. That's some kind of higher percentage of finding a hot date, right? Fliqpic is a video dating app where you can text, flirt, and -- you know -- actually meet a person before you have sex with them. Fliqpic eliminates the blind date with a silver bullet and that's pretty cool.
Following the speed model of raising the stakes by way of a calculated deadline, Once gives you 24 hours to decide if the person you're set up with is "the one." If you don't make a move, they disappear. Once puts users in categories based on looks, hobbies, sexual orientation, and other factors, and sends over a hand-picked match. If you so choose, you can open the lines of communication with that person and make sweet, sweet fire sauce. With the added element of pressure, will the one they send you be the one or just someone?

If you're reading this right now and seething over the fact that Tinder came out well before 2015, keep calm. This $9.99 upgrade takes Tinder to the next level and targets travelers by allowing users to choose from 140 places around the globe to discover people and chat (or more) before you arrive at your destination.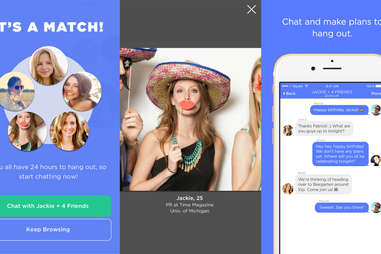 Is it a dating app? Or a new means to hang out in a group setting? Either way, it definitely leads to some damn good times. Here's how it works: you form a squad with your buds and swipe on other "squads" in the area. Once you find a group of people who look like they can party as hard (or as little) as you, message them and find a place to meet. What happens next is up to you guys, but just know that it's pretty hard to organize an eight-person orgy. Better stick to drinks.

There are dating apps for everybody out there -- literally everybody, including intense Disney fans. MouseMingle is a new dating site dedicated to connecting lovers of all things Mickey Mouse and "happily ever after." In order match your beauty with your beast (lol) users are asked about their favorite Disney songs, shopping habits, and whether or not they hold a pass to any of the local Disney theme parks. You know when you write a word so many times that it actually loses meaning? Disney. Disney. Disney. Try saying it outloud.
Sign up here for our daily Thrillist email, and get your fix of the best in food/drink/fun.
Jeremy Glass is a writer for Thrillist and likes his women like he likes his coffee: in a cup.