Paid Content For
Holiday Hideaway
The Dos and Don'ts of Holiday Office Party Hookups
Paid Content For
Holiday Hideaway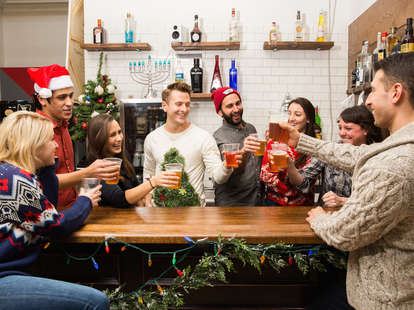 Cole Saladino/Thrillist
Cole Saladino/Thrillist
The holiday office party has the two main ingredients for a colossal work-related lapse in judgment: booze and coworkers. An inebriated minefield of awkward social situations and utterly failed professionalism can lead to sloppy make-out sessions, cringe-worthy karaoke, and, the coup d'état, boning your boss. All of which may seem like great ideas when you're four spiked eggnogs deep... and which can be, if you play it right.
As long as everyone's semi-coherent (emphasis on coherent), safe, and on the same page, plenty of fun can be had without kicking your career to the curb.
In fact, 25% of Americans claim to have had sexual relations as the result of an office holiday party. Of course, we all know there's a much higher percentage that will never kiss and tell. For those of you ready to wade out into those waters, here's how to hook up without landing on the naughty list. Sorry, HR departments!
DON'T have TOO much to drink
An abundance of free booze can spell trouble, especially when you factor in social weirdness. But you're still at a work-hosted function; and trust me, your coworkers will judge you. What happens at the holiday party does not stay at the holiday party. Ever. To avoid becoming the hot topic of water-cooler gossip, keep your consumption in check. Buzzed is OK. Leaving bodily fluids on the break-room table is not. And puking is a definite no-no. Besides, no one wants to do the deed with a hot mess.
DON'T hit on your coworker's significant other
What may seem like innocent flirting can be misconstrued and cause bad feelings. Or a black eye. It's almost never a good idea to misbehave with a coworker's significant other. Maybe if your coworker is really terrible though? Eh, still probably a bad idea.

DO time your disappearance
When you can't wait a single minute more to screw your coworker, plan an escape route. People at a party in full swing won't notice your disappearance from the dance floor. This isn't true if everyone's seated at dinner or your boss is giving the annual rah rah morale-boosting pep talk. Key here? Don't make a scene.
DO head to an alternate location
If I've learned anything about inter-office liaisons, it's that any real action should be held off site. Sure, you can most likely find a discreet spot to make out or cop a feel. But if you want to get down and dirty, don't do it in the bathroom. Nobody wants to wait in line to use the loo because you're busy giving a BJ to Nick from accounting.

DO practice safe sex
This should go without saying, but if you think you're going to get laid at the office party, arm yourself accordingly. Things happen in the heat of the moment and nobody wants to get an STD or knocked up unexpectedly. Sure, they're gifts that keep on giving, but probably not what you had in mind this holiday season.
DON'T be weird about it the day after
Sometimes a one-night stand is just a spontaneous, no-strings-attached romp. It doesn't require a post-play recap worthy of War & Peace -- just calm down and be cool. Don't be like one of my office party hookups, who emailed me the morning after with an image of a unicorn under a rainbow (?) and a note about how much he loved his girlfriend. You can probably already guess who showed up on my doorstep a few nights later with a John Hughes movie and a pint of Ben & Jerry's, begging to be spanked. Yep, 'cause that's not weird at all.
Sign up here for our daily Thrillist email, and get your fix of the best in food/drink/fun.

Charyn Pfeuffer is a Seattle-based freelance writer who has had her share of office holiday party hookups. Follow her escapades on Twitter at @charynpfeuffer.