Why the Hell Did Women Start Popping Out of Cakes, Anyway?
Fantasy's favorite cake is carrot cake. She also dresses like a mermaid when the weather permits, but specializes in popping out of cakes. Fantasy isn't a stripper and has made it clear that popping out of a cake in lingerie isn't the same as taking your clothes off on a pole for dollar bills.
The art of erotic cake dancing has been depicted in cartoons, sitcoms, and reality shows like The Bachelor for decades. But how did it start? And with whom? And why? To learn more, it took a deep dive -- deeper than the untold stories of 4ft strippers, deeper even than ass-shaped cakes.
So I took off my shoes and dove head-first into the proverbial frosting that decorates the non-proverbial cake that provides naughty culinary entertainment for men all over the world.
The first recorded pop-out cake party is linked to a gruesome murder
Despite being told that the act of hiring a woman to pop out of a cake started in the movies, this tradition actually began way back in 1895 when a wealthy architect named Stanford White threw a party for some distinguished gentlemen of the time. White was a partner in the architectural firm McKim, Mead & White and specialized in designing houses for the rich, as well as religious buildings.
During the party at White's house, a large pie was brought out for the gentlemen and -- out from this pie -- burst out a young girl named Susie Johnson, "wearing only a piece of see-through gauze." However, this tale has little to do with Susie Johnson, and more about the woman who watched Ms. Johnson pop out of the cake -- Evelyn Nesbit.
Nesbit was a chorus girl and model who came to be known as "The Girl in the Red Velvet Swing" and reportedly had an illicit affair with Stanford White during the party. Some say the sex was consensual, others say it wasn't… but that didn't matter to Nesbit's husband, Harry Kendall Thaw, who shot White three times during a show at the roof garden theatre in Madison Square Garden during the night of June 25th, 1906.
During this trial -- which the media referred to as "The Trial of the Century" -- the country waited on the edge of their seats as they read the details of the "Pie Girl Dinner" of what exactly happened the night Susie Johnson (as well as a bunch of birds) popped out of a pie.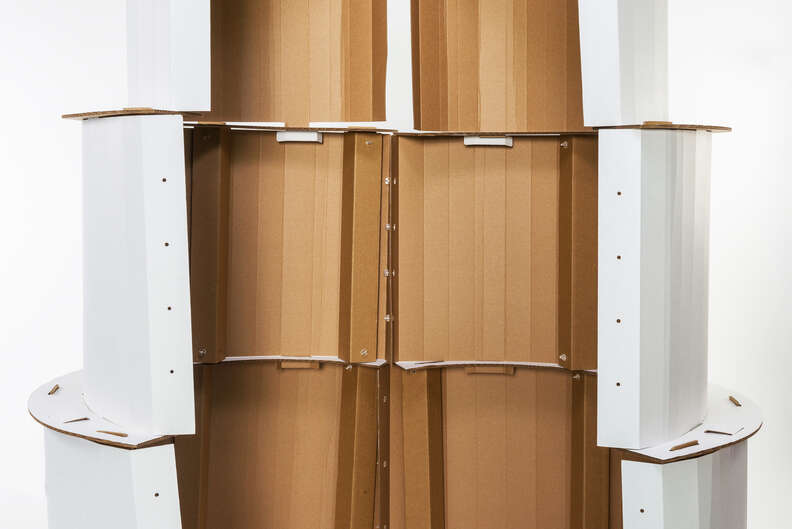 It's what's inside that counts
That's probably the only time you'll hear about a murder being directly linked to a woman jumping out of a giant baked good. Most women are like Fantasy -- who we'll get to in a second -- performers who specialize in novelty acts like popping out of cakes or dressing up as a mermaid. You don't hear much about this party trick anymore. It gained popularity in the '50s, when women's rights meant slappin' your secretary's ass after she brought you your coffee, and died out in the '70s when guys were finally called out for being serial ass-slappers.
When one envisions the typical bachelor party scene in which a scantily clad woman pops out a cake, attention is focused on the woman rather than the vessel holding said woman -- and how a feat of engineering happened to come into existence.
"The first party that I actually constructed a pop-out cake for was for a fiftieth birthday party in New York City at one of the swanky hotels," says Danny, office manager at Centerfold Strips Entertainment.
"For the gentleman's birthday -- the guest of honor -- his wife called me. They were visiting from Bermuda. She said: 'I want this pop-out cake. I don't care what it costs, get one for me.' I told her that I didn't know where to get one… I'm a guy where if you come to me with a problem, I'm going to come up with a solution for it. So, I put a friend of mine to work. I said: 'we have an unlimited budget, so go and build me a pop-out cake.'"
Danny then recounts how he and his friend built the cake from scratch -- a task far harder than he thought.
"At first, [we] came up with something that weighed probably around 300 pounds. It was made out of a 55-gallon plastic drum and I think we had invested about $500 worth of material and labor into this thing. It was just tremendous and I think I had to rent a utility trailer to tow it into Manhattan. Ultimately, it suited the purpose and the customer was happy. That was my foray into the pop-out cake business. This was 15 years ago. Ever since that day, I have been tweaking the design of the pop-out cakes, and the material of the pop-out cakes and how to make them lighter, easier to ship, and less expensive. Nowadays, it's cardboard."
"I jumped out of a cake for the Prince of Saudi Arabia in the Four Seasons Hotel," says Fantasy. "He had all these jewels on. I have different cakes that I'm in for different events. You can jump out of a cake as a belly dancer or a Go-Go dancer, or just an entertainer coming out of a cake. You sit on the guy's lap, you sing happy birthday, you flirt, you do a singing telegram. It's really fun."
The mechanics of a human-filled cake
"The cake is about 25 pounds," continues Danny, "and that comes in a package of folded cardboard. It's very easy to assemble. It comes with instructions, all the parts are included and it takes about five minutes to assemble. I send the cakes out undecorated, pure white color, because the clients -- everybody has a different kind of event. Bridal shower, birthday party, bachelorette party. You can't make one generic cake that's going to be good for everybody."
A big theme in Danny's explanation to me is the level of blind trial and error that went into making a thing that resembled a cake that could double as a human cargo hold. His newest design allowed -- not only dancers and club owners -- to access his cakes... but common folks as well. And if you think waiting inside of a cake is akin to being buried alive in a cylindrical grave, you should be happy to know that you're mistaken.
"I'm in there kneeling and posing -- when they knock on the box -- that's when you gotta jump out. I do a sexy dance when I come out of it... "
Fantasy likes being the girl in the cake. She feels that there's power in knowing you're the reason a night is going to turn crazy, especially when you're the reason men go wild. She goes on to talk about the mechanics of what life is like before she pops out of the cake.
"I'm in there kneeling and posing -- when they knock on the box -- that's when you gotta jump out. I do a sexy dance when I come out of it. You sit on the guy's lap and get the party started. I like when people get excited from seeing a woman jump out of a cake. I did a party where I jumped out of a cake covered in whipped cream."
Call it old-fashioned, call it out-of-touch, but don't call it dead and don't call it something anyone could do. This takes skill.
"You have to be sexy, your body has to look great, you have to feel good about yourself."
The kinds of parties Fantasy caters to is far different from the soiree that led to a man's death back in 1906, however, the common theme is money and debauchery. Fantasy shows that fun is a two-way street when it comes to cake-play. She's having as much fun as you are.
Cake brings people together -- whether it's real or not -- it lightens the mood and brings the room together. It doesn't have to have a base of eggs and milk to be the kind of cake that fills you up... except in Fantasy's scenario, she works with the kinds of cakes that'll fill up a guy's pants rather than his stomach.
Sign up here for our daily Thrillist email, and get your fix of the best in food/drink/fun.
Jeremy Glass is a writer for Thrillist and his favorite kind of cake is a donut.