'The Bachelor' Rejected Me. But The League Accepted Me!
massimofusaro/Shutterstock
massimofusaro/Shutterstock
I tried out for The Bachelor a few years ago. I didn't actually want to get married -- and was in fact quite positive I'd hate whoever's attention I was vying for -- but I love a good competition and am constantly looking for outside forces to validate my self-worth. I know, #daddyissues.
I didn't make it onto the show. I got to the third round, before they lock you up in a hotel and waterboard you. But, I never got a callback. Over it.
Three years and one long-term relationship later, I caught wind of The League, a still-in-beta dating app whose tagline is Date. Intelligently. Alluring, and controversial due to its elitism, the app is currently only available in New York and San Francisco with a waitlist sitting around 130,000.
Applying was as easy as making a profile
Intrigued and seeking validation, I "apply." Despite New York's plethora of models, I still think I'm a pretty good catch. Sure, my nose is a little crooked, but I fit the rest of Western society's standards for beauty and success. I have a graduate degree. I have a solid career. My hand-eye coordination is on point. And, like anyone in the virtual world, I can come up with a damn witty "about me" section.
After a day or so on the waiting list as number 124,431, I'm bumped to the front of the line and "accepted!" Holy shit! Victory! I AM good enough! Not sure what's happened with the rest of the 124,430 others who were in front of me, I permit myself to indulge in memories of my bouncer-schmoozing glory days.
The League has (a shitload of) rules
I set my parameters, from which I can select for sex, distance, age, height, ethnicity, religion, and education. I'm definitely heightist but the rest doesn't really matter to me.
I then get an emoticon-littered message from my "concierge" with the "rules", which include (but are not limited) to the following, which I've paraphrased:
You'll get a (ridiculously small) batch of people per day sent to you at Happy Hour (5pm). If both people "heart" the other, you'll have a match; but people aren't necessarily revealed to each other on the same day so don't expect anything immediate. Matches should be exciting! And special (star emoticon)! And these will be infrequent. The flakier you are (not responding, not logging in), the fewer matches you'll get.
League members who don't login for more two weeks will be kicked out. So will users who consistently don't respond, behave offensively, suggest casual encounters, wear anything other than white, or ask questions (OK, two of those aren't true). League members removed from the community for flakiness or inactivity will have to pay a $25 "re-admit fee."
The pickier you are, the lower your odds of matching. So be patient, or be less picky. Users who log in daily have a higher match rate, even after normalizing for popularity. Thus, it's always better to keep hearting.
What is this fucking militant dating app? I haven't even gone on a date yet and I'm already anxious and confused by your games.
After a series of unsuccessful equations to untangle these rules and determine my best course of action (my masters is in the arts, OK?), I stare at my first five prospects. The concierge's words are in my head the entire time: league members who don't consistently respond will be removed...
So I'm picky AF, fearful my "rating" is plummeting. After a day or two, I get my first "match." Then another, and another.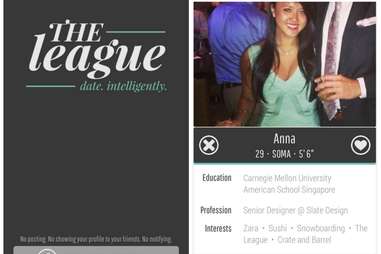 My first match turned into five dates
I go for drinks with the first guy I talk to. To my (pleasant) surprise, he's actually better looking than his pictures. And as tall as he said he was! (We've all been on dates with the "6'0" guy who's up to our chin -- guys, it's the equivalent of women posting pics from 50lbs ago).
We end up having FIVE DATES (!!!). Holy shit. League FTW!
Of course, I finally stop lying to myself and acknowledge the guy is a complete fucking douchebag through whom I'm seeking approval (ladies, I know some of you hear me). Guy goes radio silent for three days, then starts texting me exclusively after 1am. Insecure, 22-year-old me would've been a doormat to that shit. Self-respecting 30-year-old me? Next.
And my second match, into two dates
I go for coffee (coffee!) with a much nicer-seeming lad. But coffee! Who am I supposed to be? "Job-interview Lauren?" "Cute-but-awkward Lauren?" I end up not having a choice because NYC is humid AF that day, and I arrive too sweaty to not acknowledge that I'm sweaty. "Hi, I'm Mike." "Hi, I'm sweaty." Shockingly, the date lasts two hours and I actually think this guy is a legit human being with a soul.
He texts me later and says he had a great time and wants to see me again. Score! Two for two! In the meantime, I ignore some messages and am wrought with anxiety about getting kicked out.
And so concludes my first month on The League.
The League has a whole lot of benefits
... like allowing you to be EXTRA superficial selecting for everything from height to religion.
And because there's some form of a background check on swipers, you've got less potential for bots and serial killers. Along with that background, The League selects out Facebook friends and LinkedIn connections -- so you can trust your boss isn't going to see you in a bikini or holding a tequila shot.
Also, The League feels exclusive (even if they are "accepting" hundreds of thousands of people). You get to experience a fleeting sense of validation that you've been accepted into a virtual cool-kids club and someone thinks you're good enough.
There are also a bunch of cons
The League only gives you five matches a day -- helllooo! Some of us are picky! And with that low number, you're also unnervingly aware of the fact that you'll be called out as flaky if you don't talk to these people. Or worse, if you don't swipe right you'll be kicked out.
It sucks knowing your "rating" (whatever the fuck that means) will be affected by your every move. Basically there's a war in your head with every prospect. Although... there's a slight possibility I'm overanalyzing.
And while the potential for serial killers is lower, the potential for douchebags may actually be higher because the entitled misogynists just got another ego stroking.
And lastly, there's less instant gratification than you get from Bumble and Tinder because matches are less frequent. And aren't we all kind of on these sites for entertainment purposes?
At the end of the day and no matter where you find them, there are people who rock and people who suck. The League is yet another tool distracting from your loneliness, enabling your paradox-of-choice-like fear of commitment, and reminding you how little (or how much) self-respect you currently have. Add it to your app lineup, but don't expect unicorns. This is still New York.
Sign up here for our daily Thrillist email, and get your fix of the best in food/drink/fun.
Lauren Brewer is a serial dater who has at least one awkward run-in with an ex a week. Her face doesn't even go red anymore.