Confessions of a Part-Time Prostitute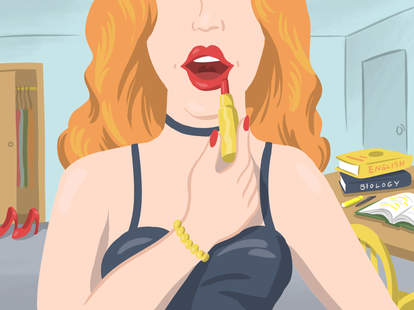 If we can learn anything from those Japanese flight attendants being paid to screw pilots, it's that prostitution is a viable side job. Sure, there are obvious downsides. But the flexible hours and high pay free part-time sex workers up to spend the majority of their time focused on other things -- like family, school, or even other jobs.
At least, that's how it was for Sonia Rossi. She started her math degree at a university in Berlin when she was 19; and by graduation, she was hooking part-time to cover her bills. She told no one... until her bestselling novel Fucking Berlin came out. We talked to her about what it's like to lead a double life by working part-time in a brothel.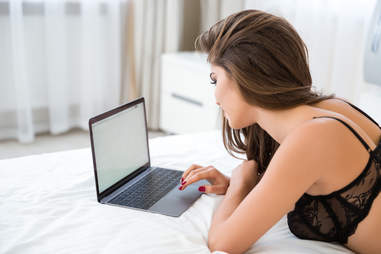 Dean Drobot/Shutterstock
It always starts with money problems
Rossi says nobody gets into prostitution unless they really need money, and fast. After moving from Italy to Berlin for her studies in 2001, Rossi was supporting herself, as well as a boyfriend who couldn't legally work in Germany. She was trying to get by on odd jobs: "everything from babysitting to cleaning toilets in a nightclub and working at call centers," she said. "A lot of call centers."
But the meager cash flow didn't make ends meet. Rossi considered giving up her schooling to become a waitress, though that hardly seemed like a solid long-term plan. Eating all that ramen grew mighty depressing.
That's when she saw an ad looking for webcam girls.
 
It's a slippery slope
Becoming a prostitute usually happens by a chain of events -- not some overnight decision. It took Rossi about a year. At first, she was just doing live webcam shows.
"It was nothing," she said, "there was nobody in the room. The money was better than working as a waitress, but we still couldn't really pay the rent." After a few months, she started working at a massage parlor, offering just that. But women who offered more encouraged Rossi to do the same. "'It's too bad you're not doing it all,' [they told her] 'because you could earn much more... If you're doing one thing, you can do the other.'"
Before long, Rossi agreed.
"With the very first guy," she said, "I was very frightened and shy. After awhile, it become a routine. One day, I decided I could do everything, because it didn't matter anymore."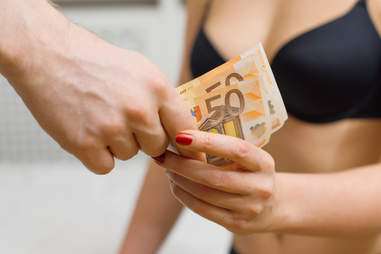 Dmitri Ma/Shutterstock
The money is sexy
Prostitution: definitely one of the higher-paying part-time jobs out there. On her best day at a brothel, Rossi made 700 euros (about $780) doing what's considered legal work in Germany.
"It's quick money," she said, "especially if all you've been doing are small, crappy jobs and every day you're waiting to see if they've sent you the money -- and they never do. With this, you have cash in hand at the end of the day."
But there's a German saying that goes, "money earned quick gets spent quick." And for Rossi, that was definitely true.
"I was young and when I earned that much, I learned to spend it fast," she said. "Parties, purses and shoes."
 
Sometimes it's just a normal job
In some ways, Rossi says hooking is just like any job: you have good and bad customers, you get to know your co-workers... and in her case, there were even a few others enrolled in school.
"There were other girls who were studying, doing internships, and there were different reasons why we all landed there," she said. "It's important to realize that not all prostitutes are victims, and not all stupid."
There were also hilarious moments -- like when the grandpa of one of Rossi's co-workers came in. He apparently got over the shock just fine.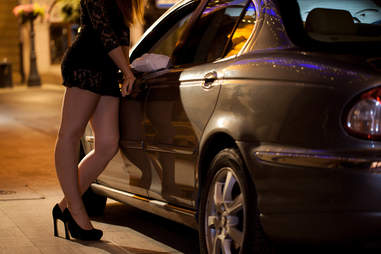 Photographee.eu/Shutterstock
Kids complicate things
When Rossi found out she had a bun in the oven, she gave up working in brothels completely. Her oldest son is now 10 (she has two), an age when he's beginning to ask questions about what Mommy's book is about.
"I'm really not sure (how I'm going to talk to him about it)," she said. "I'm not looking forward to that."
 
Almost everyone transitions out of prostitution
Prostitution is a gig with a high turnover rate. After graduation, Rossi started working in an engineer's office. She continues to be employed there today.
"For a while, I thought, 'Oh god, if they knew what I had done just a couple months ago," she said. "It took a lot of getting used to."
It's been more than 10 years since Rossi sold sex as a part-time gig. She writes under a pseudonym, and has been known to do book appearances in a raven-haired wig and sunglasses. Now there's even a movie coming out.
"The actress playing me asked if it was really all like that," she said. "I told her it was. Well, except everybody in the film is a lot more good-looking."
Sign up here for our daily Thrillist email, and get your fix of the best in food/drink/fun.
Barbara Woolsey is a Berlin-based writer who is waiting for some unbelievable occurrence to make her life also worthy of a biopic. Follow her still pretty awesome travels around Europe on Facebook and Twitter.