I Tried Nooky Box, the Birchbox for Below-the-Belt
Courtesy of The Nooky Box
Courtesy of The Nooky Box
These days, there's a subscription service for just about anything you can think of: Japanese candy, in-home massage, even end-of-days survival essentials. So it's not shocking there are now also subscription services for sex toys.
We can all agree there's plenty of room for improvement in the world of adult novelties. Of the companies offering monthly sex-toy subscriptions, a lot of the products are cheesy, sleazy, and poorly made. Trust me: you get what you pay for when it comes to this stuff. But like good linens and lingerie, I'm willing to splurge on whatever's going to make my kitty purr. So I was delighted to discover The Nooky Box, which purports to offer quarterly deliveries of high-quality products that feature a range of sensations.
So, I signed up and sought to find out exactly how a sex-toy subscription works.
Inclusivity and education are key
"Nooky Box isn't just for heterosexual couples," says Meg Ross, Nooky Box's CEO. The sex-positive subscription boxes can be geared toward straight, gay, or lesbian customers. "It's all about connecting and encouraging real conversations," she says.
Ross is trying to change the conversation surrounding sex by empowering and educating her subscribers. "Education is the most important thing in the world," she says. "It keeps people safe, and eliminates bigotry and hate." The company exec says she was always the go-to gal in her circle of friends for love and sex advice. So when she decided to start a subscription box service -- "Who doesn't love getting gifts in the mail?" she said -- she narrowed the scope down to her two main squeezes -- love and animals.
The pet market was already saturated with services like BarkBox, PawPack, PetBox, and Surprise My Pet -- but Ross found a distinct vacuum in the adult-novelties world. So she designed a service in which every three months, subscribers would receive a sleek white box packed with curated sex toy goodies.
And that's where I came in.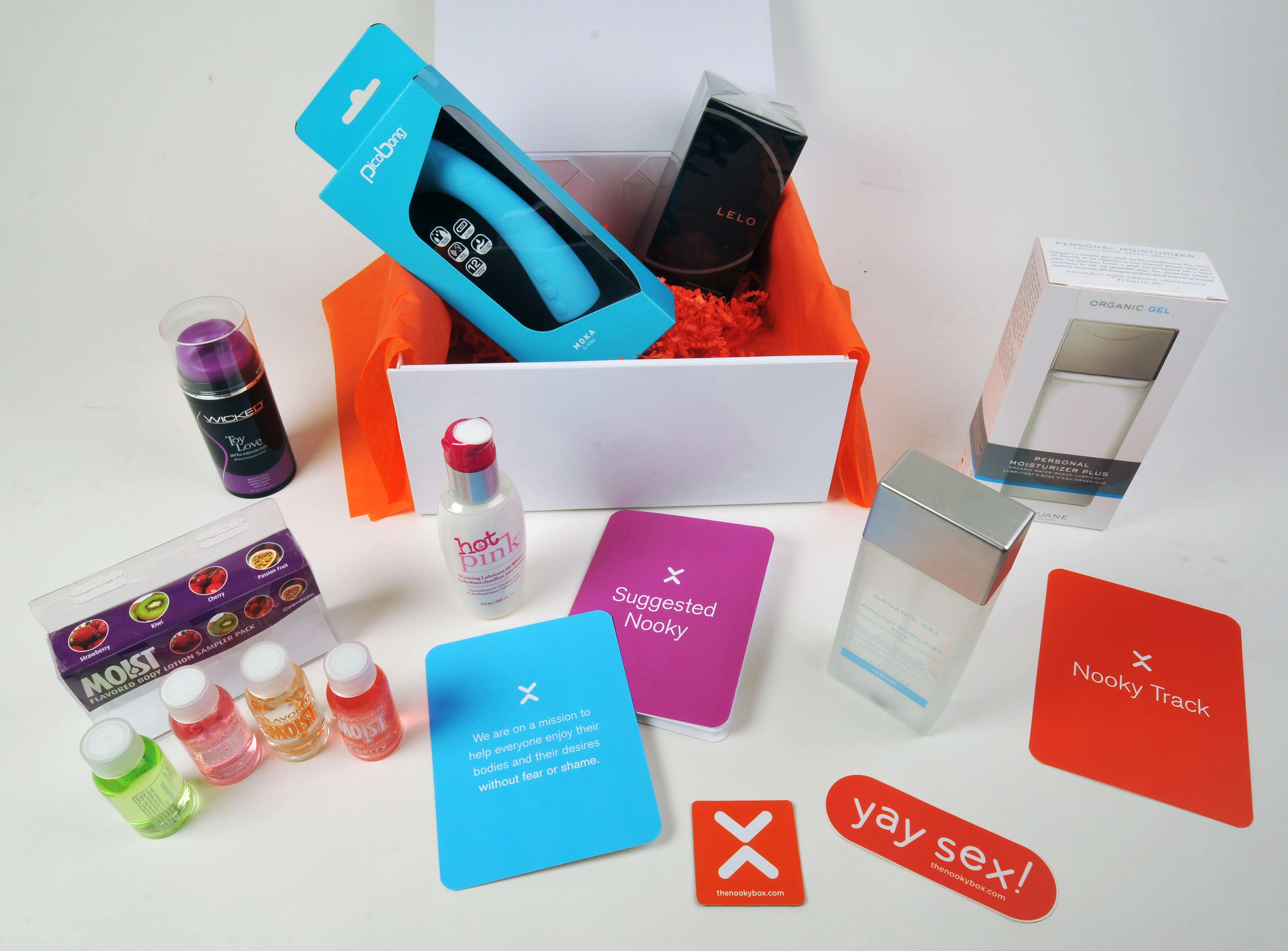 The goody box caters to all tastes
This quarter's theme is "Sex is Fun!" and comes with a Tickle Me Tickler, Tano Plug Vibe, Moka G-Vibe (as seen in the popular porn parody Gasp Away), an erotic story, Sliquid lube, Pop Rocks, and a curated playlist, aka "Nooky Trak," featuring the Al Green classic "Here I Am (Come And Take Me)" -- a perfect selection, I have to say.
I'll admit, I own a comprehensive library of sex toys. But there were still some fabulous, new-to-me toys in the mix like the PicoBong Moka G-Vibe, which has teased all sorts of goodness from my sweet spot. Also, the Sliquid lube stepped up my masturbation ante, and made me rethink my infatuation with Uberlube. (I'm a big believer in the almighty powers of lube.) The erotic story was a nice touch as well -- who doesn't like some saucy storytelling?
More than anything, the booty of bedroom goodies felt tasteful. There was nothing taboo or shameful surrounding the high-quality items I received or how they were presented. If anything, it felt like I was being handed an all-access pass to sexy time -- from the toys, to the playlist, to the erotica. Nooky Box didn't skip a single detail. I was giddy to receive the nondescript box; a nice change from the clearly marked, oversized boxes my UPS driver has delivered from condom companies (my snarky comment is always, "Do you think this will get me through the weekend?").
The deliveries offer something for every sex skill set. New to erotic playtime in the bedroom? The Tickle Me Tickler is an easy way to break the arousal ice. Feeling more adventurous? The Tano Plug Vibe tickles his P-Spot. (Truly: he'll love it.)
A tiered system allows you to be as adventurous as you like
You can "Test the Waters" ($80 every three months) or go "All In" ($300 for the whole year). If you don't want a long-term commitment, you can also grab a one-time, themed, signature box that's bridal, bachelorette, or vacation-centric.
Whether you opt to gift Nooky Box or indulge yourself, all the sexy boy and ladybits parts will be happy. Sex is an exciting way to connect (with ourselves and others), and Nooky Box helps each of us feel good about bodies and sexual desires. Even the slogan -- "Yay Sex!" -- is more than a conversation starter; it's a power anthem for those of us who like to get it on.
Subscribe here.
Sign up here for our daily Thrillist email, and get your fix of the best in food/drink/fun.
Charyn Pfeuffer is a Seattle based food, sex, and travel writer. She believes in having the right tool for the (below-the-belt) job. Follow her @charynpfeuffer.