Porn Reality Show 'The Sex Factor' Is a B-Grade Masterpiece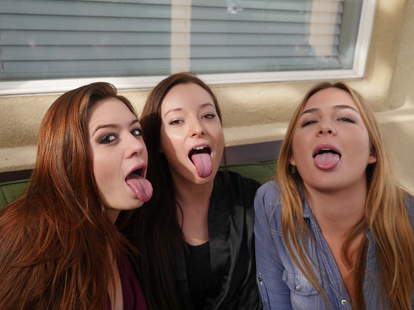 There's just something a little… surreal about watching The Sex Factor, America's first porno reality show. It's not the quick cuts of graphic penetration or seeing contestants of a TV show blow each other in a pool. It's the more technical sides of things.
Let's start with episode one: the pilot. The first thing you notice is the editing. It's bad, man. Like, freshman year at art school bad. There are strange commercial breaks in places where there shouldn't be commercial breaks (it's a web show, there aren't commercials) awkward cuts, bad lighting, and scenes that can only be described as wonky. It's also worth noting that the boom mic should be considered an honorary cast member by the sheer number of scenes it appears in.
And yet... If you look past all that stuff, the show strangely works. Strangely. Sixteen people, all vying to become America's biggest porn star.
The people they've got on this show are pretty interesting. Hats off to the casting producer, who managed to whip up a crew rivaling the batch of bottom-feeders on the current season of The Bachelorette. You've got guys like Buddy Hollywood -- who's apparently had sex with more than 300 people -- a golden shower enthusiast called Khaya Peake, and a guy going by "The Colonel," who looks like the white version of Barack Obama.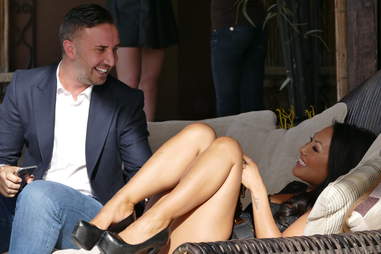 XHamster
You know that age-old stereotype about adult entertainers being remarkably bad at acting? Well, The Sex Factor proves that this joke is based in reality. Aside from Asa Akira, the panel of celebrity judges are hard to watch. Some of Lexi Belle's lines are delivered so clumsily that you have to ask why they didn't stop the cameras to do another take.
That's not to say that the contestants don't fall into the habit of giving it their most with acting. During a scene in which the gang gets a group STD test, one contestant named Hero D. Protagonist looks at the camera and says: "Well, they put a needle in my arm and took some blood out."
Whether or not it's a producer's fault that such an boring, over-explanatory line made it into the show is something only god will know.
Then you've got interstitials, your games, your excessive booze: reality show musts. It really hits home that you're watching a competition about people fucking each other when the camera cuts to a scene of… well… people fucking each other. It hits home a second time when one woman wipes a fresh load of jizz off her face and mentions There's Something About Mary.
It's with the challenges and games that the awkward editing seems to subside -- which remains true for episode one and the fresh-off-the-editing-block episode two. They're pretty fun, albeit a bit tone-deaf. I mean, the porn star judges in the pilot throw a dick-sucking competition and surprisingly don't think of following-up with a cunnilingus-off.
Episode two features famed erotic photographer Holly Randall photographing the female contestants and giving crushing feedback to the camera about everyone's physical and mental flaws. The crowning moment is when she criticizes Dani Darko for her "out-of-shape" physique and the *gulp* bruises all over her body. Jesus, that's dark.
Needless to say, it's way more interesting watching the the guys' challenge in this show… which is a stripping competition. That camaraderie among these large-dicked mammals is completely surprising -- especially for a reality show.
XHamster
Despite the fact that the sound editing in episode two leaves audiences scrambling to up the volume, we see judge Keiran Lee do his best Simon Cowell by coaching the guys through an erection challenge. Spoiler alert: the challenge is to see who gets an erection first, as eight guys stand in a circle and jerk off.
The winner is Hero D. Protagonist and the prize is having a custom mould of his dick made into a dildo. Won't see that kind of shit on The Bachelor! Regardless of the unusualness of the challenges, the pacing of the two episodes is just completely off. Episode one is too quick, episode two moves at a snail's pace, and it's hard to distinguish what was planned in pre-production and what happened organically on set. This lends itself to some interesting moments -- like The Colonel doing pushups on-stage at a strip club.
And, you know what? That's the general vibe of this show… surreal moments mixed in with genuine human behavior. You really get the sense that the guys and girls on The Sex Factor truly want to make pornography their life.
I, for one, am really excited to see who wins out in the end. I'm also excited about watching less campy challenges and more behind-the-scenes snippets into the world of pornography. Overall, that's what's supposed to be the driving force behind The Sex Factor. It's something America never really sees produced in a format everyone's used to. While the editing and acting may no be as polished as The Bachelorette, I'll undoubtedly watch this show until the very end and watch the winner's porn until the cows come home. 
Sign up here for our daily Thrillist email, and get your fix of the best in food/drink/fun.
Jeremy Glass is a writer for Thrillist and is no longer allowed to hang out in conference rooms alone.