Well, in case anyone didn't know The Sex Factor was a sex-based competition, allow the graphic opening two-minute montage to blow your mind.
Right off the bat, we jump into a challenge in which the male and female contestants are paired up to have sex in front of one of the judges. Maybe these guys realized that there was literally zero sex in last week's episode and decided that there should be -- oh, I dunno -- some actual sex in a sex contest.
So, we have Allie Eve Knox and Hero D. Protagonist doin' the wiggly dance in front of possible-cardboard-cutout Remy LaCroix, who dispenses her advice with the same monotonous pseudo-excited voice that most porn stars muster during dialogue scenes. Regardless of how she sounds, she gives the performers some actual tips during their scene and finally shows America what this competition is really about.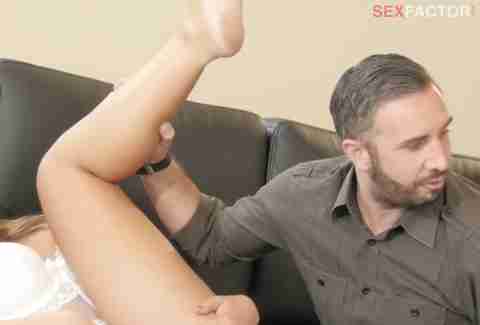 I have mixed feelings about judge Keiran Lee... on one hand, he's incredibly valuable in helping the contestants pull off the very best scenes... on the other hand, he's kind of a (figurative) dick. Telling a dude that his dick has "gone down quicker than the Titanic" isn't going to inspire a sudden flow of blood to the limp dick in question... nor is calling the whole scene "pathetic."
Hey, name a guy who hasn't lost it during a vital moment. But then again, normal guys aren't competing for $1 million based on their sexual prowess.
And even though this is a show about people who have sex with each other, it's hard to get over the fact that you can watch a judge of a reality show touch another performer's genitals. Perhaps it is I who's gone soft! Again, figuratively.
At the same time, it's hard to ignore a scene in which Keiran grabs a female performer's throat and slaps her... but I guess that's what normal is when the challenge is to film a rough sex scene.   
It ends up being endearing how nervous these guys are, though; another contestant, Buddy Hollywood, visibly shakes during a scene and has to call it off early. It really opens up another side of pornography that people aren't used to seeing. You gotta feel bad for some of these dudes, especially when people like Lexi Belle are trying to coach you through the scene while tripping over their own words. Seriously, who invited Lexi Belle to be a judge on this thing? She'd sound unnatural reading a shopping list to herself in a supermarket.
Alternatively, it's really the women who carry this episode. Forgive the bluntness, but these ladies know how to fuck. Maybe it's from a lifetime of watching porn, maybe they all just really love sex... or maybe it's because the camera doesn't pick up when a woman has lost her lady-boner. Either way, the female half of this show is incredibly talented and watchable and -- let's be honest -- even the ones who get voted off are probably going to end up as successful porn stars. 
Believe it or not, the constant sex eventually gets kinda boring, and it doesn't take a long time to learn that if you've seen one awkward pair of people having sex, you've seen it all. Gotta give it to The Sex Factor crew again for hunting down some pretty compelling contestants, though -- they may not have the best editors, but the casting department is golden.
They really make us care and identify with some of the people. When Buddy Hollywood is clutching his girl in shame and blaming himself for ruining the sex, I could see little bits of myself in his eyes.
When Dani Darko is crying in the bathroom after getting voted off, I watch with mouth agape, eager to see if anyone is going to throw a similar scene next week. I guess we'll just have to wait and see. It's worth mentioning that The Colonel is the one contestant I can't get on board with... the guy looks like the son of a Cabbage Patch doll and Benjamin Button.
With three episodes -- one intro, one dud, and one Titanic boner jam -- we have to wonder what the upcoming weeks will look like. The big question is what the fuck is the format of this show? Will the guys and girls compete with each other or against each other? Will they ultimately manage to psych themselves out by having to perform with one another? Let's hope not, because that's like a Top Chef contestant who's allergic to food. 
Sign up here for our daily Thrillist email, and get your fix of the best in food/drink/fun.