Ahh yes, another week, another emotions-packed episode of XHamster's way-too-entertaining-for-its-own-good reality show, The Sex Factor... where contestants lovingly and willingly have sex with each other in front of a porn star panel. Totally normal stuff here. 
This episode opens up with a shot of our panel through a TV monitor sheepishly explaining that they've realized how uncomfortable they're making people by yelling at them while they're having sex. Seriously. So, they're going to stop critiquing their performers on their sex skills in person and start yelling at them through the TV. Imagine, a world where the television yells at you! What a time to be alive.
The first scene involves Khaya Peake and Donnie Rock -- a man that Khaya described as "unattractive and stupid." Wait… what? Why? Oh, because this is a reality TV show and the producers have probably seen one too many episodes of UnREAL. We need drama! Contestant drama! But I digress…
I actually found it more entertaining and natural to have the judges grouped around the TV monitor than barking out commands in the same room as the performers. Everyone seems more chill and friendly -- even our faux-Simon Powell, Keiran Lee. They commend the actors for their choices, critiquing certain positions in the way a professional cook would talk about a really choice slab of salmon. Mm, mm, salmon!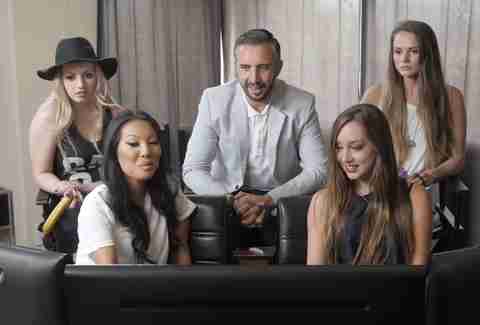 Let's just throw it out there: these performers are really fucking good. Donnie Rock stays hard for over an hour, giving substance to his kitschy last name. 
"We are finally watching a porno," says Keiran Lee, as the crowd marvels at probably the first good scene of the season. Donnie Rock is a killer contestant who fucks like a champ -- whatever was happening before that kept him from feeling comfortable was overcome. Donnie got his groove back, Stella-style.
Who's unattractive and stupid now, Khaya?
Oh, it's also worth mentioning that Lexi Belle inexplicably holds onto a banana for the entire time she's watching the scene. Literally no explanation. 
Then, we're on to scene two: Johnny Black and Allie Eve Knox. The judges spend a long time -- like, a really long time -- talking about nipple licking and how it's emasculating. Jesus, guys, did a pair of nipples collectively kill all your parents? Leave the nipples alone!
Then, we see something that we hardly ever see in porn… unless you're into porn from Utah: dry-humping. So much dry-humping! I'm sorry, I thought this was a competition starring grown adults, not horny teenagers. Teenagers from Utah. The judges surmise that it's happening because Johnny Black can't quite get up to the challenge -- I am on their side on that one.
Keiran Lee -- who must have been grabbed by a producer and told to be nicer after last week's episode -- comes into the room and full-on embraces Black. He embraces him like a football coach embraces guys named Rudy who are just too small to play. In the end, Johnny taps out and calls it a day.
The poor guy just can't make it happen. End of scene, everyone get dressed.
Buddy Hollywood lays it out for the camera in the next scene and makes it known that Adrian Lee Ray is the "worst lay" he's ever had. So, he's not super excited to do it with her. Buddy outlines some examples to support his argument, most of which revolving around how she's not vocal during intercourse. In Adrian's interview, she supports his argument by agreeing that she's just not a very vocal person.
"I guess I'm not good at faking things," says Adrian. So, yeah, this pornographic scene should be fun.
Then, something happens that I've literally never seen in porn before: the actors start having an argument during a foreplay. Buddy starts taking off Adrian's clothes while mid-fight. It's awkward and incredible and then they start making out.
Then they stop and fight some more. What the holy hell am I watching, this is insane. Lexi Belle steps in to cut the tension and suggests having a "hate-fuck." Hate-fucks are fun, she says. They are! So, the scene ends with the judges threatening both of them to have sex or they'll be cut. Then, in a show where people have sex with each other, they don't have sex. And then the show ends. Seriously, it just ends. 
Jesus, what a rollercoaster of emotions! It all starts out with a killer performance by Donnie Rock and his shockingly hard penis, but then -- like a regular penis -- the show teeters into a flaccid disaster. How could these guys have ever considered a career in porn when having more than one other person in a room makes them limper than week-old celery? Yeah, we get that this is a strange format… but come on, this is a reality show on a porn site. It's still porn and they can't make it happen. Last week's episode made me think that The Sex Factor had finally started coming into its own… but today's lack of sex (on a show about sex) made it seem like it just came in its own face.

Sign up here for our daily Thrillist email, and get your fix of the best in food/drink/fun.