It's not unusual to throw around words like "orgasmic" to describe a great meal or unbelievable sex. We get it: food influences our lives. But it also influences our sex lives -- and the lives of those who act in the world's sexiest adult-movie scenes. We got in touch with our favorite porn stars to find out just how much of a role food plays in their lives, thereby finally answering that age-old, nagging question: what do porn stars actually eat?
Tasha Reign
Founder/owner, Reign Productions, award-winning adult entertainer, on Twitter @tashareign
"I don't like eating before I have sex and neither do my co-workers," says Tasha. "If you forced me to eat something before, I might grab a coffee to pump up my energy or a dessert like chocolate cake or pink berry."
Tasha craves In-N-Out burgers the same way she craves sex, but and most especially after sex. A turn-on pre-sex is something sweet and light and romantic, like strawberries and whipped cream.
"I'm a vegetarian and not super into food," she said, "although I appreciate a great dish. I enjoy the LA trend of juice cleanses and light vegan meals." As for her other cravings? She loves french fries, grilled cheese, nachos and pizza.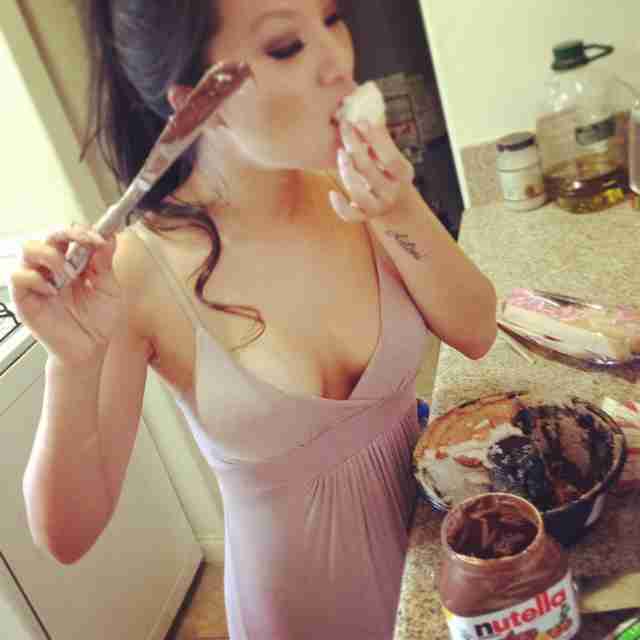 Asa Akira
Wicked performer, author of Insatiable: Porn -- A Love Story, award-winning adult entertainer, on Twitter @AsaAkira
"Personally, I don't ever mix food and sex," Asa said of food's role in her sex life. "Currently, I eat to live. But there is a fat woman inside of me patiently waiting to come out. Once I'm done with porn, I will most certainly be living to eat. My dream is to go on a year-long eating vacation, where I travel the world solely for the purpose of tasting new foods."
As for Asa's food favorite? "CARBS. And not the healthy kind like sweet potatoes and apples. I'm talking grains like bread, rice and pasta."
 
 
Jessica Drake
Wicked performer, writer and director, creator of Guide to Wicked Sex, host of IN BED With Jessica Drake on Playboy Radio, on Twitter @thejessicadrake
"I enjoy sweets and finger foods," Jessica said of foreplay foods she loves. "Fruits are always good. Cherries, strawberries, juicy pears and peaches are sensual to me." She suggested using sauces for extra decadence: chocolate, white chocolate or caramel -- and of course, whipped cream and honey as delicious additions.
"Take turns feeding them to one another," Jessica said, "... bonus points for using a blindfold on your partner. The loss of one sense will amplify all the others. I love the idea of using food for seduction, whether it's cooking for your lover or going out to a great restaurant. For me, I'm a pescetarian, very close to being vegetarian. The only meat I'm eating is fish, so I enjoy a long, drawn out sushi lunch or dinner."
While Jessica believes in moderation and eating what her body needs to thrive, she also said she appreciates the experience of the tastiest, most indulgent dishes. "Hard to remember that, though, when I'm emptying a box of sea salt caramels," Jessica confessed.
When she splurges, it's on expensive and organic sweets and chocolates. "I love French macaroons!" she said. "And everything fried. I'm from Texas, so at our country fairs they fry ANYTHING, even Oreos. When I indulge, I go all out."

Nina Hartley
Sex educator, porn pioneer, registered nurse, author of Nina Hartley's Guide to Total Sex, on Twitter @ninaland
Nina prefers to engage in sex play before dinner and doesn't like to be full while having sex. "It gives us more fun things to talk about during dinner!" she said, "a glass of wine and if my/our partners are hungry (before sex), something dense such as cheese crackers and some apple, usually does it."  
Nina loves many foods from most cuisines, but tries to keep healthy. "I avoid anything deep fried," she said, "though occasionally breaded items find their way into my diet. I like oysters, of course, and good dark chocolate. I have an affinity for vegetarian food, since I grew up with Buddhist parents. Green & Black's 70% Organic Dark Chocolate is a reliable 'happy' food."
When Nina splurges, she loves good sushi, steak or bacon from The Fatted Calf in San Francisco. She also loves Mexican food, her family's stollen during the holidays, the perfect melon and avocado, good home-baked bread, fancy butter and homemade jam/preserves and Peet's coffee.
 
Derrick Pierce
Adult Empire star, award-nominated actor and director, boot camp instructor, personal trainer, on Twitter @dpiercexxx and @THEDPIERCE
Derrick's not a big food-as-foreplay guy. "It's not something that I normally mess with," he said, "but strawberries or bananas are great starters. I'm not a fan of syrups because they get so sticky and after a few 'bites' the sweetness is too much. Whipped cream is also a decent option… olive oil and natural coconut oil can be a lot of fun. They're naturally absorbed, slick and not sticky... and can be used as lubrication."
And, he loves messy, saucy food: "I just like watching a woman slowly lick or suck her fingers," he said. "I'm a pervert like that." As for food cravings and favorite eats, deep-dish pizza tops the list with big chunks of tomatoes, cheese and chicken or sausage. Another favorite is real ice cream: "I don't have it very often but when I do, I try to eat as much as I can."

Missy Martinez
Adult Empire Star, AVN award winner, Hustler cover girl, on Twitter @MissyXMartinez
 
Missy doesn't incorporate food with sex but thinks sharing a bottle of wine is deeply intimate and helps with the romantic vibe. Of splurging on her favorite food, Missy said, "When I go all out, I choose a big cheeseburger, fries and a milkshake. Then I cry in the shower."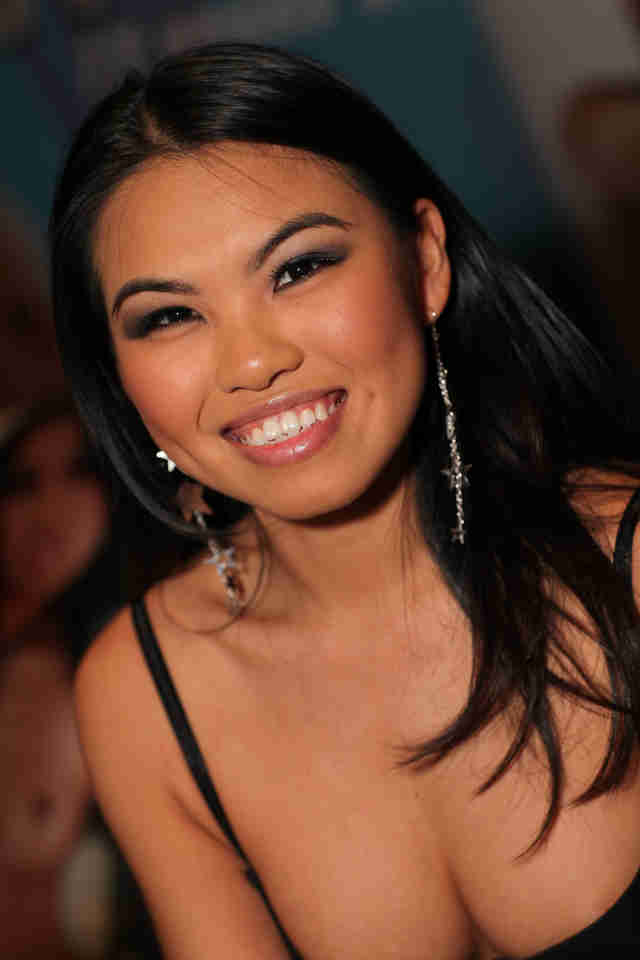 Cindy Starfall
Adult Empire Star, AVN/XBiz/Xrco nominated, on Twitter @CindyStarfall
Cindy prefers dark chocolate. Her favorite food is vanilla ice cream on a cone. She typically splurges only during her birthday week -- and then, she goes full bore. "I eat all the unhealthy guilty items," she said, "like pizza, French fries, fried chicken and waffles." Her deepest food cravings are Thai food, sushi, shabu-shabu, meaty pizza… and double cheeseburgers.
 
Tanya Tate
Adult Empire star, award-winning performer, director and cosplayer, on Twitter @TanyaTate
"I love Italian food," Tanya said, "so a nice Italian dinner, decent wine and good conversation really get me in the mood. Who knows what will happen after a lovely dinner together?"
This adult star's favorite foods are mixed with sex play. "I love white chocolate and macadamia nuts. Heat up a cookie, cover it in ice cream and feed it to me. There's something about the chocolate and the sweet taste that gets me all turned on. I also love strawberries and cream." Tanya has also experimented with carrots, cucumbers and bananas during foreplay. We'll let you use your imagination.

Mindi Mink
Girlfriends Films contract star, former webcam model, on Twitter @MindiMink 
"I love preparing sexy, fun food to use for foreplay," said Mindi. "My favorites are whipped cream to squirt onto all the yummy parts of the body and slowly lick it off. Chocolate sauce or honey can be used in the same wonderful way. And various fruits are great to feed my partner."
As a girl-on-girl performer, Mindi also had some note-worthy foods she likes to feed her lady friends.  "Strawberries, grapes and bananas are best for watching her mouth taste the fruit," she said, "while slowly sucking on each piece. Watching this gets me very aroused, as I can imagine her lips and tongue on me and know it will soon be my turn."
Mindi loves soft caramel and said the texture and sweetness give her a food high. "I've always been a woman who lives to eat!" she said. "I'm half Italian, which I'm sure has something to do with it, plus I love to cook and feed others.  When I go on vacation I plan my days based on where I'm going to get the best food around." She also craves carbs and sugar -- pasta with chicken and a pesto cream sauce, pizza with thin crust and lots of cheese and toppings -- and loves any type of dessert.
 
Key takeaways for all you horny foodies: rethink that big meal before a hot date. Indulging every once in awhile is OK. You might score points if you blindfold your partner and then feed him or her. You can't go wrong with Italian food or whipped cream. And lastly, occasionally overeating your favorite food is a rite of passage (and love handles might even get you laid more). So eat well and have great sex. Bon Appetite.  
Sign up here for our daily Thrillist email, and get your fix of the best in food/drink/fun.
  
Kristin Battista-Frazee is author of The Pornographer's Daughter and whose longtime food obsession was inspired by her Italian-American family. Follow her on Twitter @porndaughter and Instagram @kbfrazee.