I Had a Threesome and It Ruined Sex for Me
Vicky Cristina Barcelona | The Weinstein Company
Vicky Cristina Barcelona | The Weinstein Company
Seinfeld (to George): Don't you know what it means to become an orgy guy? It changes everything. I'd have to dress different. I'd have to act different. I'd have to grow a mustache and get all kinds of robes and lotions, and I'd need a new bedspread, new curtains. I'd have to get thick carpeting and weirdo lighting. I'd have to get new friends. I'd have to get orgy friends.
I didn't get orgy friends, but having my first (and second) threesome changed me in several ways. Group sex is something that's supposed to happen to other guys -- attractive guys with six-pack abs, loads of confidence, and huge dongs. Not me: a lumpy, average-looking guy with so-so confidence, and a regular ol' dong. It's a pie-in-the-sky fantasy most men will never fulfill. But then it happened to me twice in one weekend, with the same two girls. No, I'm not a wizard.
But it unexpectedly ruined sex for me in strange ways.
I expected to have all my fantasies fulfilled
A couple years back I was six months into a relationship dating a girl (let's call her Lauren, since she is not named that) who I was very much in love with. During the sex talk we had in the beginning of our relationship about what we liked and didn't like in bed, I asked her what she thought about a threeway. She was into the idea if the situation was right. I stored that little nugget away in my brain, right next to the lyrics to "Motorcycle Drive By" ("I never been so alone/ And I've never been so alive").
Subconsciously, I believed our relationship was impervious to failure (spoiler alert: HAHAHA), so when I went to a party without Lauren and met a girl I was attracted to (let's call her Tori), my brain leapt into action. Sorry, my dick. My dick leapt into action. It wanted to have a threeway! And because it wanted to, it was worth whatever speedbumps this whole "I want to have a threeway!" thing might possibly cause with my girlfriend.
I shared with Lauren that I met Tori at a party, and that she seemed cool. I didn't bring up anything sexual yet because I was smooth. Real smooth.
Now, one thing about Lauren. You might be picturing me, with a basic face, and imagine that my girlfriend looks about the same brand of average. Incorrect. Together, we looked like a sitcom couple. I was Kevin James and she was that hot chick from Saved by the Bell. I was Jerry Gergich from Parks and Rec and she was Jerry's wife Christie Brinkley. I was Homer, and she was Marge, but 6 feet tall, blonde, and very much out of my league. If you're thinking, "Gee, this guy was pressing his luck trying to get his super hot girlfriend into a threeway," you are correct. Remember that thing where I thought our relationship was impervious to failure?
So I'm Gchatting with Tori casually for the next couple of weeks. And it was non-sexual for 99% of it, but in that 1%, I did ask Tori if she'd ever been in a threesome. Sort of, she explained. Just some making out with another girl with a guy there. And then sex with the guy, but not the girl. A gateway threeway, if you will. She said she'd be up for it again. Or maybe I inferred that. Either way, good enough.
I break the news to Lauren, and ask her if I should proposition Tori. I explained that she seemed down to bone us, even though she only really knew me. Lauren had made out with women in her life, but never had gone all the way. I knew she was open to it, but I didn't think I'd get the green light, especially because she'd barely heard of this woman, let alone met her. But she warmed up to the idea once I showed her photos of Tori and talked about how great she was. I said she was someone we should be friends with. We weren't going to have sex with any girl, it was our new pal Tori! Lo and behold, I got the green light.
After pitching the threesome idea to Tori despite only knowing her a few weeks, she said she was down too. Green light 2x! Everyone was in. It probably didn't hurt that my girlfriend was attractive. I don't think Tori said yes because she wanted to fuck me. Let's be real: "dick is abundant and low value." But this was going to happen! And because I figured I might as well press my luck some more, I said we should do it two consecutive nights. Both girls said sure. Like Drake, we were going "Back to Back."
I felt like I'd bought a winning lotto ticket where the jackpot is having two women s your d at the same time. I won the Powerballs, if you will. But in future relationships, I subconsciously assumed that most of my sexual fantasies would be fulfilled soon after I asked for them. This is not how life works. I never considered that at the time.
But back to the threeway at hand. We needed to set some ground rules.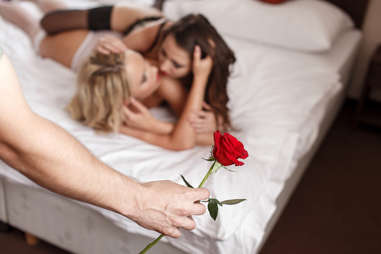 Letter of the (orgy) law
We were going to do this 95% sober, so it wasn't going to be a drunken orgy, and I'm a planner by nature anyways. I genuinely considered starting a spreadsheet called ThreewayPositions.xlsx with everything I wanted to do in our time together. I recognize this is the least sexy idea ever devised. And now I sadly can only get a boner by looking at a spreadsheet. Kidding.
Ok, so the rules broke down like this. Lauren didn't want me kissing the other girl, since she said that would hurt her to watch. Remember, she was in love with me, a guy who almost made a spreadsheet and typed sexual positions in it. Fair enough. There were no rules for Lauren with the other girl, because anything they did in front of me I considered fantastic. I also couldn't touch Tori. And I couldn't fuck her or go down on her either, but she could blow me, as long as I didn't touch her while she was blowing me. These are more complicated rules than figuring out what the NFL constitutes as a catch, but I was, obviously, game for all of it.
All I wanted was for them to blow me at the same time. That means they're basically making out with each other, but your penis happens to be between them. And outside of watching my girlfriend have orgasms with another woman, I wanted this more than anything. I should've been careful about what I wished for, because from that point on I assumed every girl I dated would be into girls.
I tended to date women who were open to it previous to Lauren, and this cemented the "all your girlfriends will hook up with other girls in front of you" idea in my brain. Turns out, women are individuals who have their own likes and dislikes. CRAZY, I KNOW. I'm aware of this, yet it continues to disappoint me.
I will never experience that level of pleasure again
The first night we were feeling each other out, literally and figuratively. Tori came over to my apartment, and her and Lauren made me leave the bedroom. They made out with one another for a while without me. They said that to have me watch would make them too uncomfortable. I read ESPN: The Magazine in my living room while a fantasy played out in my bedroom a few feet away. I can assure you none of the words in the entire issue made their way into my brain for processing. Sorry, ESPN: The Magazine, it's not your fault. I was nervous. Not about getting it up, but that it would happen at all. Two women were making out in my bed in the room next to me and I still didn't believe it.
After what seemed like an hour, but was probably two minutes and thirty seconds, they invited me in. I watched as my girlfriend and another attractive woman made out with each other on my bed. It didn't make sense to my tiny brain. They made fun of me for something. Probably staring too hard. Eventually they undressed each other, and then after another eternity, they let me take my clothes off. They were calling the shots, and I was not going to argue with them.
We did everything we said we were going to do: I fucked my girlfriend while she went down on the other girl, the girls gave each other orgasms, and I got that two-woman blowjob I'd been fantasizing about.
And here's the one sex act from adult movies that lived up to the hype. It was incredible. As great as one woman blowjobs are, two woman blowjobs are not twice as good. Two woman blowjobs are The Godfather 2 and one woman blowjobs are Jane Austen's Mafia!, a spoof starring Leslie Nielsen and Jay Mohr. Two woman blowjobs are flying first class from New York to LA and one woman blowjobs are walking from New York to LA with a hernia while a man stabs you in the legs. Two woman blowjobs are Frank Sinatra singing "My Way" with a full orchestra, and one woman blowjobs are former Wisconsin center Frank Kaminsky singing "My Way" at karaoke.
Night one ended up with both women having billions of orgasms each (admittedly, that had more to do with them pleasing each other than me doing anything spectacular), and me having one perfectly good one. It was a fairly flawless evening. And we were going to do it again the next night.
The downside to everything is that I now know what it's like to have two mouths pleasuring me at the same time. I know that type of pleasure is possible on planet Earth. That's depressing knowledge because I will likely never feel it again. You can't unring that bell.
I peaked too early, and the future looks dim
I probably shouldn't have asked them to do it a second night. It couldn't possibly top the first one, and it didn't. But on the up-side, we were all super comfortable with each other at this point, and there was a familiarity that was nice too. Just three friends hanging out, fucking. You know, your average Sunday night.
OK, so night two. We're naked once again, and both women are going down on me at the same time, just like we did on night one. I remember looking down and seeing a sight I never thought I'd see in my life: two gorgeous women pleasuring me in ways I did not think were possible, and in that moment my brain had this exact thought: "This again?"
Let me repeat: "THIS AGAIN?"
That's how quickly something that is mind-blowingly pleasurable can become rote and boring. Twenty-four hours. That's how long it takes. But I did realize something beneficial. I must be incapable of true happiness. Years of therapy can't convince me otherwise.
Anyway... the sex was had, and it was great (other than the "boring" BJ). Except for the moment where the girls pleasured one another when I took a bathroom break, and I felt left out. And then probably to make up for that, Lauren let me have sex with Tori. Though she still slapped my hands off of Tori's body when I touched her while I was inside of her. Rules are rules, I guess! Unfortunately, at that point in the night, my exhausted penis was barely able to stay hard, since it was hard for about two hours prior. My dick had run a sexual marathon, and this was mile 25. Overall, still fun! But was the ensuing aftermath worth the experience?
Now I had proof that you can become numb even the most intense sexual experiences. And how could any fantasy I have ever top this one? I was barely an adult and I had already peaked. I should've just retired my penis's number, and hung it in the rafters next to other accomplished members.

So is having a threeway even worth it?
My relationship with Lauren was fine afterwards. I mean, it ended, so it wasn't fine fine. But it didn't end because of the threeway. I remained friends with the other girl until we eventually lost touch.
I don't believe in karma, but after my relationship with Lauren ended I couldn't get laid to save my life. Everything worked a little too well for me for that weekend, and eventually things had to go south. It was inevitable. Hell, even Jordan couldn't win a championship every year he was in the league. But for one weekend, I was Michael Jordan. A lumpy, average-looking dude with a regular ole dong. Was it worth having sex ruined for me afterwards?
Probably.
Sign up here for our daily Thrillist email, and get your fix of the best in food/drink/fun.
Jon Sumpsonwrites about cannabis and sex for Thrillist, and thinks everyone should have a threeway right now.