The Best Sex & Dating Writing of 2015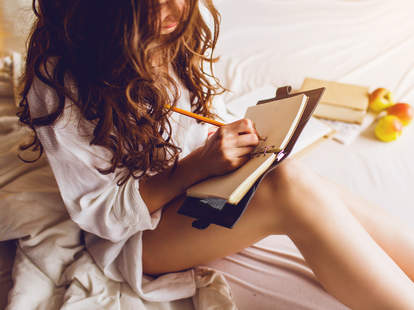 As Thrillist's Sex & Dating editor, I'm steeped in salacious subject matter 24/7. Each day I'm assigning, revising, writing, and reading articles that cover everything from love and breakups to strippers and sex toys.
Here are some of our favorite gems: hard-hitting, provocative, and fun pieces that make you think, teach you something, turn you on, inspire... or simply entertain.
The Secret Lives of Hillary and Bill in the White House, Kate Anderson Brower
The crux: Brower takes readers behind-the-scenes of the Clinton sex scandal, as told by those who were geographically closest to the couple: the help.
Our favorite line:According to his colleague, as President Clinton came down from the second floor to attend an event one day, Emery said, "I can't understand why everybody has an orgasm when he's around."
The Voltron Theory of Casual Dating, Maureen O'Connor
The crux: O'Connor unrolls a theory of dating in which singles combine traits of several love interests in order to meet all of his or her needs; thereby creating a hybrid SO that transcends our desire for a single, perfect person -- or heralds the devastating end to our romantic, forever search for "The One."
Our favorite line: In the absence of one good partner, an actively dating single person will naturally construct a corpus of complementary partners who, if assembled into one giant Voltron partner, would be his or her ideal boyfriend or girlfriend. (Much like the Wu-Tang Clan.) 
Inside the Great eWhoring Scam, Dell Cameron
The crux: Cameron takes readers on a great, deep dive of eWhoring; a ploy in which scammers use camming clips and resell them to unsuspecting viewers.
Our favorite line:As the video begins, the scammer is prompted with various commands -- wave, smile, flash, etc. -- that trigger a clip of the model performing whatever action the victim requests. To prevent a video from jumping and appearing fake, it's often chopped into a near seamless loop. If the video does skip, it just appears as if it's buffering.
A Cam Girl In Love, Abigail Fox 
The crux: A woman new to the camming industry falls hard -- for one of her clients.
Our favorite line:I was sending out ten resumes a day to Craigslist jobs, with no responses. I assumed that the moment they clicked "Post," HR directors were immediately inundated with resumes and panicked, choosing new employees at random. My boyfriend, Jason, was struggling to pay his part of the rent by selling musical instruments on eBay. We were living in a pool house and eating street-cart tacos every day because it was cheaper than buying groceries. So I went to the fallback job: internet porn.
How to Become a Cunnilingus Master, Vanessa Marin 
The crux: A bit self-explanatory, this piece takes us over the edge with fun illustrations and solid writing that make otherwise salacious piece shareable, serviceable, and fun.
Our favorite line:Kerner had a personal stake in honing his oral sex technique, too -- he bravely admits in the opening chapter that his struggles with premature ejaculation motivated him to find other ways of pleasing his partners. 
We Are Living in a Robot Moment - Rejoice, Rejoice, Cower, and Copulate?, Brian Phillips 
The crux: Phillips situates sexbots into a much larger, contextual conversation about technology and humanity's future relationship with robots. In short: the future we've moved toward over the last century -- one we've imagined through endless sci-fi novels and movies -- is actually beginning to happen. Robots are readying to walk (or at least sleep) among us.
Our favorite line:I'm not suggesting that fucking a sexbot is the same thing as reading Little Dorrit. But the heart is strange and wild. Give people intimate access to anatomically correct simulated humans and of course all sorts of twisted shit will go down, because people are twisted. People will also form intense attachments to these things, will feel feelings we don't now have words for, because people are hopelessly loving and vulnerable.
'I'm No Longer Afraid': 35 Women Tell Their Stories About Being Assaulted By Bill Cosby, and the Culture That Wouldn't Listen, By Noreen Malone and portfolio by Amanda Demme
The crux: Malone's sobering reporting of assault allegations leveled against Bill Cosby is made more jarring by portraits of 35 women, Cosby's accusers. Clicking on their images brings up their personal stories of abuse, told in their own words.
Our favorite line: The group of women Cosby allegedly assaulted functions almost as a longitudinal study -- both for how an individual woman, on her own, deals with such trauma over the decades and for how the culture at large has grappled with rape over the same time period. 
Icebreakers for Reintroducing Yourself the Morning After, Molly Gaebe
The crux: Gaebe provides readers with simple ways to bring the levity back into re-introducing yourself the morning after a blurry one-night stand.
Our favorite line: Start drinking again.
Shutterstock
When Cupid Is a Prying Journalist, Deborah Copaken
The crux: A journalist pushes her subject to pursue his lost love -- and succeeds.
Our favorite line: Two decades later, I learned that he actually had flown to Paris that weekend but had lost the piece of paper with my address and phone number. I was unlisted. He had no answering machine. We had no friends in common. He wound up staying in a hostel, and I wound up marrying and having three children with the next man I dated. And so life goes.
Rolling Stone and RVA: The Columbia University Graduate School of Journalism Report, Sheila Coronel, Steve Coll, Derek Kravitz
The crux: Columbia University J-School's dean Steve Coll and his team dug into Rolling Stone's botched reporting of gang rape at UVA. The report shows the challenges journalists face in reporting in general, but especially when dealing with subject matters surrounding consent, sources, and judgments.
Our favorite line:Erdely believed firmly that Jackie's account was reliable. So did her editors and the story's fact-checker, who spent more than four hours on the telephone with Jackie, reviewing every detail of her experience. "She wasn't just answering, 'Yes, yes, yes,' she was correcting me," the checker said. "She was describing the scene for me in a very vivid way... I did not have doubt." 
To Fall in Love With Anyone, Do This, Mandy Len Catron
The crux: The author and a date go through 36 questions designed by psychologist Dr. Arthur Aron to make any two people fall in love.
Our favorite line:The questions reminded me of the infamous boiling frog experiment in which the frog doesn't feel the water getting hotter until it's too late. With us, because the level of vulnerability increased gradually, I didn't notice we had entered intimate territory until we were already there, a process that can typically take weeks or months.
The Answer Is Never, Sabine Heinlein
The crux: Heinlein offers a first-person account of everyone else's determination that she would, in fact, one day decide to have a child.
Our favorite line:Spoiler alert: I don't have a change of heart at the end of this essay.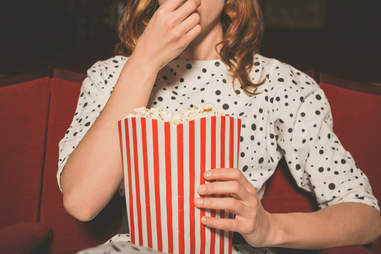 Shutterstock
Meeting the Family Behind London's Last Porn Cinema, John Lucas 
The crux: Lucas goes behind the curtain to meet the couple in charge of London's only adult theater.
Our favorite line:Isn't it awful to think you might die in a porn cinema?
Zola Tells All: The Real Story Behind the Greatest Stripper Saga Ever Tweeted, David Kushner
The crux: Kushner provides investigative reporting and fact-checking about Aziah "Zola" Wells' explosive (and highly Tweeted) road trip to Florida.
Our favorite line:That's the one thing each of the participants agree upon: the real story behind #TheStory, of how young girls and women are held against their will by sex traffickers, is more fucked up and unconscionable than any one person could invent.
How I Make $300,000 a Year Stripping in Vegas, Michael Kaplan
The crux: A stripper called Sydney is raking in cash by taking her clothes off for the masses in Las Vegas. 
Our favorite line:I'd rather his money be in my pocket than a casino's. I know how to spend it better.
Sign up here for our daily Thrillist email, and get your fix of the best in food/drink/fun.
Nicole Caldwell is Thrillist's Sex & Dating editor... but is now reconsidering a career in stripping.