While attempting to crowdsource a Tinder party at a small bar one Saturday night, two friends and I embark on a swiping marathon. We match with as many people as possible and send said matches the same memo to come meet us. While toying with inquisitive responses, I receive the message that would birth my epic:
"I can't," wrote Hector, 21. "But I have an extra ticket to see Deerhunter tomorrow."

Hector and I exchange numbers and plan to meet the next day at a large park near the music venue. We don't know that our "date" is about to last 42 hours. Two days and nights wandering New York City with a perfect stranger? Here's how it happens.
Hours 1-3

It's winter in New York, but mild. The park still has visitors. I finish a Dasani bottle of chardonnay by the time I reach the meeting place. I'm late. The park is encircled by a track lined with picnic tables; Hector sits on top of one and his height is staggering perched so high in the moonlight. He's wearing headphones and resembles the graphic of the dog on his shirt. We wait to hug until I get on top of the table. He compliments my shoes and says he didn't expect me to go out with him.
Walking to the venue, he tells me he dated a close friend of mine a few years back. I've never heard Hector's name before. I discreetly text the friend he dated... along with a few others who may know some background on this guy.
Hours 3-7

We arrive at the venue, I run into a few people I know, and Hector and I check out the opening band. The two of us go outside during Deerhunter's soundcheck. Hector's been drinking in the venue and is now reeling with unabashed enthusiasm. His continuously thanks me for being there, and offers unyielding praise.
He compliments my pants. A few weeks prior I drew crude symbols on them and wrote the lyrics to Fall Out Boy's "Sugar We're Goin' Down" on the legs in white paint marker. Hector shows me his Deerhunter tattoo. I ask him about another tattoo on his arm: a scale, the symbol of the astrological sign Libra. I'm disappointed to find out he's actually an Aries. I talk about astrology for a long time. Hector is eager to listen, even though it's clear he has no idea what I'm saying.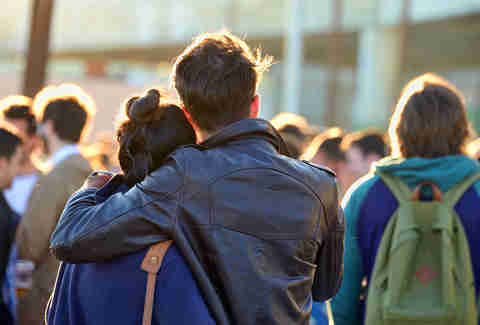 Hour 7-8
The show ends. We buy a couple of drinks from a bodega and sit on the track in the park where we met earlier. We smirk at runners on the track as they pass. Nearby, police interrogate a couple of buzzed people leaving the concert.
Hector and I get along better with every sip. We hate cops. We love animals. He tells me he has never been to Coney Island, or the aquarium there. I tell him I go with my family every year. I suggest we go to a nearby bar, Irene's. Hector has never heard of it.
We're on the inner cusp of a Polish neighborhood -- so illustrated by Irene's, named after an old Polish woman, managed by a middle-aged Polish woman, with a clientele of old and middle-aged Polish people and millennials. Irene's offers $1 Jell-O shots and a jukebox. Hector's tail is wagging.
Hour 8-8:10
Pure gelatinous gluttony.
Hours 8:10-10
After emptying Irene's Tupperware container, I feel warm enough that I take off my sweater for the first time.

"Sweet shirt."

"Do you realize you've complimented every piece of my outfit at some point tonight?"

He's not embarrassed. His grin is large, sheepish, and unrelenting.
We talk: music, jobs, education. I pull out a pen and notebook from my bag and ask what he would do tomorrow if he could do anything. He tells me he would go to the Coney Island aquarium. I write it down. He asks me the same question. I tell him I would get breakfast burritos. We work on the list, adding items both realistic (soup dumplings in Chinatown) and not (eating them with Bradford Cox). We finish at Irene's and head toward the train. We live on different train lines and Hector's has stopped running for the night. I tell him he can sleep over.


Hours 10-18

Subway to my apartment and sleeping.


Hours 18-20

I wake with startling energy around noon. On my phone are responses from the friends I texted the night before asking about Hector. Reviews vary from negative to neutral. The list he and I made the night before sits on top of my pile of clothes on the floor.
"So, breakfast burritos?"
As we enjoy our brunch, I ask Hector his plans for the day. He has none. I urge him to go to Coney Island. I have no plans either. We decide to see how much of our list we can check off.

Hour 20-21
Subway to Coney Island.


Hour 21-22

As soon as we begin our walk to the aquarium, Hector and I get distracted by a promotion for an Applebee's drink. It's an electric-blue Long Island iced tea called "It's L.I.T." We can't withstand the joke. We order them. We are repulsed by them. We leave.


Hours 22-25

Hector and I walk the length of the boardwalk and watch the ocean and other beach-goers. The rides are closed for the winter. It's past 4pm -- the aquarium is closed as well.
 The sun sets as we sit on raised wooden platforms. In no hurry, we are calm and affectionate as we watch the water. Old Eastern European men fish while their families lounge on the dock. We decide to check the next item off our list.


Hour 25-26


Subway to Chinatown.


Hour 26-27
The streets are hectic. The restaurant I have in mind is nowhere to be found. We spend a long time walking around and start to argue. We pick a place for dinner.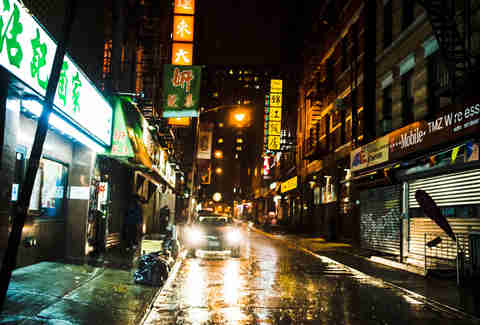 Hour 27-27
:15
Waiting for ramen, Hector and I are beginning to irritate one another. I suggest drinking sake bombs. The restaurant does not allow it. We drink the sake and beers separately. For once, Hector is unimpressed.
Hour 27:15-27:25
I provide unrequested constructive criticism on Hector's Tinder bio until our food comes.
Hour 27:25-28
"Do you realize you've ordered the exact drink or meal as me since we've met?"
The size and salt of the ramen agitates me. We decide to go to St. Marks Place. It is a street my parents partied on 50 years ago.

Hour 28-29

Subway to St. Marks Place.


Hours 29-31
The journey rejuvenates us. Hector and I bounce around St. Marks, laughing and making small talk. We order shots of tequila at a karaoke bar. He happily joins me when I perform Fall Out Boy's "Sugar We're Goin' Down." He and I have similarly poor taste. I show him photos I've starred on my phone that live in the favorites section: clothes, memes, and tattoo ideas. Two dogs crossing heads.


Hour 31-32
"Excuse me, are you open?"

"For something small, yes."


"OK, on this thigh then."

"OK. These are greyhounds, right? What kind of meaning do they have to you guys?"

"None, we just met."
Hour 32-33
We return to perform a finale: David Bowie's "Modern Love."

Hours 33-41
Subway to my apartment. Sleeping.


Hour 41-42
Two modern lovers part when Hector has to leave for band practice. 

Sign up here for our daily Thrillist email, and get your fix of the best in food/drink/fun.
Nikki Kratounis is a freelance writer and has received zero new likes since the last time she was on Tinder. Follow her to read a live stream of guesses of the star sign of her next date on Instagram or Twitter: @mousetrapqueen.