The Year's Best New Sex and Dating Apps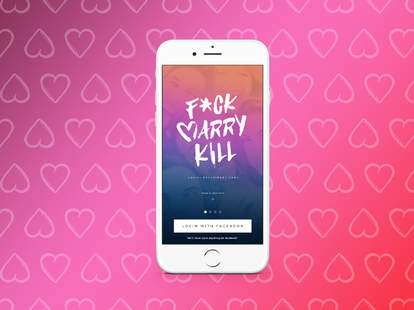 F!ck Marry Kill/Nina Gonazles/Thrillist
Are you as sick of Tinder, Bumble, and Match as we are?
Are you ready for something new and fresh; something that doesn't require hours of tedious swiping and hopeless dead ends? We've got you!
If you're on the hunt for the top dating and sex apps of 2016, look no further! Through careful testing and frugal experimentation, we've come up with the year's best dating apps. Get to downloading now.
Desire/Nina Gonzales/Thrillist
Desire
Desire brings the spark back to your relationship, right when you need a little fun.
Couples compete amongst themselves by assigning each other sexually charged tasks that earn points and advance you to higher levels when completed. You can dare each other to do fun and erotic things within categories like "role play," "love sensations," "outdoor," and "the risk of being watched." All told, there are more than 20,000 dares to choose from; which should mean there's something for just about everyone.
Desire is delightfully competitive without being overly complicated. Some dares are as simple as walking up to your partner and whispering something in her ear. It's a perfect way to push you out of your comfort zone without being overly intense or ridiculous. Desire's got the vibe of a game with the payoff of improving your relationship and upping your sexual chemistry. Win-win.
Download Desire on iTunes and Google Play.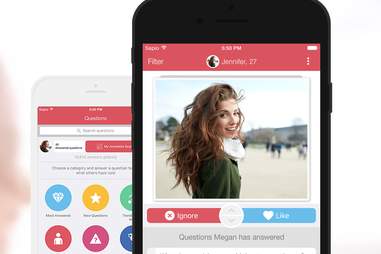 Sapio/Nina Gonzales/Thrillist
Sapio
Sapio is for smart people without all of the pretension of some of the other "smart people" apps (ahem, The League).
Instead of the regular old "you're-kind-of-hot-so-I-guess-I'll-swipe" mentality, Sapio is genuinely aimed at helping like-minded people find love by pushing users to find someone physically AND MENTALLY attractive.
You start with 300 open-ended questions in categories ranging from "Hopes and Dreams" to "Hypotheticals." You're not required to answer all of them, just the ones that actually matter to you. You can then find people who have similar interests, hobbies, and ideas. Think of it like a more-to-the-point version of Match or OkCupid.
Download Sapio on iTunes and Google Play.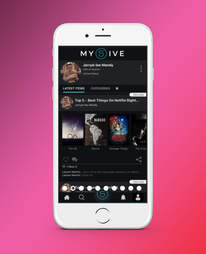 My5ive/Nina Gonzales/Thrillist
My5ive
Nothing says more about you than your "top five" anything and that's where My5ive comes in. It's a whole new way to keep lists of your favorite things, discover new stuff, and meet cool people. You can @ people flirtatiously, find them on Facebook, and possibly meet your future boyfriend or girlfriend.
I am obsessed with My5ive because it's not explicitly a dating app, but works like a dating app at the same time. It's a subtle way to meet people who genuinely care about the same things you do. As the app says, it's "a new way to start a conversation." Plus, you get to expand your own hobbies, interests, and favorites by looking through each other's lists.
Download My5ive on iTunes and Google Play (coming soon).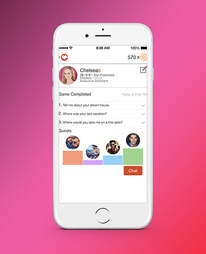 The Catch/Nina Gonazles/Thrillist
The Catch
The Catch is a super-fun way to meet people because it involves more than swiping. In a format more reminiscent of The Dating Game than Tinder, women set up questions (or can have them randomly generated) for guys to answer before the ladies decide whether to have a back-and-forth or not.
The app is a multiplayer experience... and the women are totally in control.
Download The Catch on iTunes.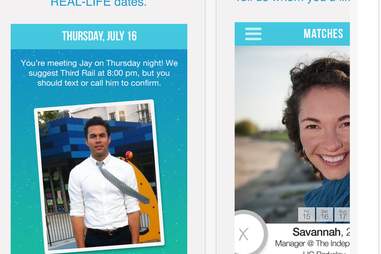 Whim/Nina Gonzales/Thrillist
Whim
After launching in San Francisco last fall, Whim finally opened up to the rest of the country in September 2016. This app is way different than any dating app out there and is certainly not for the faint of heart -- it's for those of us who are serious about meeting people. Instead of getting wrapped up in the mind-numbing vortex of swipe culture, Whim actually schedules your dates for you.
You open the app, enter the times you're free and the people you'd like to meet, and Whim takes care of the rest. You'll never have to worry about flaky people failing to make concrete plans again.
Download Whim on iTunes and Google Play (coming soon).
Hinge/Nina Gonzales/Thrillist
(The new) Hinge
Hinge recently relaunched and has been making some serious waves in dating app pools. Instead of focusing on casual hookups and swipe culture, Hinge now has a pay-to-play component that invites users to opt in only if they're looking for something serious. The redesign is being touted as "Match for a new generation."
The redesign certainly has some attractive qualities; as it feels like we're way overdue for at least a few deeper and more meaningful dating apps that aren't painfully cheesy.
Download Hinge on iTunes.
SWEATT/Nina Gonzales/Thrillist
Sweatt
Sweatt is an app that brings together your love of fitness and your love of dating. It's a connector predicated on the idea that couples who sweat together, stay together. There is nothing better than finding someone who is into the same things as you are and if you happen to be a gym-loving junkie, you've found the perfect app in Sweatt.
It even takes it a step further by matching you with people who have the same fitness preferences; from types of workouts to the time of day you hit the gym. It's the app for strong, muscled, motivated people!
Download Sweatt on iTunes.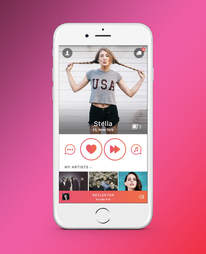 Tastebuds/Nina Gonzales/Thrillist
Tastebuds
Tastebuds takes your music obsession and brings it to your dating life. It launched in 2015, but really hit its stride this year with lots of users who are super-fun to hang out with on the app and in real life.
The last thing any of us wants is a partner who doesn't like the same bands. All you have to do is sign up, put in your favorite music, and the app will match you with people based on your musical tastes. For die-hard music fans, sometimes that's all we want.
Download Tastebuds on iTunes.
F!ck, Marry, Kill/Nina Gonzales/Thrillist
F&*#, Marry, Kill
Who didn't love playing F&%$, Marry, Kill as a teenager? It was the ultimate icebreaker at parties.
MFK is the mean-girl dating app we all never knew we needed. You get three strangers, and have to decide whether you'd want to marry, sleep with, or kill them. This app is perfect for thick-skinned people who don't take issue with shallow, snap-judgment brutality. I LOVE this stuff.
As long as you're alright with pretending to kill a stranger (virtually, guys! All in good fun.), this app is for you. C'mon -- it's just a game.
Download FMK on iTunes and Google Play.
Sign up here for our daily Thrillist email, and get your fix of the best in food/drink/fun.
Gigi Engle is Thrillist's Sex and Dating staff writer and is living proof you can meet a badass dude on a dating app. Follow her lovable crazy on Twitter, Facebook, and Instagram @GigiEngle.