10 Old-School Dating Behaviors It's Time to Reinstate
Whether you're male, female, transgender, gay, or straight, today's scroll-through, swipe-left culture is daunting. With every profile expendable, connecting in a meaningful way can seem overwhelming and unrealistic. What happened to the good old days when chivalry wasn't dead, people went steady, and dates lasted longer than a cup of coffee?
"I don't know if I am ever going to get married at this rate," my friend Marc wrote to me in a recent text. He added a disappointed-face emoji for effect. It's a familiar sentiment: two girlfriends shared similar concerns three days prior at brunch, when one described a scenario in which she was "ghosted" by the guy she'd been dating for five months.
Dating used to be a whole lot more civilized and organized. There's wisdom in attributes like that -- so here are 10 old-school dating habits we ought to revive that are guaranteed to up your dating game.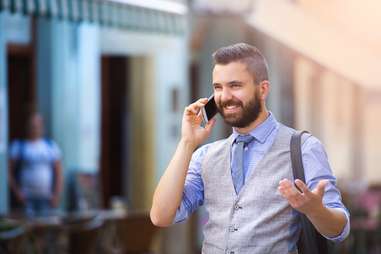 1. Pick up the phone
Before texting and the Internet, the only way someone could contact a love interest was in person, in a letter, or with a live call. While few of us use our phones for voice-to-voice conversations, there is real value in dialing digits -- especially when one considers how many relationships hit unnecessarily choppy waters due to a lack of tone or misunderstood emoji. It's easy to understand the different ways a telephone can make or break a budding relationship. A couple of calls a week -- no need for hours-long evening chats -- will allow you to get a better sense of who a person is. Also, it's so much nicer to actually hear someone LOL IRL.
2. Revive old-school courtship tactics
There are plenty of people bashing Tinder for the "new" (read: highly competitive) dating atmosphere, but the truth is that it has been like this since the 1920s. The only real difference is in how flippant people on dating sites can be, whereas back in the day people actively pursued potential mates. Dates weren't expendable. That earnestness is sorely lacking today.
Upper-class men used to call upon women by presenting a note to her maid in the hopes he might be received in some kind of family gathering. Can you imagine men en masse jumping through those hoops today? Other classes had more familiar courtship methods that would morph into modern-day dating.
Sociologist Willard Waller in 1937 published "The Campus Rating Complex," which described Penn State students using the "dating and rating" system (their version of "Hot or Not") as proof of a person's popularity.

3. Make plans at least three days in advance -- and don't cancel
In the 1940s, it was common for men and women to date someone different every weekend (see above) which required men to ask women out weeks in advance. This allowed both parties to prepare. This practice is a great way to use anticipation to your advantage. Fortunately, we live in a society where the ladies no longer have to sit and wait to be asked out -- so don't be afraid to ask him what
he's
doing next Saturday.
And don't cancel! Once upon a time, women were groomed to be polite and accept or decline at the time of the invitation. And it was considered very rude to break a date at the last minute. Implementing these common courtesies might be just the shift we need.

4. Leave a little to the imagination
Most of us like sex and want to have it, but there was a time when people knew that going straight for the kill (talking dirty, unsolicited private-parts pics) made them look like a pervert or an ad on a flyer in Vegas. It's not about being a prude, but it's far more seductive to have them wonder where the night might lead (and what they might see and enjoy) than to reduce your sexuality to a graphic spoiler alert.
5. Go on actual dates
In the 1950s, it was popular for men to pick women up and go do something beyond meeting for 10 minutes in a coffee shop or downing a couple of cocktails in a noisy barroom. These days, it's more common (and safer) to meet a new date at a specified location; but how great would it be to enjoy a well-thought-out, fun, and interesting night where you both get to know one another and have a good time? And don't just expect all of the men to do the work, ladies: guys like to be courted, too.

6. Throw a group date
Group dinners were all the rage in the '70s, with hosts pulling out fondue pots and sharing everything from cheese to chocolate. These outings take the edge off while letting people mix and mingle with new friends... albeit with a distinct aroma of Gruyère.

7. Do like the flappers did
Slut-shaming is as old as time itself, but it became well known in modern culture in the '20s when parents flipped out over flappers. Those young, corset-tossing women traded proper manners for loose dresses, booze, drinking, and dancing. They laid the groundwork for the sexual revolution of the 1960s. So take a nod from these rabble rousers, ditch your Spanx, and have (safe, consensual) sex with as many people as you please.
8. Get properly groomed
Sixty years ago, it was commonplace for for men to pick women up at their doors, bring flowers or other tokens of endearment, and arrive dressed in a suit with a collared shirt and tie, shined shoes, and perfectly styled hair. Similarly, etiquette books advised women to ensure all clothes were wrinkle- and stain-free, nails were polished, and hair was meticulously coiffed. Suits and ties might be a little stiff for modern dating, but putting effort into appearances sends a message that you actually, you know, give a damn.
9. Keep the PDA to a minimum
A 1930s dating manual warned against women being too "familiar" with their dates in public, as "open shows of affection can be embarrassing or humiliating to him." This is a decent rule for all genders to follow, most especially on the first few dates. Consent 101 stresses the importance of respecting another person's boundaries. There is truly nothing more uncomfortable than a relative stranger rubbing your leg an hour after meeting you, or having someone you just met cram his or her tongue down your throat.
10. Practice "link-dating"
It used to be that if a man liked a woman, he would "link dates" by asking for another one at the end of the first. This ensured he would be able to see her again in a reasonable amount of time. The modern-day habit of lackadaisical scheduling yields sporadic, infrequent dates punctuated by emoji-filled, pen-pal purgatories. If you like someone, at the end of the date ask for another one the following weekend. Between dates, show interest. A couple texts a week, or one or two well-timed phone calls, is enough to show you're still thinking about them.
Sign up here for our daily Thrillist email, and get your fix of the best in food/drink/fun.
Brenda Della Casa is author of Cinderella Was a Liar, owner of Staggered Magazine, and the editor-in-chief for Preston Bailey Designs. Give her at least three days' notice when you want to make plans with her. While you're waiting, check her out on Facebook, Instagram, and Twitter: @BrendaDellaCasa.