The Dating Site for Trump Supporters Feels Like a Virtual Ghost Town
Screenshot via TrumpSingles.com
One of the golden rules of first, second, and even third dates is to not talk politics. And that advice is certainly sound... most of the time. But given the divisive nature of this election year, it might be wise to lay all your political cards on the table before anyone gets too attached.
To that end, there's TrumpSingles.com -- the website dedicated to "making dating great again." But is the site the rage-filled tailgate I expected/hoped it to be?
Not exactly.
Mickey Mouse might be a Republican
The first disturbing thing I noticed was how similar the interface is to the dating site for Disney fans I profiled. The two are exactly the same.
Setting up your profile easy easy enough: just answer a few basic questions (surprisingly, no political ones?), set your parameters for who you're interested in, and search away.
And just like Mouse Mingle and so many others, Trump Singles can initiate an exchange by "winking" at their crushes. Classy.
Gay is A-OK. And so are minorities.
One of the most obvious questions I had about the site was how inclusive it would be. But believe it or not, there aren't any walls here. TrumpSingles.com doesn't discriminate by sexual preference -- whether you're gay, straight, or somewhere in the middle.
David Gross, the site's founder, has pushed inclusivity since day one, telling Time that the service was made because Trump singles are so marginalized and judged. "You are not alone," he vowed.
I have to say, there were a shocking amount of minorities on the site. And while it's by no means a United Colors of Benetton ad, there's more diversity than I would have ever expected. And the users are on every corner of the world, from the backwoods of West Virginia to... West Africa?
None of the women or minorities responded to my winking advances -- particularly unfortunate, since I had a TON of questions for these folks. This made me wonder whether the profiles I perused were actually decoys for multiculturalism, web equivalents to those troublesome "Latinos Para Trump" signs at the RNC.
And another thing: the misogyny throughout the site was noticeably tamer than it is on Tinder. Not sure whether to grade this is a win, though?
There were zero payoffs on the pay-to-play site
Nothing's free here -- and to start a conversation with any of your matches, you're going to pay. For $4.99 you can become a VIP and talk to your potential soulmates about banning Muslims. Otherwise, you can only wink at them. So I ponied up the five bucks, all in the name of serious investigative journalism of course.
Except apparently no one is ever online -- at, least no one fitting my picky standards of... men and women between the ages of 18-90. I did my due diligence and sent out some winks, and did eventually get a couple winks back. The one conversation I did manage to get going didn't move much beyond awkward introductions.
Probably for the best though -- since this particular user was 19, had his high school graduation photo as his avatar, and is a self-described "hardcore Republican." His profile also said he was a big Drake and J. Cole fan, but I didn't get the chance to ask him how he felt about them both being born in other countries. Noticeably lacking on his and other profiles was any major political tirade or series of racist remarks as I expected.
Ditto for the few earnest-sounding profiles I found -- full of predictable "all-American" and "traditional family values" platitudes. Most interesting to me was an evangelical rant by one Latina user, though even that failed to offend.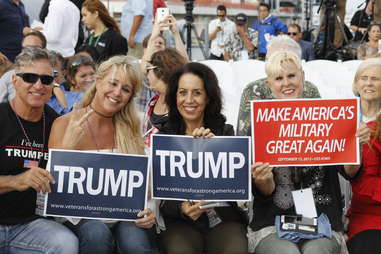 Trump Singles: making dating fake again
I'd never performed so poorly on a dating site, but I'm choosing to take that as a compliment. For the most part, I'd venture to conclude the majority of the profiles are either fake, ironic, or created for journalists doing the same snooping as me. I'll also note (perhaps unsurprisingly) that I could only find one match within the five boroughs.
All in all, I found TrumpSingles.com to be deceptive and utterly useless. Go ahead and draw your own conclusions as far as what that might mean in the big picture.
Sign up here for our daily Thrillist email, and get your fix of the best in food/drink/fun.