BlowCast Is Here to Sell You Virtual Blow Jobs at $1 a Pop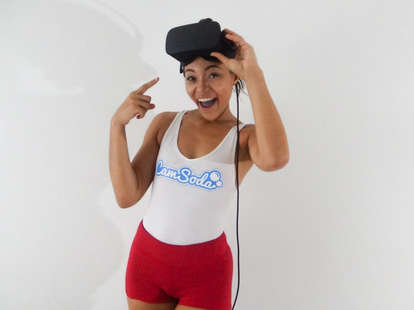 Need a blow job at the drop of a hat? You can get that on the internet now.
Considering 2016 has quickly dissolved into a trashy episode of Westworld with all aspects of teledildonics and virtual-reality porn gimmicks, it's no surprise the virtual-sex play would now be available for blow jobs. The fact that people can't even be bothered to leave the house for a knobber is yet another indicator that the end of days is upon us.
It's essentially the cheaper, poor man's version of buying a robot doll head (which is also a thing). Who needs Seamless when you can get a fake BJ on the internet, on demand, like an adult?
BlowCast, the virtual on-demand blow job marketplace (!), is being touted as "the iTunes of blow jobs." Users can buy fake blow jobs from CamSoda models, who simulate oral sex through a program that sends signals to a a vibrating sleeve being used by the buyer. Ta-da.
According to Vice, prices are pretty damn reasonable: "BlowCast only hosts simulated blow jobs from 50 different female models who work with CamSoda. If a customer has the $250 to spend on the sleeve, then they can access all of these blowjobs for free for the first 30 days. After that, all blow jobs will be available for a one-time fee of $1 each."
I guess virtual reality really is infiltrating every aspect of our lives. Nothing is sacred anymore and all happiness is dead. Thanks a lot, VR. And eff you, 2016.
Sign up here for our daily Thrillist email, and get your fix of the best in food/drink/fun.